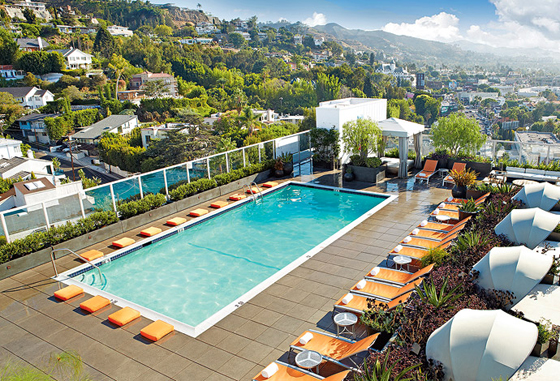 LGBT TRAVEL WEST HOLLYWOOD :: Back when The Rolling Stones, The Who, and Led Zeppelin would host their legendary rock 'n' roll blowouts at Andaz West Hollywood, it was referred to as the Riot House –  your imagination can fill in reasons why.
Today we'd say it's more… quiet riot. The LA rock star vibe still exists at this hot spot – nestled centre-of-everything between the Hollywood Hills and the infamous Sunset Strip – but Andaz West Hollywood is now more glam urban oasis meets sexy vintage art deco lounge, while still feeling modern. So modern, that a marriage equality PSA was shot at the boutique hotel, which also drew gAy-lister Matthew Breen, editor-in-chief of iconic queer magazine The Advocate, to marry his partner, Andreas, on the rooftop.
Perhaps the Andaz West Hollywood's best angle, the rooftop is a one-of-a-kind space offering stunning views of the hills, whether sun-soaked by day, or glittering by night. Be sure to take a dip in the pool: it's the highest in Los Angeles.
The minimalist rooms boast killer views, too, and extra points for inventiveness with the fun lettering on all the windows, thoughts to ponder as you watch LA wake up or wind down.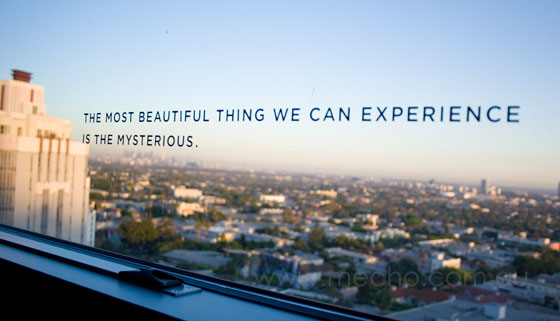 Complimentary amenities include wifi, a non-alcoholic mini-bar (this is LA after all), and morning coffee and wine down in the Andaz Lounge each afternoon.
Our favourite part: checking-in in a way that makes you never want to check out. After the valet takes your car, friendly staff get you settled in a chic lounge setting, bring you a glass of wine, and sit with you and their iPad to take care of business. No lines, no standing around after a long trip… and wine.
Then to the pool.
–  S.Travel Approved*
* S.Travel is our coveted publishing stamp of approval on LGBT travel destinations, accommodations, bars, restaurants, adventures and experiences. Look to S.Travel for the very best LGBT travel the world has to offer. Join us on Twitter and Facebook for the latest in LGBT travel ideas, tips and fun, and sign up to receive our free S.Travel Newsletter.