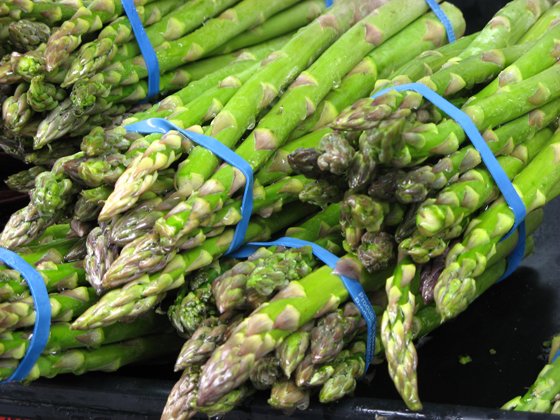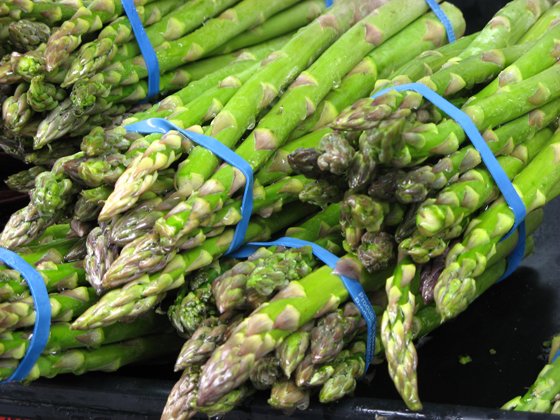 KITCHEN PREP :: At GGN we are firm believers in many things: no one in Abercrombie after age 28; and asparagus season is agonizingly short, for example. The former we can't help with, but the latter we're on, because all too soon melt-in-your-mouth asparagus season will have vanished.
So you can make the most of asparagus season, below are two of our easy favourite dishes courtesy of two of our favourite food experts. Munch using fingers while watching grown gay men in age-inappropriate clothing pass by:
Grilled Asparagus with Shallots, Lemon & Prosciutto
Choose uniform stalks of asparagus of medium thickness for grilling, since puny stalks do not retain texture and juiciness when cooked over the coals. Enjoy as part of an antipasta platter, as a side dish or salad.
2 lbs (1 kg) asparagus, trimmed
3 tbsp + 1 tsp (45 m+5 ml) extra-virgin olive oil
Kosher or sea salt
2 slices prosciutto, cut into slivers
Freshly ground black pepper
1 shallot, finely chopped
1 tsp (5 ml) finely slivered lemon zest
Freshly squeezed lemon juice, to taste
Toss asparagus stalks with 2 tbsp (30 ml) olive oil and season lightly with salt. Grill until tender and nicely charred, turning over the coals every few minutes to cook and brown evenly, 6 to 10 minutes, depending on thickness of the stalks.
In a small skillet, heat 1 tsp (5 ml) olive oil.  Add prosciutto and sauté until lightly browned and crisp, 2 to 3 minutes. Set aside.
Transfer asparagus to a platter and sprinkle with shallot, lemon zest and prosciutto. Drizzle with remaining olive oil and season with pepper and lemon juice to taste. Enjoy warm or at room temperature.
Variation: Omit prosciutto and add a garnish of shaved Parmigiano-Reggiano. Replace lemon juice with a dash of aged Balsamic vinegar.
Serves 6
Asparagus Mimosa
A classic dish named for the pretty yellow-and-white flower, perfect for asparagus season. Press a peeled hard-cooked egg through a fine, stainless steel sieve to create the bright and fluffy garnish.
Ingredients
1 tablespoon white-wine vinegar
2 teaspoons Dijon mustard
1/2 teaspoon coarse salt
1/4 teaspoon freshly ground pepper
3 tablespoons extra-virgin olive oil
1 large hard-cooked egg
2 pounds steamed asparagus
Whisk together vinegar, mustard, salt, and pepper. Slowly whisk in olive oil. Push egg through a fine sieve. Spoon vinaigrette over asparagus, and top with grated egg.
Happy Asparagus Season! Celebrate the spear!