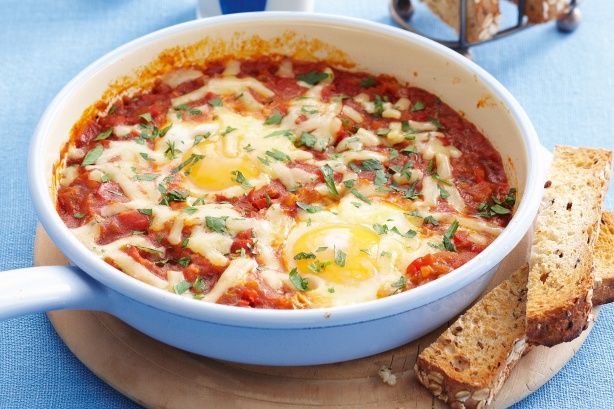 A PERFECT COZY SUNDAY :: GGN, always looking ahead, spent the summer kitchen-testing this recipe for One-Pan Mexican Eggs. Over and over. Consider it approved. Perfect hibernation food, fast and easy, most-excellent for hangovers, this is a great recipe to share with a group or hog just you and your beloved. We also taste tested what we think is The Perfect Sunday Lunch (Broccoli and Coconut Autumn Adore), and then turned to Rob Bragagnolo, Executive Chef of Toronto's Marben restaurant, who shared with us his recipe for a Perfect Sunday Dinner (Squash & Sage Risotto with Wild Mushrooms).
Related :: Read what Iron Chef Rob Feenie has learned in the kitchen here – and learn the secrets of Canada's top new restaurants, here.
One-Pan Mexican Eggs
Serves 4 Prep time: 5 minutes
Cooking time: 20 minutes
100 g. chorizo, cubed
1 onion, finely diced
3 garlic cloves, crushed
1 tsp. ground cumin ¼ tsp. ground cinnamon
1 tsp. chili powder (or more to taste)
1 tsp. dried oregano
150 grams baby plum tomatoes
2 400 gram tins chopped tomatoes
1 400 gram tin cannellini beans, drained
150 ml beef stock
Salt and pepper
4 medium free-range eggs
2 tsp. olive oil
4 slices sourdough bread
60 g. Mexicana cheese, grated
Handful of fresh coriander, chopped
4tbsp. sour cream
1. Add the chorizo, onion, and garlic to a large frying pan, and cook for 4 – 5 minutes over medium heat. The chorizo will naturally release oil, and stop everything from sticking.
2. Stir in the cumin, cinnamon, chilli powder, and oregano, then cook for another 1 – 2 minutes.
3. Tip in the baby plum tomatoes, tinned tomatoes, cannellini beans and stock. Bring to a boil, then cook over a medium heat for 5 – 10 minutes or until slightly thickened. Toward the end of the cooking time, season with salt and pepper.
4. Make four wells in the sauce, and then crack an egg into each. Cover with a lid, and cook for a further 8 to 10 minutes, or until the egg whites are just set.
5. Meanwhile, drizzle the olive oil over the pieces of sourdough bread, and then griddle them on a hot pan or toast under the grill until golden brown.
6. Remove the Mexican eggs from the heat and scatter the Mexicana cheese and coriander over the top. Serve with the pieces of sourdough and sour cream on the side.