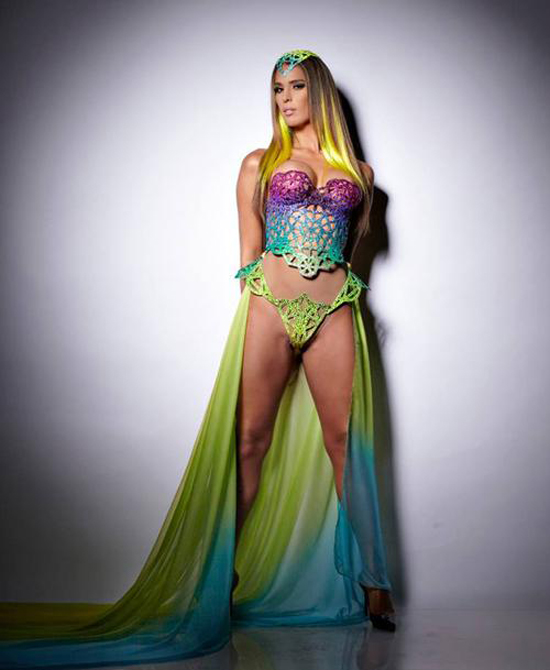 THE TRANS CEILING :: What woman wouldn't love to be a Victoria's Secret model? I would love to. The coveted modelling gig is a fantasy only a select few get the opportunity to do.
But what if a woman were to walk Victoria's infamous catwalk, exposing a secret few might ever have imagined: that she's transgender?
You may recall Carmen Carrera as a season three contestant on LogoTV's RuPaul's Drag Race. Since then she's been a successful model, appearing in ads for travel website Orbitz, enjoying features in W Magazine (including in a Steven Meisel short film), signing with Elite Model Management and taking fashion runways by storm.
In other words, the perfect Victoria's Secret model.
RELATED :: Hear why trans model Jenna Talackova's says: "I just think it's funny" that Carrera wants to be the first trans Victoria's Secret model.
Before you get all excited that Victoria's Secret is taking this modern route, it isn't so. Yet. Because many Carmen Carrera fans, including countless within the LBGT communities of North America, are expressing their support of Carmen Carrera's desire give them skinny ass "born this way" models a run for their money.
The sexy brand is well-known for showcasing supermodels from Gisele to Heidi, Tyra to Alessandra in their annual barrier-busting televised fashion show. Why not bust the trans barrier? To see a transgender model walk the Victoria's Secret runway would continue understanding by the masses of those who identify as trans women; tens of millions watched the 2013 edition over the Internet and on television as Victoria's Secret models took to the runway.
Marco Regalado has started a petition (sign the petition) to have Carmen Carrera be a Victoria Secret Angel. Says Marco, "As a brand, Victoria's Secret should feel comfortable marketing towards all types of women".
Interestingly, as a biological female, seeing Gisele, Heidi, Miranda, Kate, Adriana model Victoria's Secret doesn't make me want to buy the product. Instead I'm left wishing I looked like them so I could wear Victoria's Secret the way they do.
On the other hand, to see Carmen Carrera wear Victoria's Secret would actually make me comfortable to walk into a store to buy their lingerie – because comparing wouldn't dawn on me.
Victoria's Secret: let Carmen Carrera do her thang, and then watch me do my thing shopping at your stores without feeling like I'm not part of Victoria Secret. Send a clear message to the world that your secret is one everyone is invited to share.
– Raquel Richards. Like Miss Raquel on Facebook and follow her on Twitter.