CARRIE FISHER :: THE PRINCESS
By
GGN
on January 19, 2017
POP CULTURE :: Carrie Fisher, the most notable of galaxy princesses Princess Leia in Star Wars and noteworthy screenwriter passed away on December 27, 2016 after her heart stopped on a United flight that was 15 minutes away from landing in Los Angeles. The situation was so desperate she did not have a pulse for several minutes before a passenger was able to revive her with CPR. Following four days in intensive care at UCLA Medical Center she passed away at 8:55 a.m. (PST) due to "not obvious" causes (at time of publishing). She was 60 years old.
Carrie Fisher will be remembered for the many roles she played: Star Wars Princess Leia, screenwriter for Oscar nominated "Postcards from the Edge" which was nominated for two Academy Awards in 1991: Best Actress in a Leading Role, Meryl Streep, and Best Musical, Original Song, Shel Silverstein – "I'm Checkin' Out".
She was a novelist where upon she wrote her true tales on addiction, recovery, mental illness, fraught family relationships and the grime and glamour of a sexist Hollywood. Her books include: "The Princess Diarist", "Wishful Drinking", "Shockaholic", "The Best Awful: A Novel", and "Surrender the Pink".

I first saw Star Wars on video and my most memorable scene was the "Trash Compactor" scene where Princess Leia, Luke Skywalker, Handsolo, and Chewbaca were caught in the garbage compactor that slowly kept closing in on both sides while they tried to get out. This scene scared the crap out of me because of the unknown creature slithering under the dirty water. There was no telling when it was about to emerge and take one of them under it's siege, or when the sides of the trash compactor where to squash them.
Thanks to R2D2 and Z3PO they were saved!
RELATED :: Raquel Richards On The Death Of George Michael
RELATED :: Raquel Richards On The Death Of Debbie Reynolds 
I always wanted to be Princess Leia, what girl didn't? I had the Starship Enterprise ship, and the Stormtrooper, Princess Leia, Luke Starwalker and Hansolo action figures. Fast forward to current day my dog wears a Stormtrooper winter jacket. I am not quite what you call a "Star Wars nerd", but I understand the appreciation. When I was young I tried to style my hair just like Princess Leia's. Damn!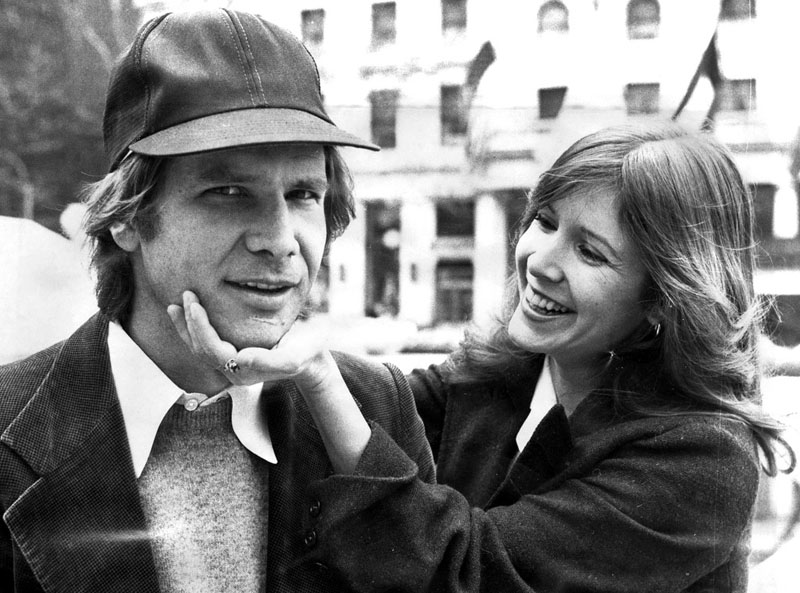 In the "Princess Diarist" Fisher wrote about her affair with Harrison Ford during the filming of Star Wars, she was 19, he was 33. They kept their romance under wraps because Ford liked to remain quite and Fisher quietly wrote about it in her diary which later appeared (with Ford's knowledge and consent) in her latest book "The Princess Diarist".
Fisher reprised her role as General Organa in the 2015 film Episode VII: The Force Awakens. She had already wrapped filming for the next Star Wars episode before she died. Some fans have taken to social media to urge Disney not to use CGI to resurrect her character.
However, when it comes to Disney a character's life is forever theirs and in the case of Star Wars Disney, which owns the Star Wars franchise, purchased the US$50 million policy from Lloyd's of London for the event that Fisher was unable to fulfill her three-film contract, according to The Insurance Insider. The claim will likely be triggered by her unexpected death.
After Star Wars Fisher's life was riveting yet forever Princess Leia, I recently heard on a program hosted by Barb DiGiulio on NewsTalk1010 where she mentioned she heard Fisher saying that for her to get to a table at a well-known restaurant was easier when she said it was for "Princess Leia" rather than for Carrie Fisher. This is the world in which we live.
Fisher was a powerful voice for mental health advocacy over the past several decades helping to destigmatize mental health issues. Gary her dog was her therapy dog. She openly embraced her illnesses – bipolar disorder, alcoholism, drug addiction, and body dysmorphia in her intimate, hilarious, and sobering book "Wishful Drinking" where she recalls her life as she best remembers it. The child of Hollywood royalty — Debbie Reynolds and Eddie Fisher — homewrecked by Elizabeth Taylor, marrying (then divorcing, then dating) Paul Simon, having her likeness merchandized on everything from Princess Leia shampoo to PEZ dispensers, learning the father of her daughter forgot to tell her he was gay, and ultimately waking up one morning and finding a friend dead beside her in bed.
This is far from a princess's life but rather a Hollywood made princess's life that was created, owned, and dispersed. Fisher may have been born from Hollywood royalty, but unlike who are served with the silver spoon she had talent.
Lest we remember the Princess of the Galaxy far, far, away, and whose heart was precious for those who laid under the Hollywood spell of greed, and for those who live daily with mental illness who are taking walking the path of life one step at a time with a deep breath for every step.
– Be sure to LIKE Miss Raquel on Facebook. Follow Miss Raquel on Twitter (This is where the dirt is dished!)