We're celebrating #GGNSummerOfPride with a new series on prominent gay men who have significantly contributed to fashion and music and shaped our culture. Leah Morrigan,our new newsletter editor, kicks it off by looking through the eyes of Tom Ford:
Tom Ford, superstar clothing designer, business man, filmmaker, husband, and father, personifies BOLD in his designs, his business dealings, and as an individual.
He's audacious as hell, he does what he wants and he does it well, otherwise he wouldn't carry clients like Johnny Depp and Daniel Craig. Yet with all that going for him, with all the success and power and wealth, Tom Ford remains human.
Business
Ford, a jack-of-all-trades with a Midas touch, took Gucci from near-bankruptcy to $3 billion a year in sales, launched his own menswear label in 2007, aligned himself with Estée Lauder for the Tom Ford Beauty Brand, and counts 98 international retail Tom Ford stores among many other achievements, including a directing and co-writing credit for 2009's A Single Man, a tasteful and tragic tale of gay angst in the early 1960s, that starred Colin Firth and Julianne Moore. Ford's debut film won many awards and Firth received an Oscar nomination for best actor.
Despite what we might think an outrageously successful billionaire designer who caters to high-end clients like Jay-Z, Kanye West, and Drake might be like, Tom Ford is a real and surprisingly regular person.
Images of beauty 
Ford studied architecture before he turned to fashion and understands how to build things. He uses geometry in his designs and creates sensuous lines and angles in magnificent, often textured, deeply-coloured fabrics in his menswear collections.
He has an inborn sense of balance and opulence and learned about fashion through his mother and grandmother. "My mother was very chic, very classic," he recalls in an interview with Biography. "My paternal grandmother was very stylish in a very Texas way—everything big and flashy, from jewelry to cars."
When asked if Texas has influenced his designs, Ford told FDLuxe,  "I have certain notions of glamour that I never lost… I like a heel on a boot. I feel better with a heel. That Texas taste—big hair and a lot of makeup—was my first notion of beauty. And I have to say, to this day, I still have a thing for big hair.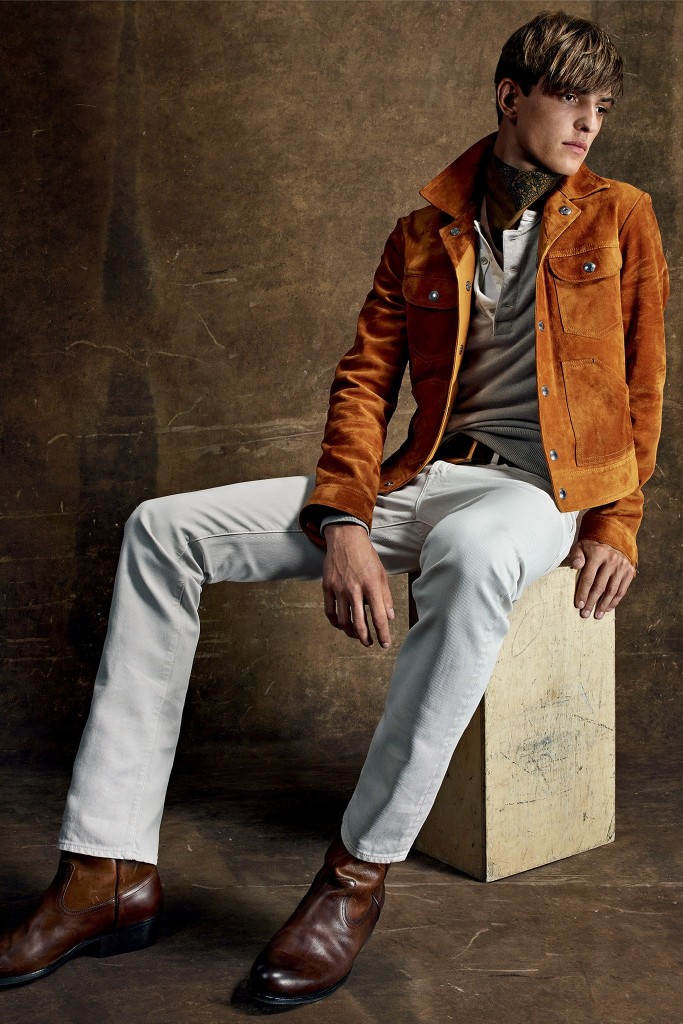 "The images of beauty you get in your childhood stick with you for life, so there's a certain flashiness at Gucci—Texas-inspired—with a certain Western feel."
The big, bold, and flashy has been woven into Ford's designs for Gucci and used in his own menswear line. In his spring/summer 2015 menswear line for example, the casual luxury of his Western-inspired collection included suede jackets with tasselled sleeves, jeans, denim shirts, and jean jackets–a far cry from his iconic suits and shirts, dapper enough for 007 himself.
"What we wanted to do was to expand sportswear so that our customer has something to wear for every occasion of his life," Ford says of the collection.
Tom Ford the Human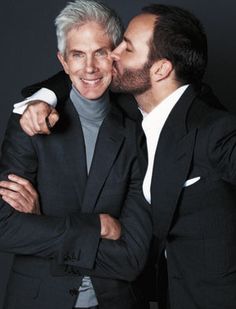 Tom Ford is sensitive and romantic and loves to be in love and be in a relationship. "I'm someone who likes being part of a couple and always wanted that and always sought that," he says, "And it would probably be true for me whether I was gay or straight."
When Ford saw his long-term partner, Richard Buckley, the former Editor-in-Chief of Vogue Hommes International at a fashion show in 1986, it was love at first sight. More than 25 years along, Ford and Buckley married in 2014 and welcomed their son, Alexander John Buckley Ford (Jack), into the world in 2012. Ford has proven to be a devoted partner and father.
"I feed Jack, I dress him, I change his diaper, and I have a good two or three hours with him every morning, just me and him," Ford says. "At night, again, I put him to bed and try to spend as much time with him as possible."
Now that he's raising a child, his perspective of the world has changed. In particular, he no longer receives Botox injections, and says that things he used to care about just don't matter as much anymore.
It's refreshing that a superstar like Tom Ford understands his limited relevance and shelf-life. "No matter how hard you try, there is a cultural moment, but eventually that window's gone, your time on Earth is finished, and you might as well leave," he says. "I could absolutely die tomorrow–I would not care. I feel like I've lived, I feel like I've had a great life."
 Tom Ford's Style Advice:
"Keep your jacket buttoned. Always. It's just really flattering – it will take pounds off you."
 "At home, off-duty, I wear T-shirts from Fruit of the Loom but I have them tailored – if the sleeves are cut over the tricep your arms look much better."