LGBT BERLIN :: Homosexuality in Berlin was a crime in as early as 1935 but was finally removed from legislation in 1991. Over 50,000 gay men were prosecuted during this time.
Today, however, Berlin not only stands as the capital of Germany but as one of the most liberated and open cities on this side of the ocean.
The most recent program Berlin has implemented in support of sexual and gender diversity is the Pink Pillow Berlin Collection. Setting new standards for hotel hospitality this initiative brings together hotels that believe all guests should be welcomed exactly how they are. By staying at one of the collection's hotels – such as the Mandala Hotel – you may rest assured knowing each hotel:
treats all guests with same courtesy, dignity and respect
contributes actively to the LGBT community
creates work environments of respect and tolerance
is able to offer their guests information about the LGBT scene
participates in visitBerlin's semi-annual LGBT information days
The most common gay neighborhoods are in the districts of Schöneberg and Kreuzberg (both in the western part of Berlin) as well as in Prenzlauer Berg (eastern Berlin). In September, a must on any gay person's Berlin itinerary is the largest gay fetish event in Europe, Folsom Europe. The international leather & fetish weekend features a street fair on Saturday afternoon and loads of parties from Friday till Sunday.
But more than events and organized queer life, there is a prevailing sense of the ability for everyone in Berlin to be who they are without fear. This can be seen by the example of Klaus Wowereit. Elected for three terms in a row, Wowereit has been the openly gay Mayor of Berlin since 2001. He sums up Berlin's accepting attitude with his famous quote, "Berlin is poor but sexy."
In other words, be whatever you are – it's sexy no matter what.
Danka shun, in German, means 'Thank you very much', and I couldn't think of better words to consider as I leave the fascinating city of Berlin. Nine times the size of Paris, it's hard to make a dent!
Unexpected discoveries appear at every turn, along with friendly smiles, and history markers line the streets; a sense of freedom and happiness fill the city. Berlin is a very green city: almost one fifth of the city is covered in trees.
Berlin stands strong as a cosmopolitan yet relaxed hub – it's culture and way of life impressed me the most. In Berlin, people don't work to live, they enjoy life daily. Things slow down, most stores are closed by early evening hours and Sundays are still the day of rest. Wine and bread are present at every meal and people break for coffee and kuchen (cake) every afternoon; the delight of this anti-big city mentality will quickly capture you.
I was impressed by the way Berlin not only preserves their history and also takes pride in doing so. Berlin is a city that was destroyed by the Second World War and once reined over by the Führer – these facts carry with them some unfond memories. They've taken this dark time from Germany's past and commemorated them by creating beautiful pieces of art. Monuments, gardens, and plaques can be found spread across the land. Double cobble stone markers throughout the city streets represent where The Berlin Wall once stood separating East and West; stepping stones are purposely designed to make you take notice and remember people who died.
As the top visitor's attraction – and once formerly used to represent the separation of the city – the Brandenburg Gate has now come to symbolize German unity. Take a boat tour along the River Spree and you'll see crosses lined in a row representing people who tried to cross over. To be able to touch the buildings kept in original form after the war (with bullet holes still freckling them) and  too see ash buildings never rebuilt representing the past is to stand in the middle of something unique and meaningful that really sticks with you even once you've gone.
Berlin is a city that represents a life we'd all like to live: where the pain of the past is replaced with peace, tranquility and love for today and tomorrow.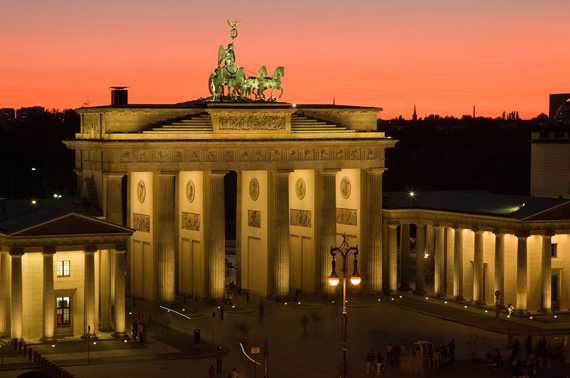 The Fall of The Wall: November 9th, 2014-
Thousands gathered on the incredibly historic night of November 9th 1989, and watched as The Berlin Wall fell. This year Berlin celebrates the 25 Anniversary of the fall of the Wall on November 9th and several events and projects will help commemorate this event. One of the most incredible installations will be The Lichtgrenze.
The Lichtgrenze is a light installation running along the former path of the wall throughout Berlin's city center. It will trace the division of East and West for over 12 km with 8,000 illuminated balloons. Each balloon belongs to a 'balloon patron' and represents their personal message and story. On the night of November 9th, 2014, the balloons will be released into the sky, a celebration of Freedom not to be missed.
"Twenty-five years after the fall of the Berlin Wall, the once divided city presents itself today as a liberal and open-minded metropolis, a place to be. This tremendous development would not have been possible without the people's courage and imagination. With our events for the anniversary of the fall of the Wall, we recall the historical occurrence of the European liberation movement of 1989 that radically changed the course of world history. We place ourselves in solidarity with those who have raised their voices for freedom, democracy, and human rights back then as well as now. And we take a look at the contemporary world in which Berlin, after twenty-five years, has become a place of creativity, openness to the future, and internationality."
– Governing Mayor of Berlin, Klaus Wowereit.
More on The Fall of The Wall here.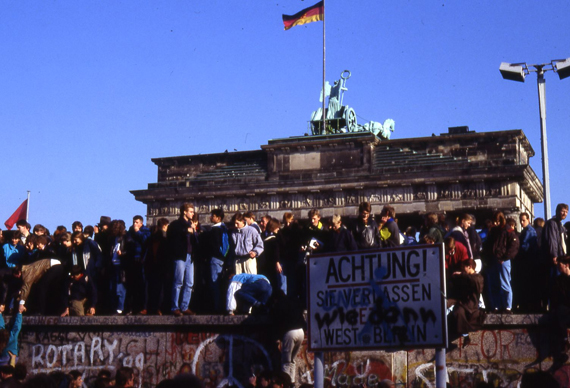 – Sabrina Pirillo is editor of S.Travel.
–  S.Travel Approved*
* S.Travel is our coveted publishing stamp of approval on LGBT travel destinations, accommodations, bars, restaurants, adventures and experiences. Look to S.Travel for the very best LGBT travel the world has to offer. Join us on Twitter and Facebook for the latest in LGBT travel ideas, tips and fun, and sign up to receive our free  S.Travel Newsletter.