DIRTY DISCO :: Could This Be The Last Dance?

DIRTY DISCO ::  This very well may be the last dance for one of Pride Toronto's most famous stages the Bud Light Dirty Disco South Stage. This stage is a Pride tradition to those who have followed it since it's inception in 2002 which was originally held on the corner of Church and Wellesley Streets. Sixteen years later committed fans eagerly wait in anticipation for it to start. The Dirty Disco friends know what they're in for once they pass the security gates, buy their drink tickets, and lock down a dancing spot to call their own. They are ready for one hell of a dance party where we become one.
For the followers of Dirty Disco it has a personal meaning, importance, tradition, value, joy, love, and peace. I can truly say no other stage during Pride can hold a candle to the Dirty Disco stage.
Dr. Trance a.k.a. Don Berns was the curator of this stage. We will continue to pay homage to his legacy as legendary promoter, radio personality, and performer. JELO, an original Dirty Disco DJ further explains the beginnings of the stage. "Don wanted to mix it up and he wanted people to party. Mark Smith was involved at the early stages of development of the stage, and of course Pride Toronto who have been green lighting it for over a decade".
In 2007 the stage moved to the parking lot on the corner of Church and Carlton Streets. Robb G explains, "The move to the parking lot happened because, we the stage was too popular, it was causing safety issues. It was a wild street party!"
The Dirty Disco consists of regular players who have ever so slightly changed over the years. When the stage first started in 2002 it consisted of Don Berns, Deko-ze, JELO, and Chris Pettit. As time progressed Robb G was added then TK and Chiclet. By 2006 I was added as co-host with Don Berns, and then DJ Ticky Ty came on board. Come 2012 Adam K was added. Upon Don's passing in 2015 MC Flipside was added to co-host with me. This year we will see Jerome Robins added onto the bill with a repeat opening set by Nigel Best.
The Dirty Disco stage has been rocked by special guests such as DJ Dan, Tom Stephan/Superchumbo and Dave Audé. You can watch my Pride interview with Tom Stephan/Superchumbo on The Miss Raquel Show.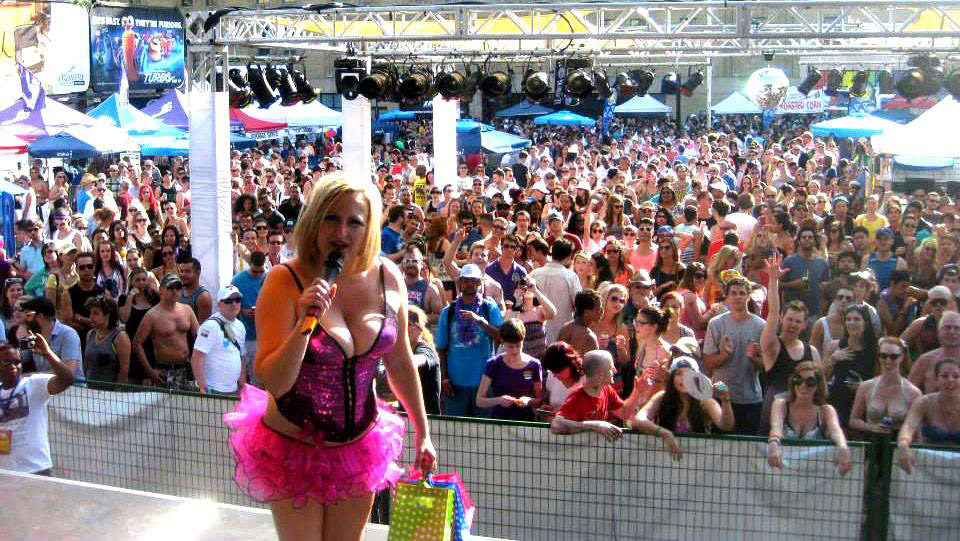 I can't begin to describe how thrilled I was when TK (Arts & Culture Program Manager 2010 – 2016) asked me to host Pride's OLG Central Stage in 2005. Come 2006 he invited me to host both the OLG and the Dirty Disco stages which I did until 2008.  I am the only straight female to host Pride stages for seven consecutive years, and I am honoured to be part of a festival which means a lot to me! My mother first introduced me to the gay community and Pride through her seven years volunteering for ACT and Casey House. Read my Dreams Come True:: Mother's Day on GGN.
We all miss Don and his courageousness, humour, and non-stop hard work to keep the Dirty Disco alive and dancing. I miss him and what he liked to call our "ceremonious passing of the mic" which we did together once my set ended and his set began. I am extremely proud to be a part of a collective I can call my musical family.
Robb G further explains the family history of this stage. "We're a family. Some cast members have come and gone over the years, but the core group has been steady. Most of us involved in the stage came to age in Toronto's gritty underground warehouse party and rave era. It was a scene of wild expression, immense diversity, and where people went to let loose without fear of judgement. We've managed to reproduce this atmosphere at Dirty Disco, that's why the stage has such a dedicated following."
Chiclet who has been part of the Dirty Disco since 2011 feels the stage is her home. She says, "Playing the Dirty Disco stage is special to me because there is no other stage like it. We celebrate diversity…I came of age dancing to Deko-ze, JELO, Jerome Robbins, and Robb G. Not to mention MC Flipside and you (Miss Raquel)! And the influence of the late, great Dr. Trance (Don Berns) will always be felt. All of us at the Dirty Disco stage share a common connection through Toronto's illustrious underground dance scene – (it's) a scene (that) helped shape who I am. P.L.U.R.!"
During World Pride 2014 we had a magical experience where a rainbow appeared above and across our stage. It was such a joyful and warming sight the crowd was enthusiastic and danced with delight under the rainbow. During 2015 we had torrential rain that lasted all day and into the night, but this didn't stop Pride from happening nor did it stop the proud devoted Dirty Disco followers from attending. Nothing will stop Pride from happening. Nothing!
Sadly, the Church and Carlton parking lot, after nine years of Pride performances will turn into a condo. This means we will never experience a Dirty Disco again at this location, and marks the end of a gathering during Pride that means so much for so many. And more so with our thoughts and prayers for those who recently died at Pulse nightclub in Orlando, Florida. This Pride, we at Dirty Disco we will gather, hold hands, be strong; be one, and breath in the same musical air, serve up positive energy, and be free to be who we are without judgment.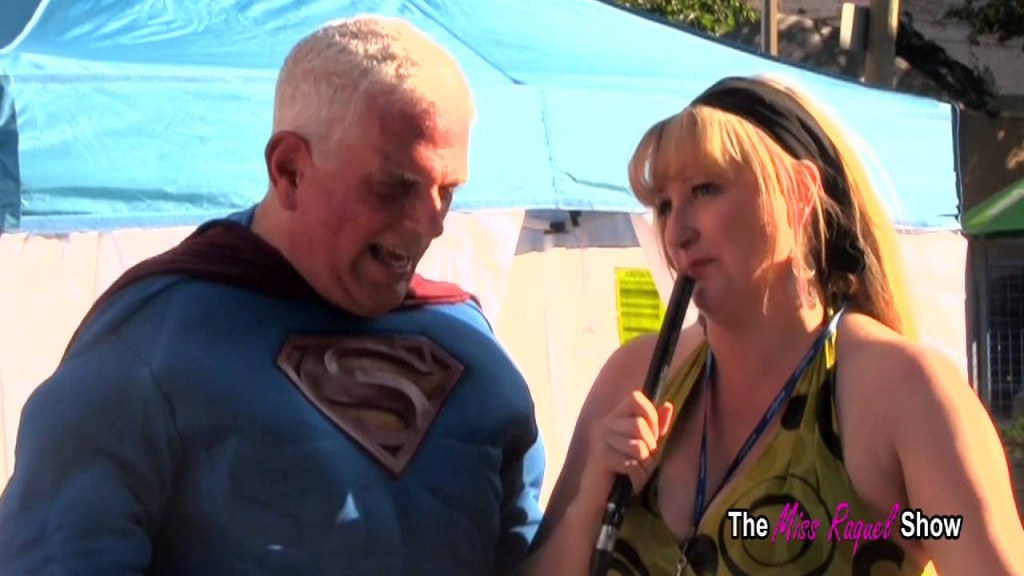 Dr. Trance a.k.a. with Miss Raquel Dirty Disco 2012 on the Miss Raquel Show
Will this be the last Dirty Disco? Let's hope not. I can assure you the Dirty Disco Collective will try very hard to find a new location; only time will tell. One thing is for certain this will be the last Dirty Disco in the parking lot which for many has, including me, have called their "Best party at Pride".
In the wake of the attacks at Pulse nightclub in Orlando Deko-ze expresses, "For me, this is a lot more than just a party. The recent shooting(s) in Orlando reminds me that we still have a long way to go until people are educated and accepting of everyone regardless of who they are attracted to. Dirty Disco has achieved something special – a complete mix of gay and straight. This is (the) sort of unity that the outspoken generations before us have fought for."
Stand up, be counted, and You Can Sit (Dance) With Us Sunday July 3 at the Dirty Disco South Stage.
Bud Light Dirty Disco South – Sunday July 3 – 2pm – 11pm 
Dirty Disco starts at 4pm
Church & Carlton Streets
FREE (Donations are suggested and greatly appreciated) l 19+ to drink ID required
DJs (set times TBA):
Deko-ze
JELO
Robb G
Chiclet
Ticky Ty
Jerome Robins
Nigel Best
Hosts:
Miss Raquel Richards & MC Flipside
FB Official Invite: www.facebook.com/events/1097247793651662/