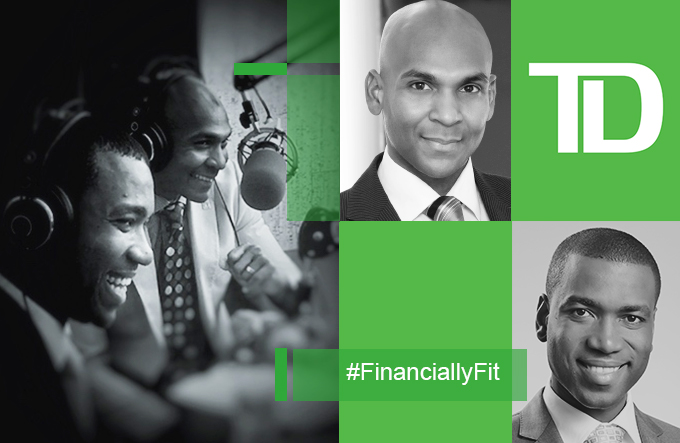 #FinanciallyFit :: Each month on TheGayGuideNetwork.com, Shaun is joined by TD Bank's Al Ramsay and his team of financial experts for #ThoughtRevolution radio on Shaun's SiriusXM Canada talk show, for a financial conversation that's anything but dry.
Al Ramsay, National Manager, LGBTA Business Development, TD Bank, shares personal anecdotes, takes questions from listeners, and offers wealth wisdom every month. Do you believe in the power of change, in your power to become more financially fit? If you do, these #FinanciallyFit conversations are for you. Join us on this page each month for new ideas to help you make this year the year you are more financially fit than ever before.
#FINANCIALLYFIT :: SEASON TWO
Conversation#9: Orlando Lopez joins Al Ramsay as they bring us up to speed on TD's Financial Literacy Month and the importance of having discussions with one's partner and children about money and wealth, and building  money confidence. Also included is TD's involvement in the LGBT community with a spotlight on the Canadian Gay and Lesbian Chamber of Commerce Black and White Gala Awards, the Canadian Lesbian and Gay Archives Gala, and other upcoming events.
Conversation#8: Al and Nishaa discuss what they're thankful for, TD's SOLD OUT 24th annual Art for Heart fundraising event for Casey House, and updates on HIV stats.  Details about the Canadian Gay and Lesbian Chamber of Commerce: LGBTQ Young Entrepreneur Program are also revealed.  In the second segment, Shaun and Nishaa delve into entrepreneurship and October, Small Business Month.
Conversation#7: The 2017 Pride Special: Al is joined by Zachary Dass, TD product analyst, as they discuss TD's support of Pride and the moment of truth when TD authentically embraced the LGBT community, to help change the lives of others.
Conversation#6: Al continues his Pride tour in Eastern and Western Canada, while Carlos Godoy, Regional Manager of the LBGTA Business Development in Quebec and Eastern Canada discusses TD's support for the Human Rights Conference, and Marc-Antoine Saumier, Branch Manager at a Ste. Catherine/Amherst TD branch talks about what TD is doing for the ever-proud community.
Conversation#5:  Interest rates are rising (barometer's getting low…) and that means an awful lot if you are debt. TD Financial Advisor, Orlando Lopez, offers tips on how to manage this changing rate environment, while Al Ramsay shares is #365Pride tour adventures, heading into Vancouver Pride. TD Vancouver's Grant Minish joins as special guest, to give us a sneak peek at what's ahead as Vancouver gets set to be prouder than ever.
Conversation#4: Pride Month 2017 brings us a very special #FinanciallyFit segment to the show, listen to what Al Ramsay and  Zachary Dass have to share about TD Bank initiative that has helped save many lives in the LGBTA community outside of Canada.


Conversation#3: Did you know there is an app to keep your finances in good shape? Wealth Advisor Nishaa Awargal is back bringing us the newest tools that will help you stay on track with your budget, and Jeremy Dias joins Al Ramsay in conversation about community and how we can all help each other to be more #FinanciallyFit 


Conversation#2: It is spring cleaning and that includes cleaning your finances, and there's no one better than TD's Wealth Advisor, Nishaa Agarwal, to give you the best tools to stay on a budget, and Al Ramsay, who is now the National Manager, LGBTA Business Development in Canada, shares his experiences with his new tittle travelling all over the country making honour to TD's #Pride365.

Conversation#1: On the first #FinanciallyFit podcast of 2017, Al Ramsay and Orlando Lopez explained the importance of your RRSP contributions.
#FINANCIALLYFIT :: SEASON ONE
Conversation#12: On our last #FinanciallyFit podcast of 2017,  Al Ramsay and Nishaa Agrawal talk about the importance of  having a plan/budget this Holiday season to not end the year with Holiday debt. Wishing you all Happy and debt free Holidays!


Conversation#11: Al Ramsay and Orlando Lopez talk about how TD Bank pays homage and helps raise funds towards HIV research this year on December 1st for Worlds AIDS Day   
Conversation#10: Al Ramsay, Adam Leroux and  Grant Minish talk about TD's 'Official Partner of Big Dream Campaign,' where TD promotes a select group of Small Businesses in their TD Ads in mainstream media to celebrate Small Business month.
Conversation#9: Al Ramsay and Adam Leroux share the TD Bank initiatives that will inspire you to use your work to help others like they do
Conversation#8: Al Ramsay and Carlos Godoy from TD Bank with  Jean-Sebastien Boudreault, VP Montreal Pride, come together as we celebrate Fierte Montreal / Montreal Pride
Conversation # 7: Al Ramsay is joined by Javon Findlator (Product Manager, TD Cards) this month, to share how you can help save lives this season of Pride in Vancouver, Montreal and Toronto, following the remarkable success of TD Bank's Beyond The Miles Campaign last year. Plus, learn how societal change was created when TD became the first major bank in Canada ever to sponsor Pride, and why in this post-Orlando environment, such support is now more needed than ever. 
Conversation # 6: Orlando Lopez, a TD Wealth Advisor, joins Al Ramsay to share why we should all re-think what insurance is all about in this month's #FinanciallyFit podcast.
Conversation # 5: Nishaa  Agarwal, a TD Wealth Advisor, shares how buying your first home can be stress free.
Conversation # 4: Nishaa & Al answer heart-felt listener questions about debt – and Nishaa shares where her own financial hurdle currently lies.
Conversation # 3: What an RSP is, why it is important to start one at any age and how a wealth advisor can help.
Conversation # 2: Step on the financial scale. What do you owe vs. own?


Conversation 1: Why you're worth financial planning. #FinanciallyFit


RELATED :: Meet Al Ramsay, Regional Manager, LGBTA Business Development, TD Bank
RELATED :: Year-End Financial Wisdom
For more helpful advice and tools, learn how TD can help you achieve your financial goals at www.tdcanadatrust.com.
– GGN Staff
SaveSaveSaveSave