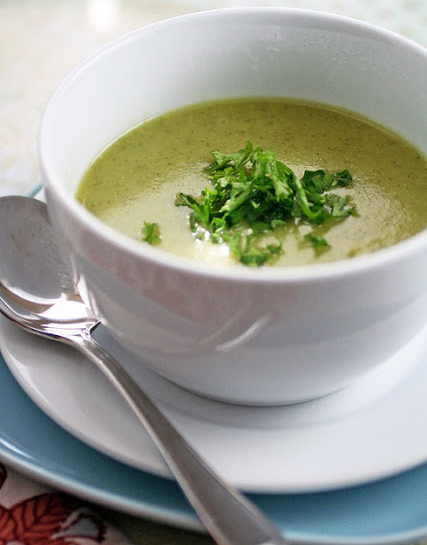 WINTER VOREX :: Soup's on! Taste-tested in the GGN kitchen, this super-simple, uber-delicious broccoli coconut soup also freezes well. Lemon grass and coconut milk help create a healthy soup that is atypical for fall/winter. We also taste tested what we think is The Perfect Sunday Breakfast (One-Pan Mexican Eggs), and then turned to Rob Bragagnolo, Executive Chef of Toronto's Marben restaurant, who shared with us his recipe for a Perfect Sunday Dinner (Squash & Sage Risotto with Wild Mushrooms).
Related :: Read what Iron Chef Rob Feenie has learned in the kitchen here – and learn the secrets of Canada's top new restaurants, here.
Broccoli and Coconut Autumn Adore
Broccoli is beautiful and nutritious food. This soup can be a meal in itself and consumed at any time – even as a snack. However, if you feel you need it to be a bit more substantial (protein richer), try adding some chopped spicy lamb sausage. Alternatively, grilled salmon works really well. If you don't enjoy meat, add tofu or fried pieces of broccoli florets, or any other veggies (spinach is great).
Ingredients:
Broccoli – broken into chunks
1-2 fresh lemon grass sticks, finely chopped
Garlic, finely chopped – generous amount, yet according to one's taste
1 large red onion, a couple of shallots or 1 small leek (or all three chopped)
1 tsp Cumin (approximately)
Pinch of Cayenne pepper OR spicy smoked Paprika
Black pepper/Olive oil/Coconut milk/water/sesame seeds to garnish
Heat up a generous amount of Olive oil in a deep pot.
Add garlic, lemon grass, red onion (and shallots and leek if you are using them)
Gently fry for a few minutes until they start to get lightly brown and add cumin. Sautee for a few minutes, making sure that the ingredients are not sticking to the pot or burning.
Add the broccoli and stir for another minute.
While it's all sizzling nicely, pour the coconut milk in and simmer for a minute or two.
Add a bit of water, so that the broccoli is almost covered.
Cover the pot and let it all simmer on medium to high heat for five to ten minutes until broccoli is soft. Keep checking to see if there is enough water
Remove from the heat to let it cool.
Add Cayenne pepper or smoked hot paprika (according to taste) and black pepper.
Blend until smooth. Add more water if a thinner soup is desired. Serve garnished with a generous portion of sesame seeds and any fresh herbs, or even edible flowers (these look gorgeous on top!)