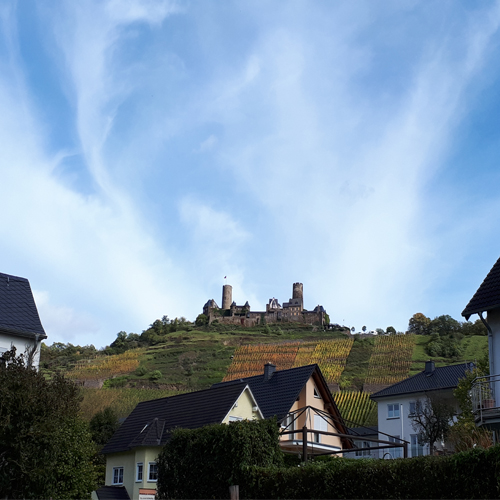 S.TRAVEL :: Travel is a beautiful thing. To be able to go beyond what you know, what you've been taught, your traditions, your way of doing things. To see the world through the eyes of another. To leave your comfort zone and learn something new. To admire the simplicity of nature, the beauty it's always offered but missed because we were buried in our phones or too busy working or anything outside of allowing our minds to stop and our eyes to open.
To let curiosity take over and make our inhibitions extinct. To rent a car and just drive, explore, discover. To make a connection with people you meet. People who have left an impression and whom you speak of every time you talk about 'that one time in…'
Germany gives us the opportunity to experience all of this, and below are four of my favourite cities in which to do so:
Koblenz means where the river meets and the most important river, the Rhine (which runs thru Switzerland and is 1320km long) and Mosel (being one of thirteen German wine regions) intersect at the world-famous German Corner. The Rhine has been a vital waterway carrying trade and goods deep inland during the Roman Empire and where emperors, kings and princes' built their residences.
Koblenz visions for landscapes are extraordinary, as you go by castles lining the River where you'll find 40 of those castles in just 60 short km, such as the Cochem, Eltz and Rheinfels Castle.
The scenery is spectacular and indescribable, with vineyards lining the River and where Riesling and Pinot Noir are the most popular wines. Growers encourage visitors to walk through their vineyards to take it all in before savoring their wines.
In addition to Koblenz being known for its wine, fascinating history and picturesque scenery, it's also known for shopping! Taking a stroll along the romantic narrow streets and scenic courtyards is where you'll find fashion, jewelry and locally grown items.
Built in 2013 in Koblenz's central square, the Forum Confluentes is six levels high offering art collections, a library, and an interactive tourist centre.
Established in 1817 and part of the UNESCO World Heritage Site, the Fortress Ehrenbreitstein is Europe's second largest preserved fortress and offers a fascinating exploration of this fortification. A must do is to take a cable car ride 118 m above the River offering a spectacular view of the River Rhine and Moselle.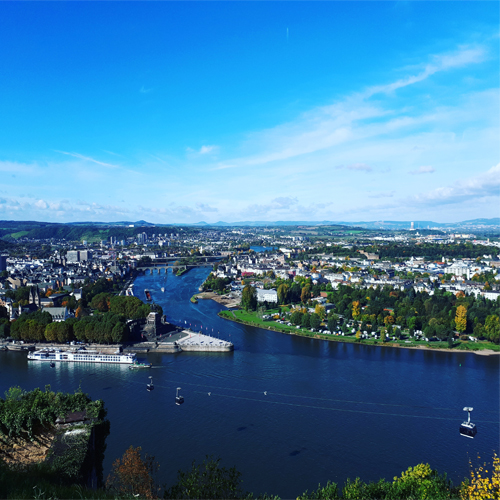 The Electoral Palace was erected in 1777 and was home to the Prussian military governor and today is open to the public and used as a conference and event venue, with a landscaped back yard of tranquility leading down to the Rhine.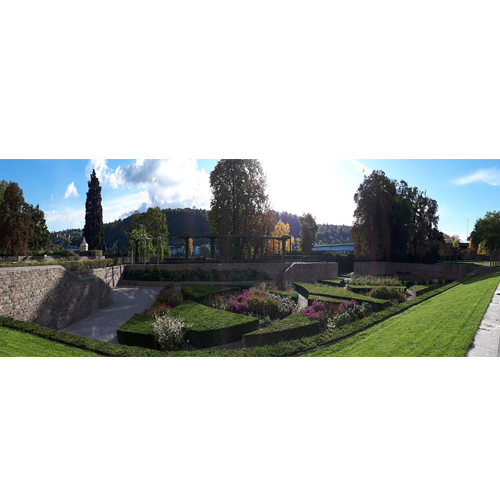 At the foot of Fortress Ehrenbreitstein, you'll find the scenically hidden and beautiful Weingut Gohlen Winery. Established in 1921 and harvesting 15-20000 litres per year, you can enjoy a delectable tasting of wines along side German delights such as liver sausage, blood sausage and of course, potato salad.
On your way to Trier, stop in for a spectacular vineyard view at Vinothek and of course to sample some more wine and German feasts (you are, in Germany after all, it would be rude not to).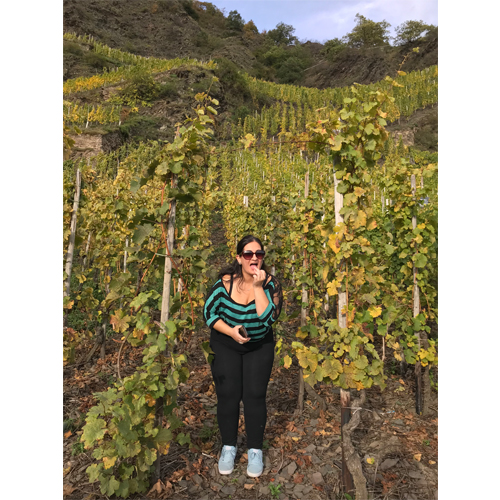 Two words: Karl Marx. The city of Trier will be celebrating this 19th-century philosopher, economist, historian, political, journalists' 200 years with a Life. Works. Time. exhibition running from May 5th-October 21st, 2018.
Trier takes the traveller back to a historical period which began in Roman times. Some highlights not to be missed are:
The Porta Negra (Black Gate) is Trier's landmark, The Romans built it in the 2nd Century AD from huge sandstone blocks and held together by iron clamps. Take the walk to the top for a stunning view of the city.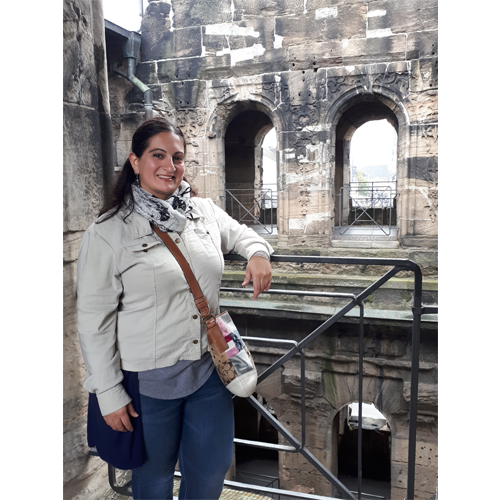 The Basilika was the throne room of Emperor Constantine and is the largest single room to survive ancient times not supported by columns. Trier delivers miles of Roman history, and has even brought UNESCO in the process of excavation and discoveries onsite, hiring architects to see what's really Roman and what was refurbished in the 1900 century.
Prince Bishop's Palace is a beautifully designed gold home. Out front of the palace you'll see 4 angels representing all seasons and up top in the middle is Venus and Roman god, Apollo.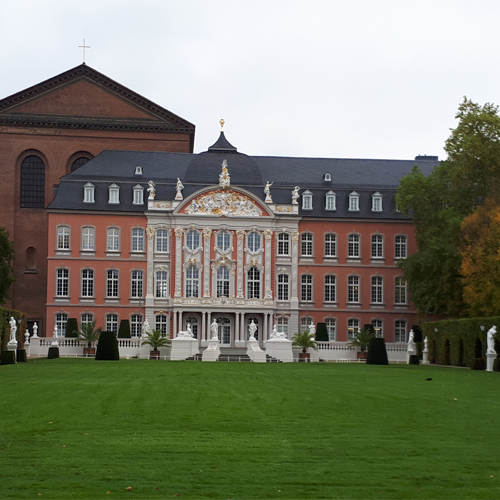 Trier's Cathedral is a must see with intriguing history of its own. The gown (known as tunica) of the Lord Jesus Christ is kept away and only revealed every 50 years, with the last time in 2012 and 750,000 visitors fled to the cathedral.
Not only is Trier boasting with Roman history, but it also houses the 9th UNESCO world heritage site for fashion, offering an array of shopping which leads through one of the most exciting pedestrian zones in Germany, including 2000 years of wine making and culinary delights, like dining at Trier's Oldest Restaurant, Wirtshaus zur Glocke.
For an authentic Roman experience, be sure to lay your head to rest at the Ibis Styles Trier. It's almost like you're sleeping with roman gods, as you'll find Roman inspired rooms, stylish décor, high ceilings and even Cicero offers some inspiring quotes for a restful stay.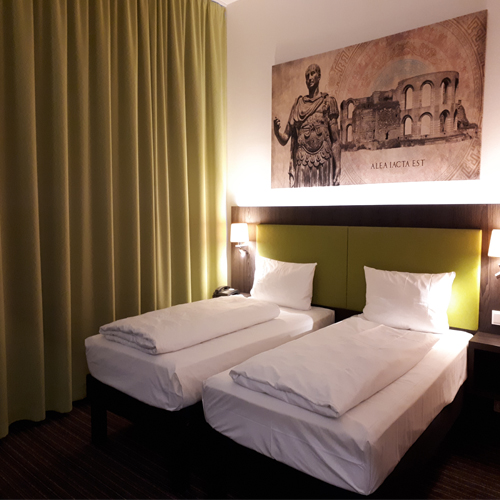 Saarbrucken is a city that's very inviting, featuring black and white houses with a very French influence, fascinating churches, historical museums and graffiti and pop art lining the city.
A stop and see would be the Baroque Palace, built between 1728-48 for Prince Wilhelm Heinrich von Nassau-Usingen (second in line for the German Throne) and a great place for sitting outside al fresco for an espresso. Head down to the market place for some fascinating finds, tons of bars and restaurants, including my choice, Zum Stiefel. Here you'll find local traditional foods like potato dumplings and meat liver sausage to beer cooked foods, ending with a scoop of raspberry sorbet floating in a martini glass of prosecco!
A good nights rest can be found at the lavishly beautiful 4-star Victor's Residenz Hotel Saarbrucken. Offering elegant rooms and suites overlooking a beautiful sunrise and park with a lake plus Parisian-style dining at Chez Victor's.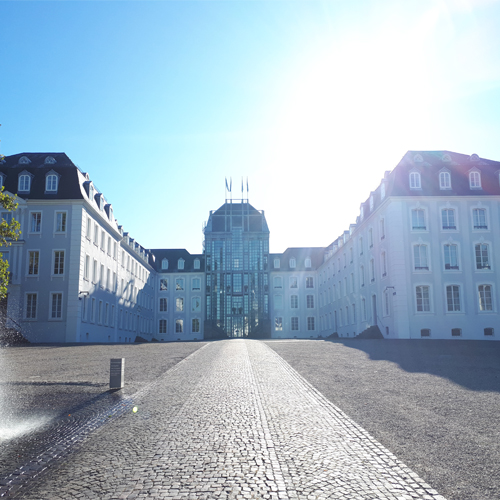 Where does one even begin to explain Munich? Known to many as the home of Octoberfest in the fall and a beer drinking city, I loved exploring Muenchen outside of this period. Deemed the safest city in all of Europe and where people are flooding to with an increase of 300,000 residents in 20 years, Munich is the 3rd largest German city behind Berlin and Hamburg.
First off, prime location: The Deutsche Eiche Hotel (meaning German Oak) couldn't have been built in a better spot. Click here to listen to my interview with General Manager, Roger Batra, as he explains the history of the hotel, Hitler's visits and of course, the four-story bathhouse.
Shopping:
With shops ranging from local German designers to Prada and everything in between, Munich soars with high shopping options to suit anyone's tastes.
Glauchenbach quarter is the life of the LGBT community where you'll find boutique stores, bars and shops and a river where you can sit outside and enjoy your favourite beer. In addition to the Glauchenbach, you'll find history and memorandums lining the ground, for example what used to be the oldest gay bar in Munich, Schwarzfischer, observes a colored floor monument as a gay memorandum for the brothers and sisters who was persecuted. You'll also be fascinated to know that a woman founded the first ever leather bar, and during Pride's Christopher street parade the street lights change to reflect two males on green and two females on red.
Maximilianstrausse is the most exclusive area in Munich planned out by King Ludwig I. Maximilian II was the father of Ludwig and you can see him perched in the centre of Maximilianstrausse. Ludwig II, often referred to as the Swan King or the Mad King, was the most important king of Bavaria. Because at that time homosexuality was persecuted, his death is still the biggest mystery as he officially died by drowning but the kingdom declared him to be ill.
Kaufingertor is situated between two large fronts of houses with a blue light beam that passes between the neighbouring buildings to direct your gaze inward leading to delicatesens, fashion and boutique shops.
Landmarks:
Munich is architecturally stunning amongst other things. If you're looking for a fantastic tour guide not only of Munich's history, but for a recounting of the LGBT moments that took place and still are prominent in this beautiful city, then do yourself a favour, book a tour guide with Alexander Kardaschenko. His fascinating and robust knowledge of the city will leave you wanting more.
Within walking distance of the Deutsche Eiche, is the buoyant and bustling Viktualienmarkt where you'll find everything from fresh baked goods and espresso to schnitzel, brautwurst, potato salad and you guessed it, beer! Along side fresh fruits and vegetables, ingredients from all over the world and housing one of the best biergarden's, it's a great place to hang out with family & friends.
Germans like to celebrate life outside and will always find a way to take in the fresh air. Even in the winter months, coffee houses offer blankets for patrons to sit outside, even if it's just for a few minutes.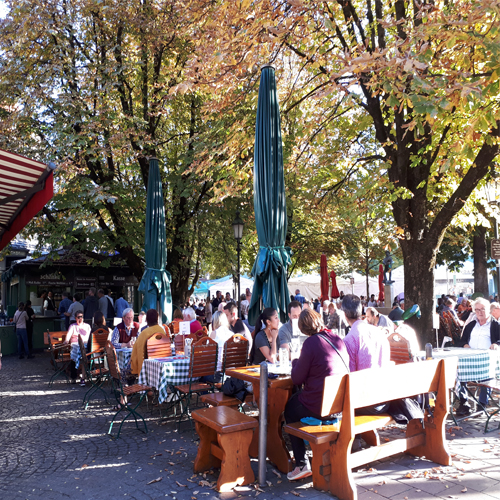 The Heart of Munich and the most important square can be found at Marienplatz, Munich's stunning square filled with shopping and detailing intricate architecture. Standing in the middle of the square I closed my eyes and felt joy right down to my toes. It's hard to explain the feeling I got just standing there. It's the moment people remember when they travel, that feeling of just being in it.
With 500,000 people crossing it every day, it's hard to miss the neo-gothic styled New Town Hall (Rathaus) which was reconstructed in 1950 with the most famous glaucenspiel in the centre of it and can be seen going off daily at 11a, 12p, and 5p.
Hofbrauhaus is a staple for beer and wiener lovers. Since 1589, it was nearly completely destroyed and reconstructed in the 1900's. Even Hilter held his meetings here with the Nazi party.
The signature Crown in the logo means 'dukal court' and was founded by the duke of Bavaria in the 16th century then turned into a kingdom. Guests can dine and visit everything from the Schwemme (where beer was brewed) to the Festival Hall and my personal favourite, The Beer Garden.
After the 2nd world war up to 80% of Munich's centre was destroyed. The oldest church, St. Peter, was completely leveled. 8th century Monks would stay close to the church and it later became an important development with the name Munchen deriving from it. Although it's the oldest church in Munich, the most important landmark is the Cathedral of Our Dear Lady, featuring its Twin Towers serving as the cathedral for the Archdiocese of Munich and seat of its Archbishop. It's a landmark and a symbol of the Bavarian Capital City.
The International Michael Jackson Memorial is a sight to see where even 8 years after his death, he is still honored and remembered. His memorial can be found in front of the same hotel he hung his son over the balcony in Berlin, Hotel Adlon.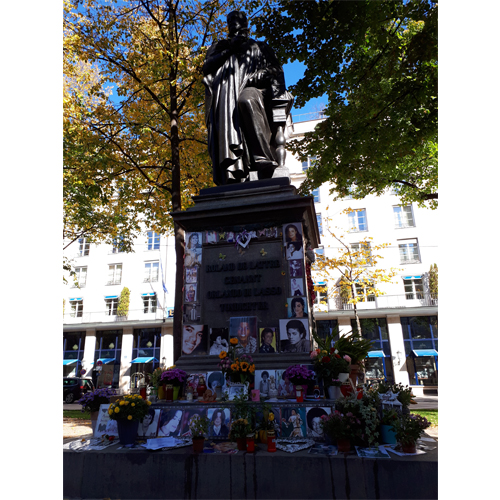 A great way to explore Munich outside of the city centre is with Greyline Bus Tours where you can visit incredible landmarks such as Nymphenburg Palace, located in the west part of Munich and the summer residence of the Bavarian Monarch's, featuring an impressive banquet hall and stunning garden. The BMW Museum & World Exhibition Hall, which for it's showcase alone is worth the stop in, Olympic Park, where you could ride up the tower and get an overview of the Olympic Soccer Stadium, The English Garden, one of the largest urban parks in the world filled with lush greens, plenty of places to picnic and for the curious and free spirited, a nude park to sunbathe in.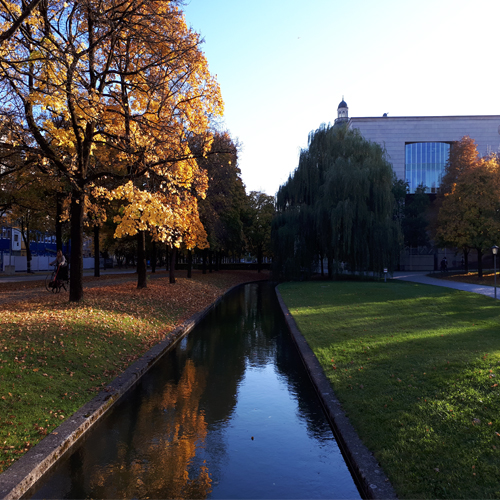 My personal favourite stop is The Eisbach Wave, where for over 35 years the churning of the water in the city centre has local and international surfers rushing to take on this wave, which is both feared and loved and can only be mastered by the best.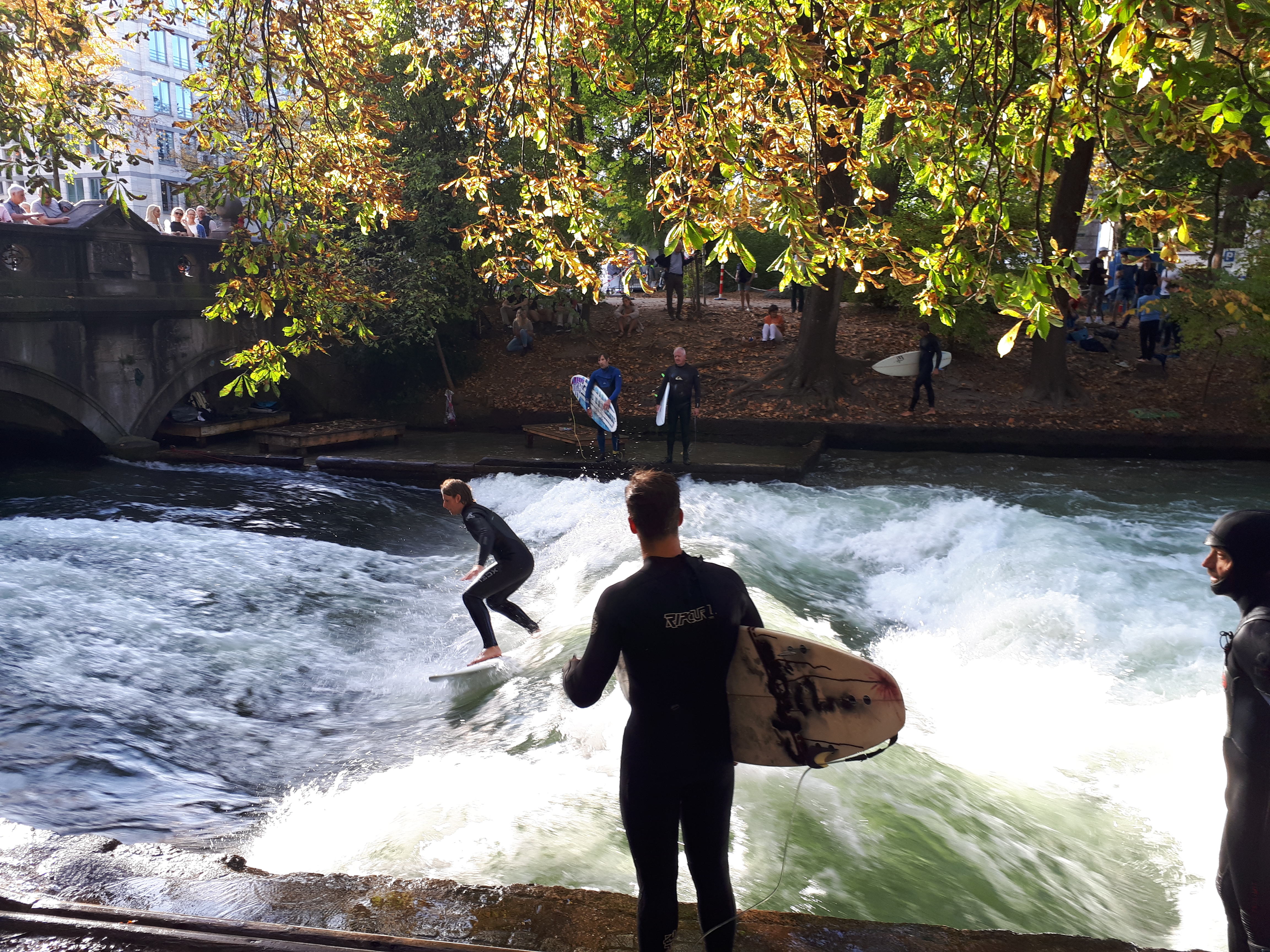 People always ask me why I feel so connected to Germany. My answer is simple. They, just like people, have been through destruction and devastation, but instead of hiding their scars they found a way to build around it and make it beautiful.
Sabrina Pirillo is the Editor for S.Travel.