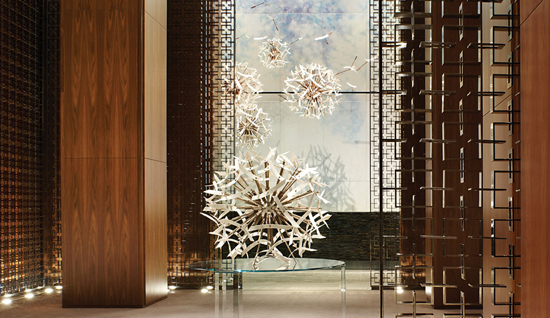 A re-location of the world-famous hotel icon now sees Four Seasons Toronto soar magnificently 55 storeys above Yorkville, the heartbeat of all things chic in the city. Warm and sophisticated, the renown hotel is an immediate home you never want to leave; understated Canadian elegance personified.
D-Bar is the perfect lounge for a tête-à-tête over martinis and casual fare (just be careful: a sexy scene can erupt as evenings wear on), and we've enjoyed the loft-like Café Boulud and it's global-influenced menu so many times now (including Christmas dinner) that we should have an appetizer named after us. Four Seasons' 30,000 square foot spa is unparalleled (bearing in mind we're spa babies who know from spas) – the Asian fusion massage remains on our list of Best 5 Massages Ever.
Top reason to stay at Four Seasons Toronto: the staff. Perhaps Four Seasons' strongest strength – from check-in to wait staff to the gents opening your cab door as you stumble home from the revelry – each make a Four Seasons Toronto guest feel only warmly welcomed at all times.