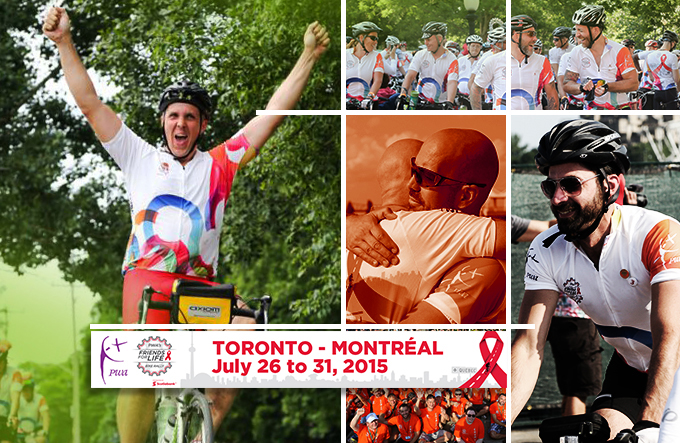 Dreaming Bigger One Kilometre at a Time :: If you've never participated in – or heard of – The Toronto People With AIDS Foundation's Friends For Life Bike Rally before, you're missing out on knowing an incredible life-changing experience.
The Bike Rally is a 600-kilometre bike ride from Toronto to Montréal in support of the Toronto People With AIDS Foundation (PWA). Now in its 17th year, the Bike Rally is the sustaining fundraiser for PWA and has become the largest AIDS fundraiser of its kind in Canada.
The nearly 400 Riders and Crew of all ages and levels of experience who participate in the Bike Rally share a common passion in supporting their friends, family and neighbours living with HIV/AIDS. Since its inception, the Bike Rally has raised over $13 million for PWA, with a goal this year to raise another $1.4 million.
While fundraising for a vitally important organization like PWA and riding a bike for 600 kilometres instills a sense of accomplishment in itself, experiencing the Bike Rally gives so much more back to Participants. It gives them a chance to celebrate friendships, strengthen a community and create memories – all the while allowing participants to dream bigger, one kilometre at a time.
Riders and Crew join the Bike Rally for many different reasons: to experience a journey with a lifetime friend or to make new friends for life, to support a loved one living with HIV/AIDS, to meet a new personal challenge, or simply to participate in an adventure to create memories for a lifetime. Whatever their reason, at the end of the journey is a great sense of belonging, accomplishment, and community that comes with supporting a local organization that personally and immediately impacts the lives of members of their own communities living with HIV/AIDS.
PWA provides critical programs and services for people living with and affected by HIV/AIDS.  In addition to practical supports such as food and financial assistance, PWA provides opportunities to connect with others, learn new skills, and gain access to resources to achieving goals and dreams.  The Bike Rally is an amazing example of how PWA strives to engage Participants in its mission. All Participants are encouraged to dream bigger through their Bike Rally experience. By riding their bike or assisting on one of the many support crews, Participants know they're helping an organization provide programs and services needed by so many today. Moreover, through their actions they help to fulfil the dream of eliminating the stigma associated with HIV/AIDS that continues to exist.
If you're looking to get more involved and leave a tangible mark on your community, create life-lasting memories and great friendships, the Friends For Life Bike Rally is for you. Join us and together we can dream bigger…one kilometre at a time.
To find out more, or to make a donation to the Toronto People with AIDS Foundation, go to Bikerally.org.
GGN Staff