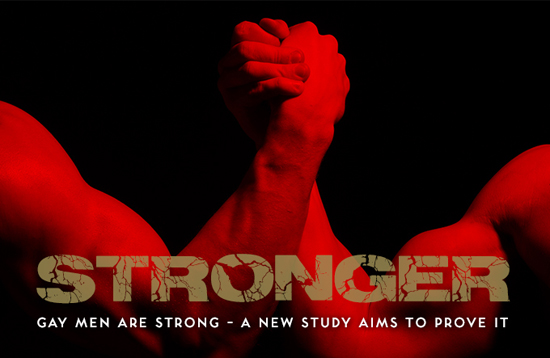 SURVEY SAID :: A groundbreaking study is underway that aims to demonstrate what many gay men would claim to already know: gay strengths abound in a LGBT society abundant with empowered men.
Dr. Trevor Hart, Ph.D, C. Psych, an associate professor at Ryerson University's department of psychology leads the study, which seeks to determine specific factors that make gay men strong and resilient against stress, and to further understand what qualities help sustain "gay strengths" leading to mental and sexual health, and overall well-being.
As gay men continue their emergence from the predominantly homophobic-fuelled characterizations of the past and present ("that's so gay"), they can still be viewed by the mainstream and in self-perception as people who "can't control themselves," notes Hart. "We want to acknowledge our gay strengths, strengths we have even though we've grown up thinking who we are is an insult, even though we've struggled for acceptance in our families, in our work environments, even though some face homophobia within, and despite all the anti-gay sentiment across the world."
That gay men still manage to enjoy the kind of sex they want, have the kind of relationships they want, or at the very least know what they want and seek it out is worth talking more about.
It's an about-face from previous studies.
"Past research has found that many different childhood factors – such as being abused as a child – and adult factors – such as being depressed or using drugs during sex – are associated with risky sex," explains Hart. "Such studies focus on what makes gay men at risk for mental problems and HIV. They are important studies, but they don't tell us what we as empowered gay men do to promote our mental well-being and to enjoy hot and healthy sex. They don't look at gay men as empowered men, who might face life challenges but who also deal with these challenges and remain strong."
The study is currently examining HIV-negative men who have been sexually active in the last six months.  A survey is administered first, in which participants are asked about positive, protective factors believed to help empower men to have strong mental and sexual well-being. Each individual is asked to share to what extent each factor is true for them. Over the next several months over 470 gay men across the greater Toronto area will be given the survey; 40 will move on to an actual face-to-face interview about how they overcome challenges ranging from negative childhood experiences to negotiating substance abuse. Hart hopes to grow the study nationwide in the future.
"We believe it's the first of its kind on such a large-scale," says Hart, who aims to present to the scientific and medical communities – and to LGBT communities at large – a verified truth: we actually have a lot of strengths as gay men.
"We want to show evidence, not just talk about it. We know anecdotally – now we aim to prove it."
The results will also be used to develop a counselling program that helps gay men build on the muscles they already have in this regard, and Hart then hopes to replicate the study with HIV-positive gay men.
Study participants earn $90 for their assistance. * Tel:  Call 416-979-5000 x 2179 (after pressing "1"), email or visit this website.