INTERVIEW :: Kevin Stea
By
GGN
on February 28, 2012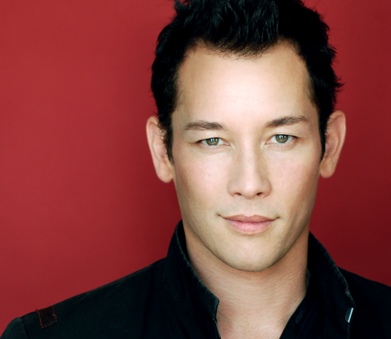 YOU CAN DANCE:: In this exclusive, GayGuideToronto.com blogger and resident Madonnaologist, Philip Tetro, got to interview someone from Madonna's past – Blond Ambition Tour dancer and Dance Captain, Kevin Stea. His career has also seen him on stage with singers like Lady Gaga, Michael Jackson and Rihanna, before the lenses of photographers like David Lachapelle and Herb Ritts and on the runway for designers like Gaultier, Mugler, Fendi and Calvin Klein. Stea, who also performs his own music under the pseudonym That Rogue Romeo spilled never-before-heard juice on his working with Madonna over twenty years ago, the infamous lawsuit he and other Blond Ambition dancers filed against her, and why he won't be seeing her in concert.
Hi, Kevin! Thank you so much for speaking to GayGuideToronto.com today! I am a huge Madonna fan, and my earliest memories of Madonna's live performances were of the Blond Ambition Tour (when I was just a year old!), and watching Truth or Dare when it aired on television. Your face is definitely memorable in my Madonna memory bank from watching various performances of the tour, as well as the "Vogue" music video and the infamous MTV Video Music Awards in 1991. What is your fondest on-stage memory of working and dancing with Madonna?
The answer to this is one and the same: waiting to go on stage in Houston in 1990 for The Blond Ambition tour U.S premiere show. I'd never heard a roar so loud or long or even since. All my hair stood on end. I could barely catch my breath. I was in awe and wonder, and had no idea that Madonna was so popular. I remember that whole concert: I was beaming, and every time I made contact with her on stage, I could tell she had a lot at stake and was giving everything she had. I realized we had a lot in common. Rubbing noses with her during "Cherish" was something so strange, but it was one of my favorite moments because it was this nightly, intimate, fun little thing we did in front of thousands of people. Thirty feet away are thousands of eyes staring, and fans screaming. And I got to look right into her eyes from a few inches away while she sang to me. I've had millions of fantastic moments, but somehow those early ones are burned into me like tattoos. I had only started taking dance classes two years earlier…how did I get there? Teaching Madonna her steps while working with Vincent Paterson to create them? The wonder of it all.
I totally understand why she continues to do what she does and doesn't want to stop. It's why I've continued to do what I do. It's not like anything is missing, but performing like that makes me electric inside. My song "Machine & Magic" talks about that feeling – the experience of it and the search for the divine. They feel like they are connected.
Your life on tour with Madonna was documented for Truth or Dare, yet you and a few of the other dancers on The Blond Ambition tour filed a lawsuit against Madonna, alleging fraud and invasion of privacy. People argued that you could tell that there were cameras around at all times, was it not disclosed to you what she planned to do with the footage?
There were a FEW privacy issues involved, and things promised that were not honored for Gabriel [Trupin – the late fellow tour dancer]. But, bottom line for me, it was very simple: there was a clause in the contract with a fee for a movie, and they didn't follow through on their own contract. Of COURSE we knew they were filming – it was fun! They always said, 'we don't know what we're doing with it yet'. There were no posted release forms on the walls until a month into the tour. Why would we be concerned or suspicious over shooting or footage when it said right in the contract that if they used it for a film we would get [a certain amount of money]? And why should we be concerned when we are with someone who we completely trusted, were hanging out with, spending every day with, who has more money than she knows what to do with?
Interestingly, I didn't even know about the lawsuit until after she did. So, she was pissed at me already because the suit began with my agency, and she thought I was the ringleader. I sent her a letter explaining the situation earlier, but the lawyers probably already contacted her AS she got my letter. I signed on to the suit the day before it went public – I wasn't even there to file. I know she was hurt, but it was Gabriel's claim that did it, and Oliver [Crumes – another dancer] and I got lumped into this umbrella 'news tag', just like you have in your question. Gabriel had EVERY right to claim invasion of privacy and fraud, but I can't go into details. Oliver and I were a misrepresentation case, and our settlements reflected that. I could have added other things to my case, but I simply asked for what they owed me. Now, AFTER that movie was made, when you see cameras around for a whole tour you instantly think of it being made into a movie or at least a DVD, but it was new at the time – people forget the context. It was before reality T.V, before COPS… The closest thing we could compare it to was an MTV Rockumentary.
Fans sometimes hear that we sued and think that they can understand the suit by reading two words, then get all defensive for Madonna, and how dare we do that! I love Madonna. I actually did just what I thought she would have done. If fans want to rail against anyone, it should be the press. They wanted to shred her so much at every turn. It was hard to keep them on track with the basic root of the case, when they kept leading everything to sensationalist conclusions. They kept trying to get 'dirt' on her out of me, but I have and always will refuse to speak poorly of her. We did the right thing, and I've been fighting for the rights of dancers ever since, as part of Dancer's Alliance, the SAG national Dancers Board and the AFTRA Dance panel.
Last time we saw each other, at least ten years after the suit, I was holding her hand while she hugged me from behind at a dinner with friends. I like to think that there's been quite a bit of water under this bridge.
Would you go back to 1990 and do it all over again?
YES. Wouldn't trade a minute of it. If adult-me were there now, though, I would be carving every second into my memory and taking every single opportunity. She told me I was emotionally unavailable during our 'final supper' at this castle in Barcelona, where we filmed the game of truth or dare at the table. She was right. I was aloof and more of an observer than a participant. I felt some responsibilities as Dance Captain to maintain decorum. Ah, youth.
Do you still closely follow Madonna's career? What do you think of her latest single, "Give Me All Your Luvin'" (featuring Nicki Minaj and M.I.A)?
I don't follow extremely closely, but then I don't have to because I am updated all the time by fans and mutual friends. And we are inundated with her around the world in all media, and especially in entertainment/fashion circles. I really like the new song! I do think, however, that it could have been more playful, fun and snarky if someone else had sung it. Like just Nicki [Minaj] singing it would have been a sort of ironic, hip homage! It would have been GENIUS as a snarky new-gen reference by some ingenue. I'm feeling the urge right now to write a song referencing David Bowie… I'll do it!
Is it fun to see Madonna still performing "Vogue" [at The SuperBowl] twenty-two years after you were there when she first released the song?
I loved it. I would have LOVED to do it. In fact, I would have auditioned for fun if it hadn't been in NY. Jamie [King – Madonna's longtime choreographer/tour director]'s an old friend, he'd never veto me from coming (though her management might LOL). The best thing about the performance for me was her smile. I just love seeing her smile. A real joyful smile. It was my favorite interpretation of Vogue since our MTV Awards version in 1990. She looked radiant, and I LOVE Riccardo Tisci [the Givenchy designer who designed Madonna's SuperBowl outfits]. Now, that said – the tightrope bit was ATROCIOUS, and the LMFAO wheelbarrow thing, and the cartwheels(??)… STOP! How did Jamie allow that?! Oy. Her guests felt a bit like props, but then I suppose that's a testament to her presence (and the camerawork!).
You've also worked with several other big-name artists such as Michael Jackson, Lady Gaga, and Britney Spears. Which artist had the best work ethic, and who have you learned the most from as a performer?
Lady Gaga works harder than any other performer I've ever seen. Period. Her stamina is unbelievable. From her, I've learned that persistence and tenacity are the fuel that drives the talent engine. From Michael Jackson, I learned that appreciation of others is just as powerful a talent as a voice. From Vincent Paterson and Kenny Ortega, I've learned to always bring life to movement, that little details make the difference between the banal and exquisite, and that the only perfection in your art is being true to yourself and your imperfections. From Prince, I learned that instinctual creativity brings genius and chaos in equal amounts. From Madonna, I've learned that the world is a buffet of knowledge and experience, that discipline is the name of the game, but be careful what you wish for. From Rob Marshall, I learned that grace, ease and fun is possible under pressure, if you create a context for the whole team. I could name something from each and every person I've worked with. The second I stop observing and learning is the moment I die.
You performed "Vogue" with Rihanna at Fashion Rocks in 2008. I must say how cool it was to see you performing some of the original choreography again! How much input did you have in that performance? How did that show unfold?
Oh, that was a blast! It was so fun to teach these young kids some old-school vogue. Tina Landon [of Janet Jackson fame) choreographed [that piece]. I taught them the old combos, and gave them the best advice I had gotten while in rehearsal learning to vogue…"LOOK MORE BORED!". Rihanna was nervous! I didn't expect that. She was so cocky and sassy (in a good way) the first time I worked with her a few years earlier. It's daunting to tackle a song as iconic as that. I think she wanted to bring her A-Game. I did get a little proud on stage there: "I'm still here," "I can still do this", and "I still look pretty damn good twenty years later, even in hi-def." Look at me, Ma – I'm the Tina Turner of the dance world!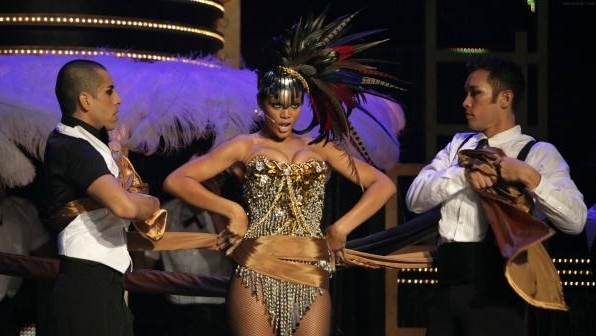 Will you be seeing Madonna on tour this year?
Probably not, unless someone hands me a ticket. Don't gasp too loudly, but I'm not a big fan of her music, though I'm a fan of her and her work…does that make sense? I would go to see the show, but as a show. I prefer darker, rockier stuff. Now, if Nine Inch Nails goes out, I'm there. I kinda want to see Skrillex, too. Grimey.
What are your current musical ventures?
I perform under the name That Rogue Romeo. He's a bit of a dark tortured lover with a big heart. Hmm, that's sounding a bit like me lately. Perhaps our worlds are colliding, or perhaps I'm simply getting closer to my true nature and embracing it. I write what's true for me. I've tried to write stuff I don't care about, [but] it never works. I'm about to release a full-length album entitled 'Machine & Magic'. [It's] a deluxe version really, with 13 songs, mixes, and some alternative versions. I'm from the Robyn school of thought – she released three albums of amazing music last year
I've been writing and singing off and on for 20 years, but only recently did I realize that it would be my life's greatest regret if I didn't give myself to it. Now it owns me. I could live in the studio. I've JUST launched a kick-starter campaign to fund three new music videos with some of the dance world's most talented people, like Tony Testa, Brian Friedman and Mark Kanemura. Super-choreographer Vincent Paterson (who DID Blond Ambition, "Vogue", "Smooth Criminal" and Michael Jackson's BAD tour, and "Dancer in The Dark") called me right after seeing the campaign and asked "WHY AM I NOT DIRECTING ONE OF YOUR VIDEOS?!" Ha ha! It may not be in line with the kickstarter intention of giving opportunity to young new talent, BUT WOW. If there's ANYTHING left over, and I mean $50 even, it will go towards the Vincent Paterson/Rogue Romeo video fund. I will make that happen for sure. I'm FLOORED and honored. I KNOW I'm on the right track when I get completely giddy at the thought of doing these projects… shouldn't life be an exploration in joy? What makes me happiest? Bringing all the images, sounds, steps, designs from inside my brain OUT into the physical world. And, my song "City of Glass" was About.com's Song of the Day last month, and was #1 on the Zurich Pride Radio Chart for 7 weeks last year. Someone liked my song, I hope! That music video is out now!
Where do you want to be in ten years?
Surrounded by studly sycophants lounging on a giant pile of cash. Well, maybe just happy, writing, creating, partnered, creatively respected, earning a living, and working with friends. More specific? I want That Rogue Romeo to be more brand than musical artist, creating new ventures unseen/untried before, earning enough money to pay all involved handsomely, making unforgettable imagery and sounds, injury-free, traveling, free clothes, love. I want to leave the dance world a better place than when I arrived, with tours and videos covered under the unions. I want to inspire others to follow their creative spirits and allow themselves to get down and dirty, know that my words have whispered under their shirts and into their hearts, and that someone has really heard me.
Thank you so much to Kevin Stea for this exclusive!