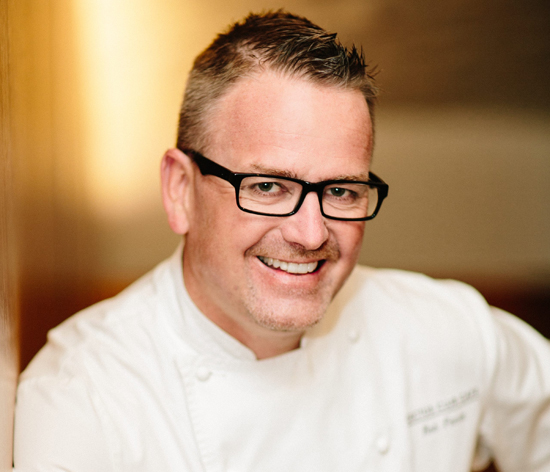 LIVING DELICIOUSLY :: In 2005, pitted against Chef Masaharu Morimoto, Vancouver-based Chef Rob Feenie, currently Executive Chef of the wildly popular Cactus Club Cafe series of fine-dining restaurants, became the first Canadian to ever win TV's popular Iron Chef America.
Earlier this month, after devouring a ridiculously delicious meal created and prepared by Chef Feenie to pair with just-launched Buried Hope Tempranillo and Cabernet Sauvignon (including albacore tuna carpaccio, octopus stew, oxtail, duck liver and caramelized onion ravioli, and roasted breast of squab), GGN sat down with the gregarious Iron Chef Feenie to talk life lessons from the kitchen, wine pairing, and other gastronomic secrets.
GGN :: What have you learned from the pursuit of becoming a chef of your calibre? There's a risk at the level you're at – when you think about media and greater public scrutiny of your work –   of  great vulnerability, like an actor when they step on stage. You're putting your heart out there.
Rob Feenie :: That's a tough question. Even when I found out I was doing the food pairings for today – you find out Marilyn Denis is coming, you guys are coming… it's not an easy thing to do. But what I've learned over the years is when you over-think things is when they don't work out. I try to come back a bit. Even with what you had today, I keep it simple and try and put out what represents who I am. As much as sometimes I try and go out of the box, I still try and stay in and true to myself. We're always trying to impress, but at 48 – and I've been doing this since I was 17 – is is simplicity that is much more difficult than complicated. Something I always tell young cooks is this is the full circle we always go through. That's what food's all about, or what life's all about. Not, "is it good enough?" or "what did I do wrong?" That's why this is one of the most stressful occupations in the world.
GGN :: Food for the everyman – in general – stresses the everyman out. We've been celebrating Buried Hope wines and you created amazing pairings – but you're an expert. Pairings for the everyman can stressful. What are your secrets? What can someone do in their kitchen, this weekend to create a successful pairing?
RF :: You're asking tough questions.
GGN :: It's for the gays – we have to.
RF :: When I cook at home I pick the wines first – and then I pick the food. It's easy to come up with some great combinations if you go from there. And again, it's always about not making things complicated. Or if you're going to stress, stress over one pairing but keep the other simple. Do a cheese course, that's easy. Pick whatever cheese you want. Two or three cheeses, keeping it simple. Then spend time on a more complicated pairing. You want to be able to feel good about what's in the glass. I drink a lot of wine and I really enjoyed the Buried Hope we paired with today, for example. It goes back to just being simple with your food and drink. I can see going back and drinking them over and over again.
GGN :: What is the one ingredient that we should all have in the kitchen?
RF :: Parmesan cheese. It's the king of cheeses. Everyone should have it, and we're not talking about the pre-grated ones. Get yourself a good block and have it in the fridge at all times.
GGN :: What's the one ingredient that's a waste of money?
RF :: White truffle oil. It's over-used. Ridiculously over-used. It's not that it's time has come and gone, it's just that it's one of the most over-used oils. It's so strong that I think it takes over the flavour.
GGN :: Such a pleasure to have you cook for us today, thank you.
Related :: More chefs spill! GGN talks to the chefs of  Canada's top new restaurants –

here

.
Related :: Get the recipes: Our perfect cozy Sunday breakfast, lunch and dinner menu –

here

.
Rob Feenie image: Claudette Carracedo Photography