JOHNATHAN SAWICKI :: An Alluring Lesson At Sea
By
GGN
on September 11, 2012
ATTITUDE ADJUSTMENT :: Johnathan Sawicki loved the cruise he won from Shaun Proulx Media so much he joined our blogging team.
"Oh my God, girl, I got the call!  We won!  We're going!!"
"You're kidding me!  Okay, can't breathe, can't breathe; freaking out!" 
This was the phone call this past winter between my friend Ben and I after he learned he had won a cabin from SPM aboard an Atlantis cruise on the largest ship at sea. 
Over the next few days we received our itinerary and cruise guide, and for me it was more than just winning a dream trip that started to sink in. 
There would be over 5,000 people. I would be on a boat at sea for seven nights. Three foreign ports. Five themed parties and countless on-board events.
Rewind. Only a few weeks earlier Ben and I had been mulling over the idea of a gay cruise over cocktails with some friends. Just talking about embarking on an experience like that seemed overwhelming, a feeling compounded by all the stories we had all heard about a ship of homos at sea.  Infamous rumours of a gay cruise merely being a "floating bathhouse"; legends telling of the infamous "dick deck" (which we, for the record, never found), and of course the must-do pre-cruise diets and workout plans.
I brushed off the idea; thinking it was definitely not for me. 
Then some luck and fabulous fate kicked in. Ben had won the very thing we'd earlier agreed was an experience far more than we could swallow.
Privately, aside from gay cruise stereotypes, I have often succumbed to nerves when trying new things. In fact, more often than I like to admit, I find myself missing out on potentially great opportunities because of nervousness about the new, hesitation, or sometimes shyness.  I'm type-A, a Leo (gregarious and outgoing by nature) but even still I can feel intimidated when life gives me something seemingly great. 
Ben and I knew the first thing we had to do was kick any previously conceived reservations to the curb.   We agreed that we would dive in headfirst and hope for the best.  As I got my thoughts in order and began to feel a little relief from my nerves, it gave way to some excitement, which led to One Big Question: where do you even begin preparing for a gay cruise?
By quickly packing your bags absolutely full, of course! Off we flew to Fort Lauderdale to meet our home for the week, Royal Caribbean's Allure of the Seas.
What I found aboard the Allure was an experience like no other, nothing like what either Ben or I expected.  Of course we let loose and partied in venues that made you forget you were even on a boat. But what I didn't expect were the people I met throughout the week. I never would have imagined making so many friends. Some had traveled from as far away as Australia for this cruise; we were a ship of diversity, literally all shades of the rainbow.
There was even some romance lite. Imagine my surprise when I found myself spending one of my final evenings at sea on a date night with someone I'd met a day earlier.  Cocktails at a cute venue before dinner on one of the ship's restaurants; this was not the sort of stuff that had made me feel anxious a week earlier. 
And that was the beauty of it.  My initial fears merely that, there I sailed, having a great time. 
Since the cruise I've been lucky enough to re-connect with a few friends we met on board, surprising one new friend at his going away party just outside Boston, and playing tour guide for new friends from Dallas in Toronto for the first time.  There are plenty of fabulous folks I met that I haven't stayed in touch with, but I know that if I ever took a cruise like this again, I'd immediately be amongst friends.
All of this was possible because I took a chance. In a way, just getting on the cruise helped change me, but not as much as changing my attitude before I left. The experience served as a reminder that not everything is as it seems, and to learn that you must first step outside your comfort zone. 
Such a simple lesson that I don't want to forget; it extends to subjects like relationships, jobs, education, in daily moments, and big picture living. 
I will always appreciate getting this a big gay floating reminder to live my life boldly.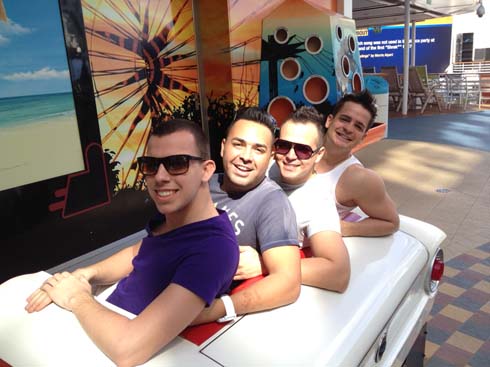 Johnathan Sawicki is an aviation professional and travel blogger in Toronto. Take a window by seat following him on Twitter and stay tuned for the launch of his blog, Mile High Memoirs.