Bienvenue au Quebec City! From the minute you walk through the gates of Old Quebec it feels like you've left Canada and entered Europe. With its narrow cobblestone streets, boutiques, outdoor café's and restaurants, and the St. Lawrence River as the backdrop, you couldn't ask for a better setting. It's like visiting an old friend for the first time, comfortable yet exciting to explore unseen territory, forgetting where you are, getting lost in the beauty that is Old Quebec. Sometimes, getting lost in your curiosity is the best way to take it all in.
Where to Stay:
The magnificent pinnacle of Quebec City (QC) accommodation is the Fairmont Le Chateau Frontenac. It's like staring at a castle right out of a fairy tale book! This 4.5-star hotel offers everything a European destination would in the heart of Old Quebec City. This iconic structure offers spectacular views of the St Lawrence River and incredible architecture.
The Fairmont Le Château Frontenac has been graced by many powers including King George VI and Queen Elizabeth, Ronald Reagan, Lady Sarah Ferguson, and Alfred Hitchcock. In 1944, the hotel became the centre of the Quebec Conferences of World War II, which involved U.S. President Franklin D. Roosevelt, British Prime Minister Winston Churchill, and Canadian Prime Minister William Lyon Mackenzie King.
The hotel's 611 rooms and suites are beautifully furnished with deluxe city or river views. This castle looks incredibly beautiful from any angle, and when you step inside, you'll feel the need to explore every inch of it. I highly recommend the guided tour of the hotel.
TIP: Fairmont President's Club is an exclusive complimentary membership that allows you tons of perks like a separate VIP check in, special events and opportunities, free Wifi, and more!
As Canada celebrates its 150th Anniversary this year, next year, the Fairmont Le Chateau Frontenac will celebrate its 125th Anniversary and recognize its contribution to our great nation as one of the first hotels built along the Canadian Pacific Railway.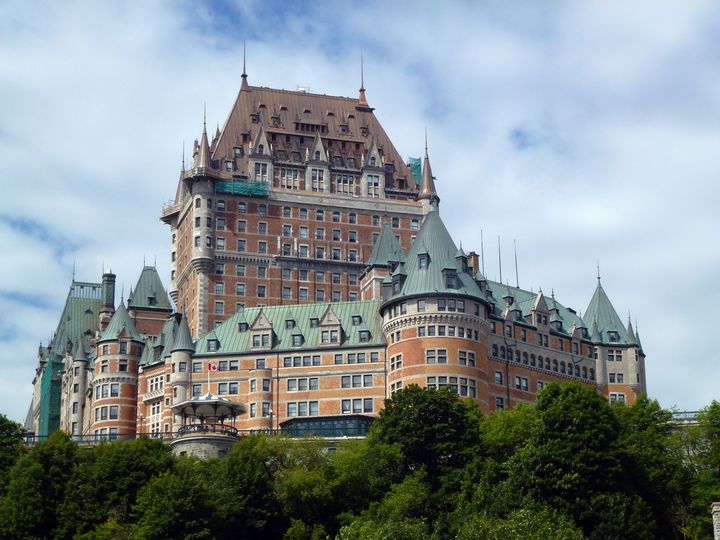 Where to Eat:
Breakfast: Café Bistro L'Omelette: About a five-minute walk from the hotel, this quaint restaurant has everything you'll need for breakfast, including Caesars and mimosas! The service is friendly and the menu extensive, so your taste buds are covered whether you're in the mood for traditional breakfast fare or something a little heavier before you take off to sight see.
Lunch: Restaurant Parmesan: Ciao from Quebec! Parmesan features traditional Italian dishes, in a rustic setting featuring Ferrari memorabilia and over 4,000 bottles (all shapes and sizes from all continents) placed around the restaurant. Awarded in Rome by the President the Emilio Romano Prize which is given to the 75 Top Authentic Italian Restaurants Around The World…and you won't have to go that far to experience it!
The staff will take the best care of you, just like you were in a real Italian household being served everything from fresh pasta dishes, to veal parmesan, to seafood, and one of the first refrigerated and covered dessert trolleys (as published in National Geographic!).
Dinner: L'Atelier is a chic yet casual gastro pub that features five levels of drinking and dining. Their vast list of cocktails range from classic, to tributes to the father of mixology Professor Jerry Thomas; wines from around the globe, beer in barrel or bottle and even cocktails in a carafe for sharing!
Their drink menu pairs well with the dinner options from menu of the day, tapas, Tartar and Shooter of Oysters like the Vodkaler a Shot (vodka belvedere, Clamato, bitter celery, Worcestershire sauce, lemon juice, saucisson in deco)!
After Dinner Drinks: Les Voutes Napoleon. Located a few doors down from L'Atelier in a subterranean underground watering hole in a historic building is Napoleon. A relaxed atmosphere to hang out with friends offering live music (shout out to Frankie) and drinks that you can order by the glass or by the pot (e.g, pot of margarita).
After Drinks: Chez Ashton. A trip to Quebec City would not be complete without having poutine! Once you're done your evening of dining and dancing, head over to Chez Ashton where you can enjoy traditional poutine or venture out and add hotdog and onions to your order. The choice is yours.
What to Do:
Dufferin Terrace: Take a beautiful walk along the Dufferin Terrace, which sits just above the St. Lawrence River and is one of the most popular areas for both visitors and public entertainers. It stretches from the foot of the Citadel to the base of the Chateau Frontenac.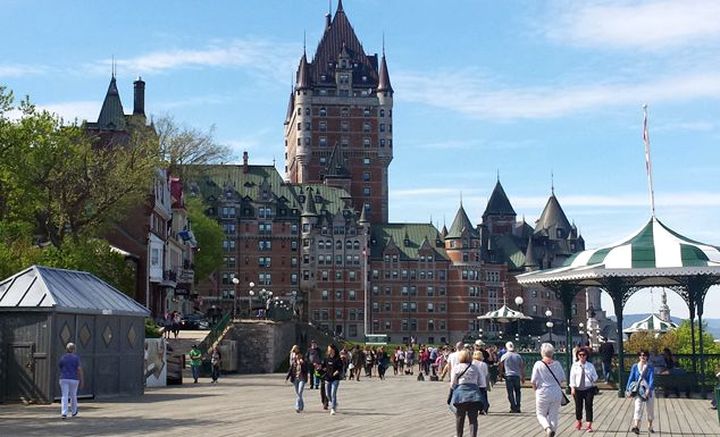 The Citadel: Make sure to visit one of the most popular attractions in QC, Quebec's Citadel. Built in Canada under British rule, the Citadel sits atop the historic site of Cap-aux-Diamants, and it offers a unique way to learn about the military history of Quebec City.
Plains of Abraham: This massive park has a lot to offer including museums, tours, walks, children's activities, gardens and much more.
Montmorency Falls: Only ten minutes from downtown, this extraordinary waterfall is 83m high and is a marvel to look at or can be zip-lined across.
Boat Cruise: Take a cruise along the St. Lawrence River aboard the Louis Jolliet with Croisieres AML. The only boat that offers only onboard-prepared meals, a glassed dining room, panoramic views, a dance floor, and a boutique all on board as your cruise! It's a spectacular way to make your way around the city hitting tons of landmarks like Montmorency Falls, Cap Diamant, and The Pierre Laporte Bridge, the longest main suspension bridge in Canada.
An extraordinary vision not to be missed is the Chapelle Musee de L'Amerique francophone, Its mission is for the development and promotion of French culture in North America. It's a spectacular venue to visit and host any event like a banquet, wedding, gala, or even Christmas Eve.
Whether your interests are culture, history or just remarkable beauty in both the landscape and architecture, visiting Quebec City offers joie de vivre in getting away without leaving your own backyard.
For a complete Quebec City experience and to find out more click here.
By Sabrina Pirillo, Editor of S.Travel.