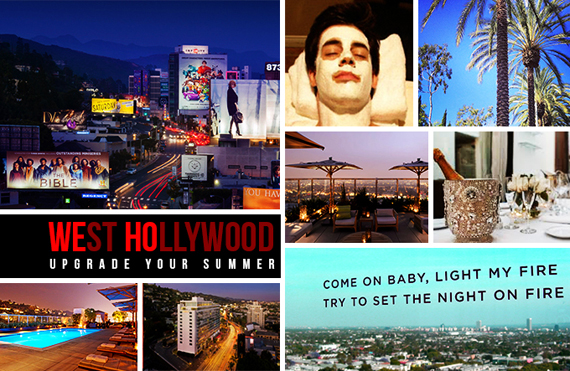 LGBT Travel :: West Hollywood. There's nothing like stepping off a plane and into bright Los Angeles sunshine, even in summer, and especially when your summer weather is as dodgy as Canada's has been. If this is your first time, expect to see all the landmark sights you see on television and in the movies, palm trees, the Hollywood sign, and of course, expensive cars driving down Santa Monica Blvd.
Within the greater LA area the place to see and be seen is West Hollywood. A city that prides itself on living forward, more than one-third of West Hollywood's population identifies as LGBT.
Only 1.9 square miles and bordered on the north by the Hollywood Hills, and on the west by the city of Beverly Hills, West Hollywood (or WEHO for short) is one of the premiere places in North America to eat, shop and play. A hotbed of high-end fashion trends, two main districts – the West Hollywood Design District and Sunset Plaza – feature global fashion houses and boutiques.
The art doesn't stop at fashion: WEHO houses world-class art galleries, it's reputation as a foodie nirvana is completely justified, and of course, this is ground zero for LA's infamous nightclub scene.

Click here for our S.Travel Approved WEHO accommodations, dining and spas.
S.Travel Tip: The best way to get around LA is to rent a car; valet parking abounds and unlike many cities, there's parking everywhere. When in Los Angeles, S.Travel uses Enterprise Rent-a-Car.
–  S.Travel Approved*
* S.Travel is our coveted publishing stamp of approval on LGBT travel destinations, accommodations, bars, restaurants, adventures and experiences. Look to S.Travel for the very best LGBT travel the world has to offer. Join us on Twitter and Facebook for the latest in LGBT travel ideas, tips and fun, and sign up to receive our free  S.Travel Newsletter.