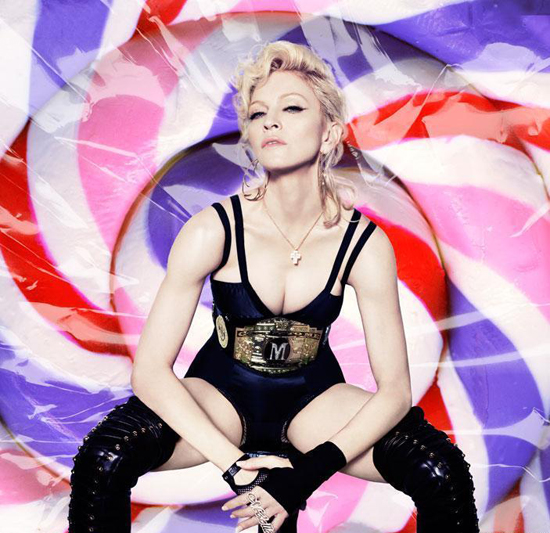 HARD CANDY LESSONS :: Madonna. I love that woman. I have all her albums, know all the dance moves to her tours, and always check out to see what she'll be doing next with her career.
However, when I attended the grand opening of Madonna's new Hard Candy Fitness gym in Toronto I was disappointed.
I am a proud Hard Candy member, and go at least 5 days a week because I love it. Every day I'm there it feels surreal: there is a gym like this, almost like it was made for me.
The presence of Madonna is everywhere at Hard Candy. Large images of The Queen cover almost every bit of wall space, amazing music plays that make you want to dance, and the majority of members are gay men.
It all definitely makes going to the gym easy.
So when I found out that my idol was attending the Hard Candy opening last month, I was excited to go.  The night seemed glamorous, with a red carpet and media all around. We enjoyed complimentary cocktails and hors d'oeuvres and anticipation.
But as time passed everyone was starting to get antsy. No sign of Madge, no word if she was even in the building.
As any Madonna fan knows, one does wait for the material girl to make her presence. The problem this time was there wasn't going to be a concert as reward for waiting. (I wasn't even sure what we were waiting for?)
Yet, loaded with cocktails, I ignored my desire to pee, lest I miss her. And in my head I was freaking out to myself: "Why am I putting myself through this! What could you possible be doing, Madonna!"
Then, finally, the crowd began to get loud and suddenly security tore though. This was it!
Madonna!
Then, for what felt like two seconds, I saw what I thought was her, tearing past, wearing a parka – with the hood up.
I barely even saw her face. No speech, and definitely no thank you.
That was it.
That is what we all waited three hours for.
I was a pretty pissed.
RELATED :: Madonna buys a painting with local gay artist Troy Brooks post-Hard Candy for her NYC pad. Watch our interview with him here.
I went home and thought about it all. I considered what Madonna really means to me, and what I think she probably means to a large majority of her fans. That night at Hard Candy, everyone gave up their time to witness Madonna in person. People were even waiting outside in the cold just to catch a glimpse of the larger than life icon.
Some had paid thousands of dollars just to see her.
All of this did not seem to inspirational to me. I wondered if Madonna even cared about this night all together. Seemed just like another job that she had to do.
I started to realize that as fans of other people – Madonna, say – we take pride in our relationship to them. Some of us stalk them on social media, some copy what it is their idol is doing or saying or wearing. We boast about how much memorabilia we have, or how close our seats were at their concert, and how many times we watched the tour DVD.
We all think we're the #1 Fan In The World Ever.
This is all an impressive display of loyalty, but maybe we should be raising our bar higher than waiting for hours and hoping for a selfie with a celebrity like Madonna.
I realized I look at Madonna and I see a strong, confident, powerhouse. That is why I love her and why she inspires me – the other stuff – concerts, posters, owning all kinds of pieces of her – is gravy. I do not want to be Madonna, I want to be Vance but a powerhouse as well. When life gets tough, or when I want to be successful and be at the top of my game, I channel my inner Madonna – but to do the things that Vance was meant to do.
I want to be provocative and controversial – but with my ideas.
I want to change the world – but do it my way.
I would love to meet her, to see her up close for more than two seconds. I would love to work with her,  but only if she saw me as somebody  worth spending her time on.
We need to look at our idols and mentors – whoever they are – and think more deeply about why we love them for the person they are. What can we take from them to become better versions of ourselves?
Not a selfie.
I see other people who do amazing things with their lives, like Madonna. They share the same strengths that allow them to become just as successful, only perhaps that success does not have all the glitz and glamour of a celebrity's life. When we start to recognize what makes us strong and empowered like our heroes, we can become our own versions of "Madonna".
We all have the ability to make an impact and leave a mark on the world, whether it is being an artist, a parent, or even a good partner. Let's look up to our idols knowing we can become just as great – but through the lives we already live. Let's learn from other powerful people, and take that with us to be the best that we can be.
Even when they disappoint.
– Vance Hedman's WorldPride Toronto 2014 vlogs can be seen here. Watch his interview with artist Troy Brooks (Madonna bought a Brooks painting for her NYC home after her Hard Candy launch) here.