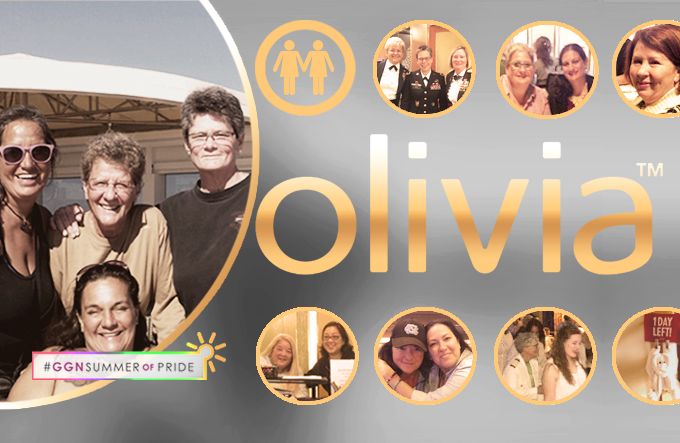 When I go, I go big. I went on my very first cruise this year, and I went all the way to Alaska!
Coming on board for this Majestic Alaska cruise was beyond extraordinary. The views were stunning, magnificent, incredible, and utterly breath-taking. The mountains disappear into the clouds, snow covered peaks disintegrate into mountain and forest. The tour of Alaska's Inside Passage, the three cities of Juneau, Sitka, and Ketchikan, is amazing, and Alaskans generally are laid-back and appreciate the beauty that surrounds them.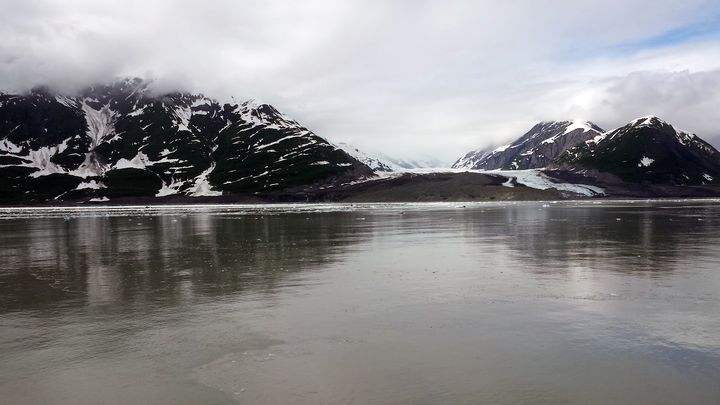 Your first cruise can be very overwhelming. So many activities and parts of the ship to explore, mandatory safety meetings, and wondering if you should leave breadcrumbs to figure out how to get back to your room.
Not only was this my first cruise, it was my first cruise with Oliva Travel, the lesbian travel company who will be celebrating their 45th Anniversary next year! Their tagline is We bring women together… on vacation!
Whether you want to enjoy the relaxed vibe of an all-inclusive resort, sail the seven seas on a cruise with hundreds of lesbians, or immerse yourself in the culture of a new destination, Olivia has a vacation that's sure to fit your style. The Olivia Experience is about women having fun together, making friends – and maybe even finding that special someone. With our world-class, just-for-you, entertainment; fabulous singles activities; incredible touring excursions; or even a touching commitment ceremony, you can be sure you'll have a vacation experience you'll never forget.
And that's exactly what they delivered.
Being the straight girl on board, I was asked several times if I felt uncomfortable being on a cruise with almost 2000 lesbians. No, I couldn't care less. I'm not used to being around that much female energy but I was excited! As a travel writer, Alaska has been on my bucket list for as far back as I could remember, so when the opportunity came up to explore this incredible place (that you forget is the 49th state of the United States), it didn't matter who I was sharing a cruise ship with.
I've been involved in the LGBT community for a decade now and this was one trip I wasn't going to miss out on. Yes, I was hit on a few times, I was flattered (who wouldn't be?), but not once did I feel uncomfortable or unwelcome. I met some incredible ladies that I still keep in touch with.
I engaged in everything from intellectual, meaningful, and even LOL conversations (most of those came with Happy Hour), and had a hoot at the evening shows right up to the White Party dance party. I met some of the most amazing, strong, beautiful women on the cruise who were on the ship so they could be themselves and share this experience with the love of their life, or to look for that special connection. I listened to their stories, their triumphs, to their heartbreaks, and losses of loved ones. I watched them smile and support each other and love and exude strength and humility, and even after finding out I was straight (we had some affectionate fun at my expense, but I always felt accepted). Humility and love and kindness are a universal language.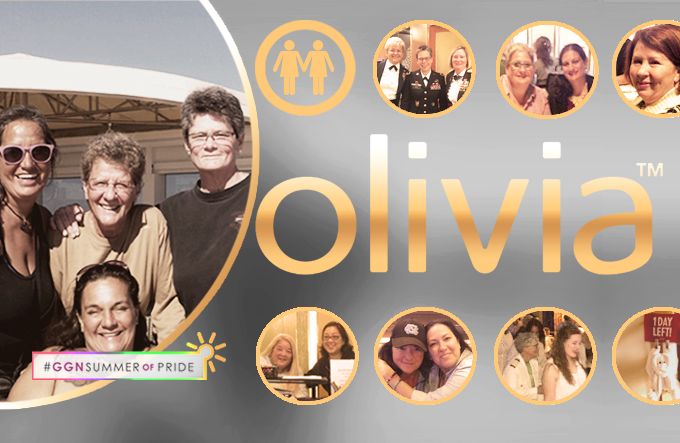 Helpful Cruise Points
Seeing as though it was my first cruise, I was lucky enough to have my dear friend, Richard Ryder, who has cruised before, give me some helpful tips:
A good time to explore the ship is while most people are off doing excursions;
Pay attention to the carpet in the elevators, they will remind you what day it is – two days in, you'll have no clue what day, time or time zone you're in;
Attend the jewelry sale on board where you'll not only get beautiful pieces at great prices, but pay no tax;
Hang your clothes up to save space;
Use a hair clip to keep the curtains closed in your room;
Beverage packages are important;
Bring an empty water bottle so you can refill it all week-long without a cost.
Pay attention to key events with on-board perks – e.g. attending a jewelry sale where they offer complimentary sparkling wine or attend a mixology martini sampling for $4. Find out when Happy Hour is where you can purchase your second drink for only $2. If you aren't buying a beverage package but enjoy a glass of wine (or two) with dinner, purchase a bottle instead of individual glasses.
Food
Hello, diet, exercise? We're going to have to break up for about a week. It's not you it's me, but I think we need a break.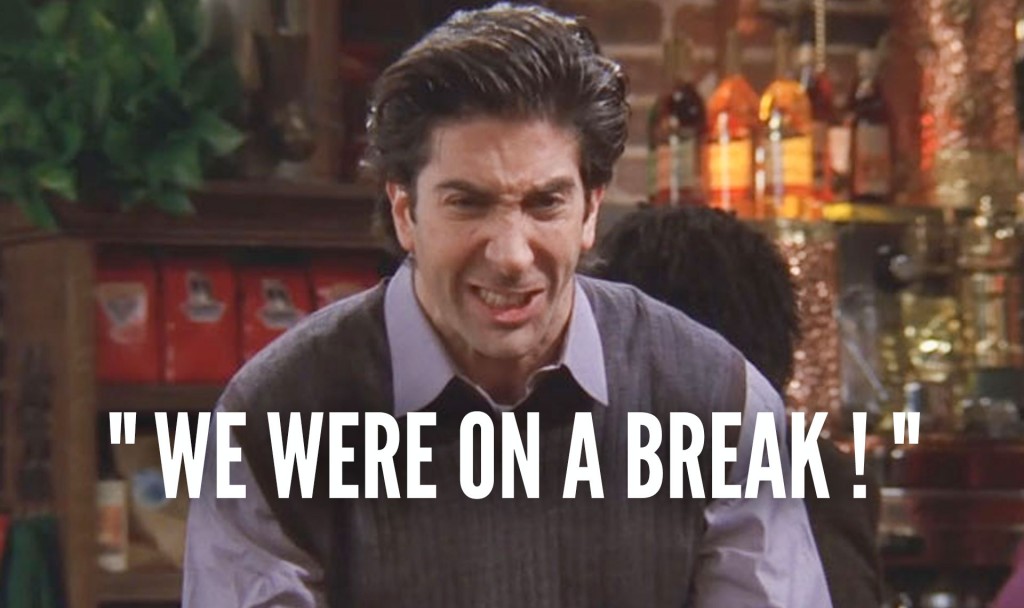 Eating eventually becomes glutinous, well beyond survival purposes. I blame the endless and delicious options from the buffet: giant bowls of salad and pasta; meats, sandwiches, tacos, and burgers; and main dinner delights of fresh fish, venison, escargot, and German schnitzel!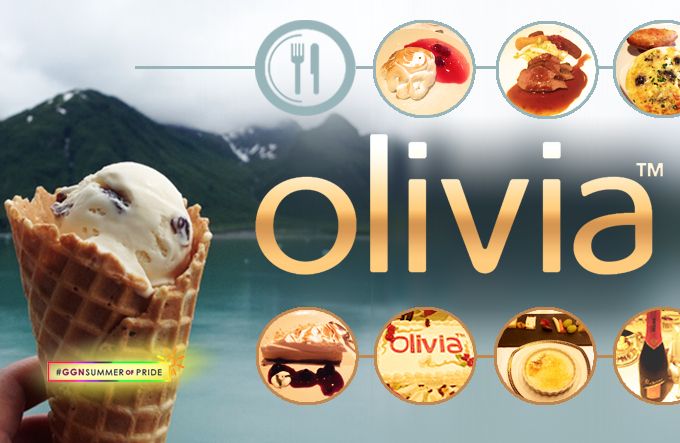 Cruising Life
Every morning the captain greeted us with "Good morning Ladies of Olivia!" The very helpful and accommodating women and volunteers of Olivia spent the week ensuring we are taken care of, along with the folks of Holland America's Oosterdam (Holland America (HA) originates in Amsterdam, and the ships are named after streets of that city, so Oosterdam means east dam).
There are so many activities planned that there's something for everyone. People can do as few or as many as they like: play bingo in the morning, take dance lessons in the afternoon, watch a movie in the theatre, play some Wet & Wacky pool games, attend a workshop, meet your fellow passengers at a mixer, and the list (that they leave in your mailbox every evening) goes on!
Coming on board on your own? Well, they've created a SOLO schedule specifically for ladies who may come on board single, but not necessarily docking with the same status. Olivia created meet-and-greets, special SOLO breakfasts, activities, and even an area for dining.
A new addition on board was the Literary Adventures at Sea, which featured programming by Sapphire Books Publishing and Curve Magazine; tea and poetry readings by literary legends Dorothy Allison, Jennifer Fulton, Karin Kallmaker, and Lee Lynch. Erika Feinman was the recipient of Olivia's 2017 Scholartrip program, designed by Olivia to inspire, motivate, and empower the next generation of LBGTQ leaders.
The extraordinary women entertainers featured the likes of comedians Karen Williams and Suzanne Westenhoefer, SUEDE, the smooth singer and one-time opener for Joan Rivers, and the talented Broadway veteran, Natalie Toro. Plus, we danced the nights away with sly DJ's Wildfire and Lisa Pittman, whose music really saw the ladies let loose – and let me tell you these ladies know how to bust a move!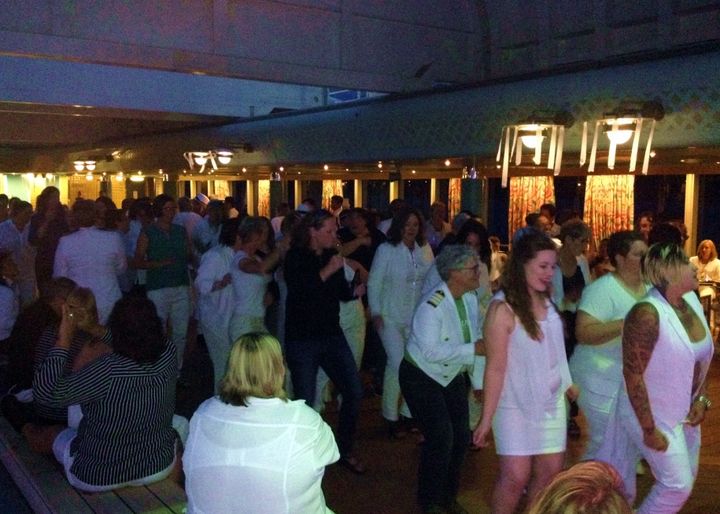 Choose to Cruise with Olivia
Alaskan cruises happen every other year so make sure to book your spot in 2019. In the mean time, NEXT YEAR IS Olivia's 45th Anniversary and you can celebrate with their Caribbean trip happening April 2-9, 2018, plus choose from so many other trips including Mystical Norwegian Fjords, 45th Anniversary Hard Rock Vallarta and New LGBT Club Med Sandpiper.
The best part about Olivia is that you can set up a more comfortable payment plan for your trip, so you don't have to pay in one lump sum.  This is a personal travel company that works with you to bring memories of a lifetime on your schedule. And if you book while on board, the savings are greater!
The reason that Ladies of Olivia Travel together is because though they could spend money on a resort to holiday with families and silent strangers, with Olivia, they know who they're travelling with. Ladies of Olivia can be themselves, enjoy time with family and old and new friends, and know that their money is well spent.
I heard about why these ladies were here, some veterans who have been travelling with Olivia for over 20 years, and some newbies soon to become veterans. It's like being part of a family, an extended family, who you travel and make memories with. Olivia is its own community and takes the travel industry to a whole new level.
Gratitude
There was so much love and support aboard the Oosterdam.  My fantastic shipmates exuded the definition of be who you are and have, in a way, rubbed off on me to allow myself to accept who I am; my beauty both inside and out. We're all so hard on ourselves sometimes but these extraordinary, strong, beautiful women are who they are and accept not only the women around them, but themselves. I think sometimes in life we struggle with that. Trying to fit in and hide our true identity for fear of being teased or bullied.
The gratitude from this trip not only comes from the beauty of Alaska that my eyes witnessed, but what my heart got to experience both on and off the ship.  Thank you ladies of Olivia, for giving me the gift of appreciating myself just a little bit more than I did before I left the shore.
By Sabrina Pirillo, editor of S. Travel