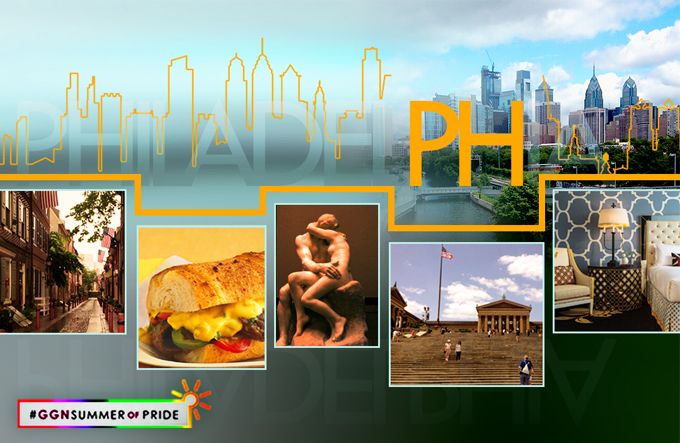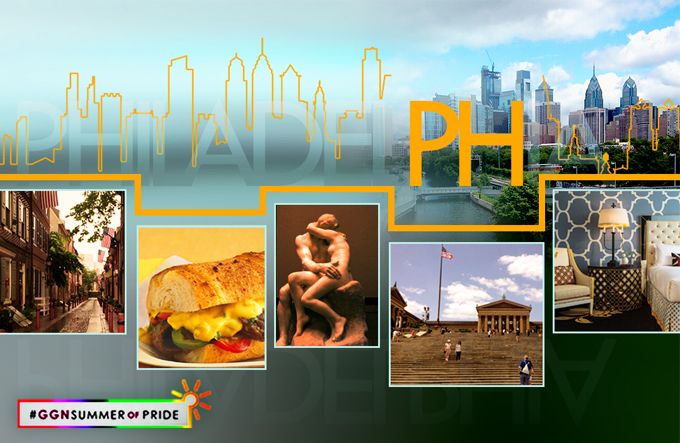 William Penn imagined a clean, green country town that was easy to get around and founded Philadelphia in 1852.  As the second largest city on the east coast, the City of Brotherly Love features miles of beautiful green space. Mr. Penn would be proud.
What I love most about Philly is its history, culture, and miles of green space.  There is so much to explore, you won't even know where to begin—there is no way to cover everything in one visit.
To help you narrow it down, I've compiled a list of where you should stay, dine, and play as a guide to this beautiful city.
Where to Stay: Kimpton Hotel Monaco
Located in Philadelphia's Historic District, this sophisticated hotel took over the City Office Building of Lafayette, circa 1906, and is kitty-corner to Philadelphia's famous historical landmarks, The Liberty Bell and Independence Hall. You'll also find near by serenity with The Secret Gardens of Independence Park, beautiful garden spaces hidden within 55 acres that make up Independence National Historical Park, created in 1948.
Sign up for Kimpton Karma rewards: free WiFi, credit towards the mini bar, exclusive nights, and more.
Hotel Monaco (Image Credit: Hotel Monaco)
Where to Eat:
Talula's Garden: This rustic space offers tranquil outdoor patio dining with twinkling lights or an indoor space with a quote by Alice Waters that reads, A garden brings life and beauty to the table, and that is exactly right, Alice. Fresh, fresh, fresh!
24 Restaurant: This Italian gives 24 two thumbs up! Owner and Iron Chef, Jose Garces, specializes in wood-grilled Italian fare. Eat delicious Italian food and enjoy the stunning view of the Schuylkill River.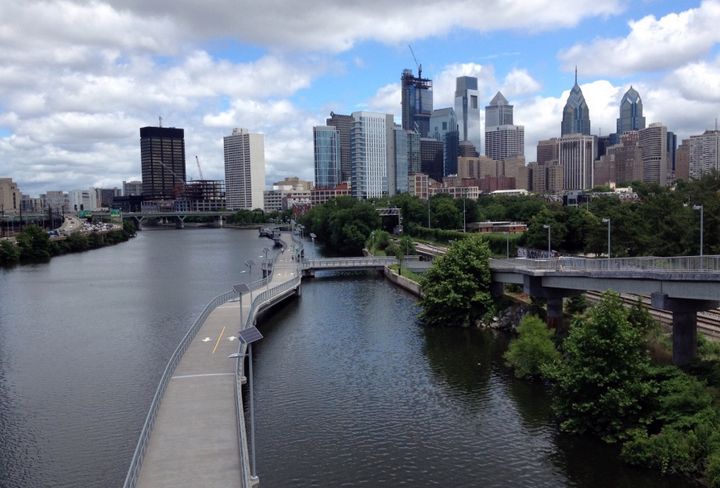 Schuykill River: Image by S. Travel
Han Dynasty University City: CNN named Han Dynasty one of the Top 50 Chinese restaurants in the United States.  Located in Philly's Upper West Side, you'll find everything from spicy Szechuan dishes to authentic noodles and dumplings in chili oil.
Terrain and Styer's Garden Café: Located 45 minutes from Philly, Styer's Garden takes the concept of garden store meets fresh dining. This chic greenhouse eatery brings together the best of local flavours.
Reading Terminal: The oldest indoor farmers market in the US. The incredible Reading (pronounced "redding") Terminal Market opened in 1893 and is still going strong – over 100,000 Philadelphians and visitors pass through the terminal every week! Cool Fact: You know the game Monopoly? Well next time you play pay attention to Reading Railroad. That's where it was named after the town of Reading in Philadelphia.
Reading is where I popped my Philadelphia Cheesesteak cherry with a traditional cheesesteak from Spataro's (huge line up, so you know it's good) with sharp provolone and sautéed onions, mmmmm!
Cool Fact: Reading Railroad in Monopoly was named after the town of Reading in Philadelphia.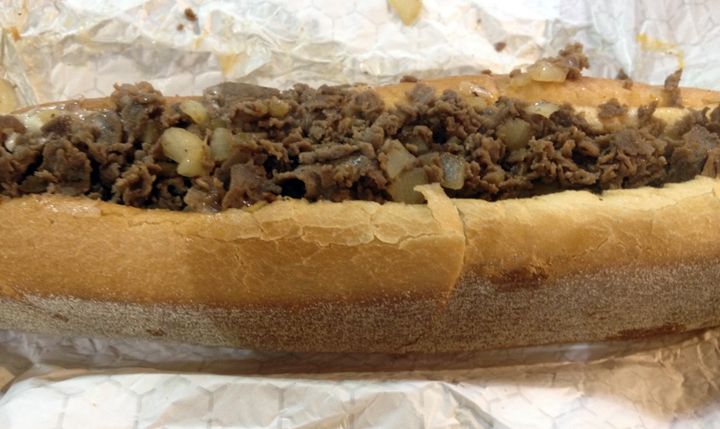 What to See and Do:
City Hall: Philly's massive and impressive municipal government structure by city planner William Penn.
Liberty Bell  & Independence Hall: Pick up your free tickets at the Independence Visitors Centre and then explore these two historic landmarks. The US Constitution was adopted in Independence Hall, and right across the street is the iconic Liberty Bell, a symbol for freedom-seekers.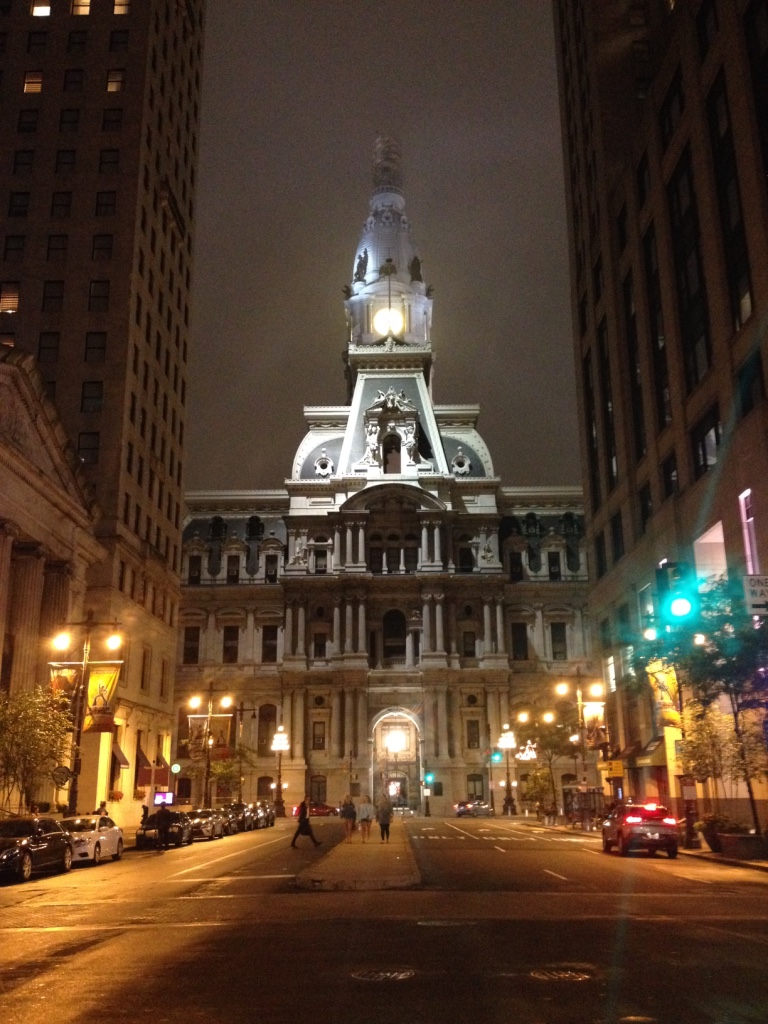 Philadelphia City Hall: Image by S. Travel
Fun Fact: There is tax-free shopping in Philadelphia! But something they do tax is soda fountain drinks to deter people from drinking soda. It's called a sugar tax.
The Must See:
The Rocky Steps lead up to the Philadelphia Museum of Art.  Run up the steps like Rocky to see the spectacular views from the top. To the right of the steps is the iconic Rocky Statue used in the Rocky III movie. Once filming was completed, Stallone donated it to the city.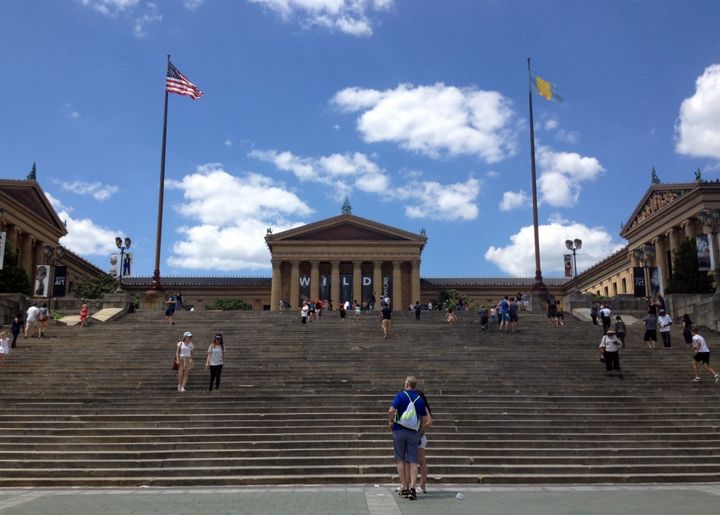 Image by S. Travel
Logan Square: One of the five original planned squares laid out on the city grid, Logan Square is an open-space park in Center City Philadelphia's northwest quadrant.
Benjamin Franklin Boulevard: This scenic boulevard runs through the cultural heart of Philadelphia. It was made to resemble the Champs-Élysées in Paris. It starts at Philadelphia City Hall, curves around Logan Circle, and ends before the Philadelphia Museum of Art. Celebrating 100 years of art, culture, and community September 8 – November 19, 2018.
Spruce Street Harbor Park: Currently in its fourth year, the Delaware Waterfront destination is a stunning green space attracting crowds to play bocce, and tree-slung hammocks to rest in; colorful lights, floating barges, and a beer garden.
Shofuso Japanese House & Garden: Located inside Fairmont Park and seeing over 30,000 visitors/year, Shofuso is a traditional-style Japanese house and nationally ranked garden and reflects the history of Japanese culture in Philly from 1876 to present day. The property features a beautiful garden with waterfalls and koi fish and a traditional tea-house where you can take part in a traditional tea ceremony.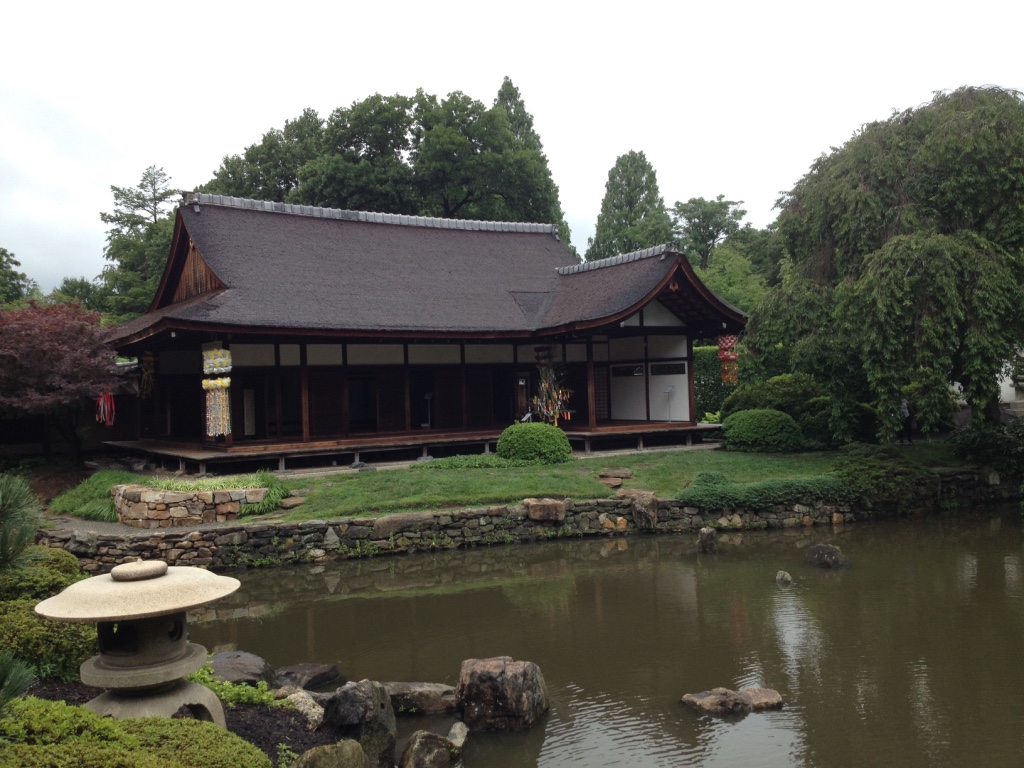 Image by S. Travel
The Art Lovers Corner:
Philadelphia Museum of Art: One of the largest art museums in America housing the world's greatest collection of Impressionist, Post-Impressionist, and modern works.
Benjamin Franklin Museum: This museum houses artifacts, animations, and interactive stations that explore the life of Philadelphia's Founding Father.
Rodin Museum:  Housing one of the largest collections of Rodin's sculptures and drawings outside of Paris including the world-famous The Thinker and The Gates of Hell.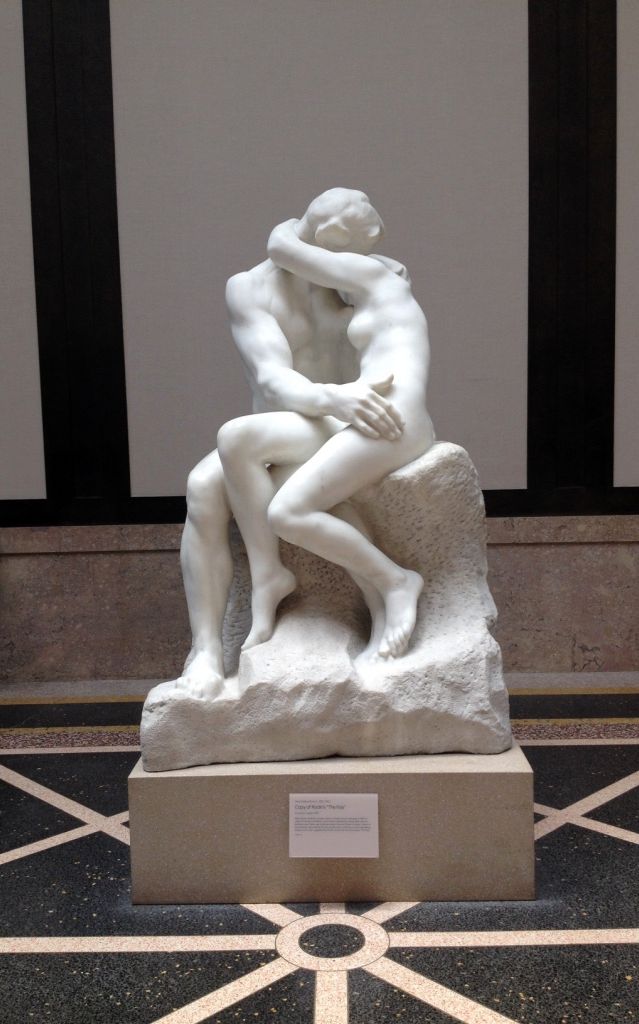 Image by S. Travel
 The Outskirts:
Brandywine River Museum: Housing works by three generations of the Wyeth family, Andrew Wyeth celebrates his centennial this year with Andrew Wyeth: In Retrospect, until September 17th, 2017.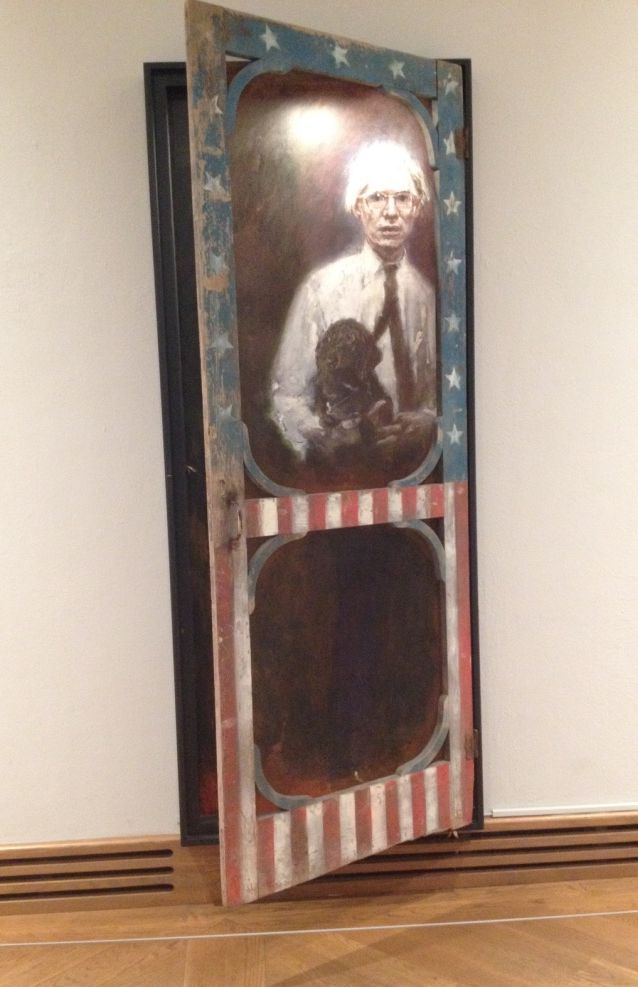 Painting by Jaimie Wyeth, son of Andrew, a friend of Andy Warhol – image by S. Travel
Galer Estate Vineyard and Winery: Producing award-winning wines (recipient of over 100 national medals) Galer ferments, packages, and grows everything on site. Located just behind Longwood Gardens and featuring an Airbnb cottage you can stay in.
Longwood Gardens: One of the largest gardens in North America, founded by Pierre DuPont, heir to the DuPont empire. Natural woodlands, majestic gardens, exquisite flowers, and dazzling fountains sees 1.3 million visitors per year. Pop into The 1906 for lunch afterward named after the year that DuPont acquired the Gardens. Watch the nighttime fountain show here!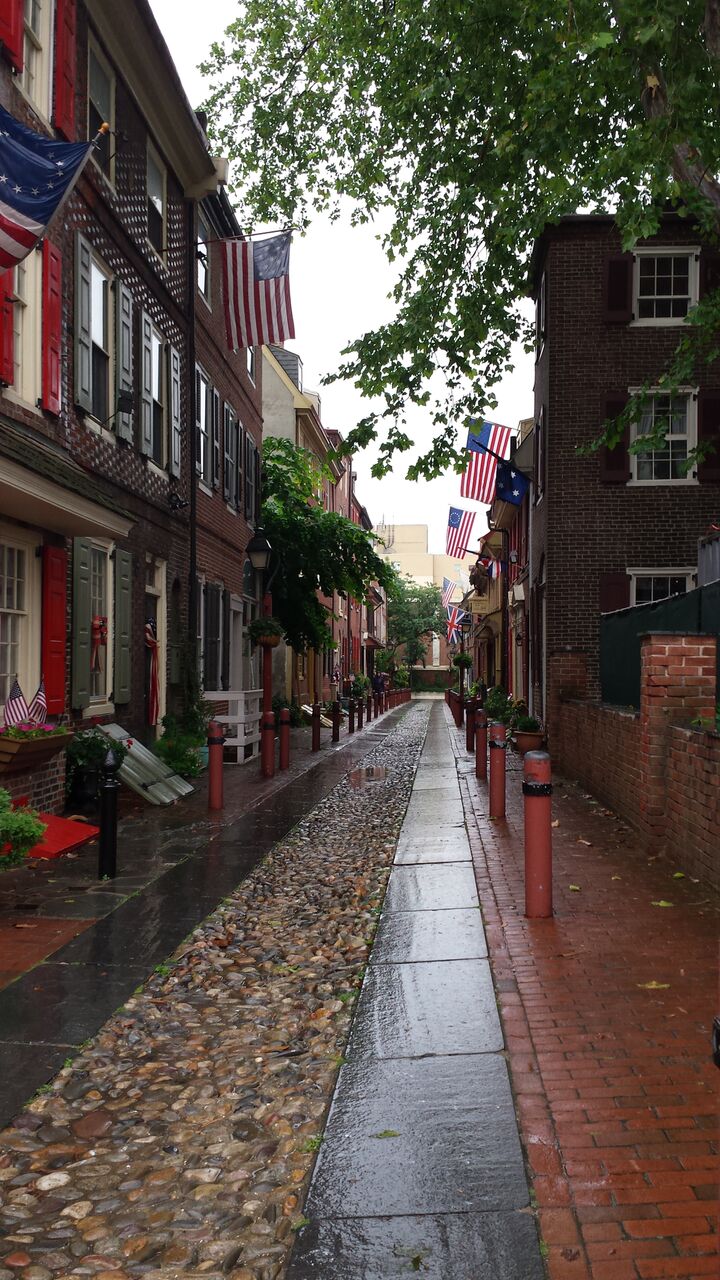 Elfreth's Alley is the oldest residential street in America.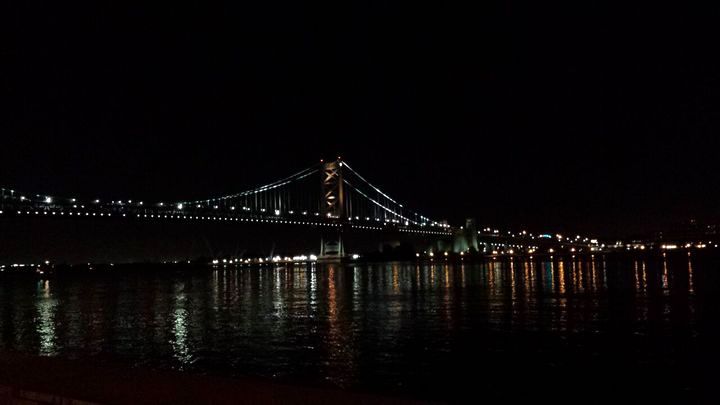 Ben Franklin Bridge connects Philadelphia into New Jersey. Takes an hour and a half to get to NJ.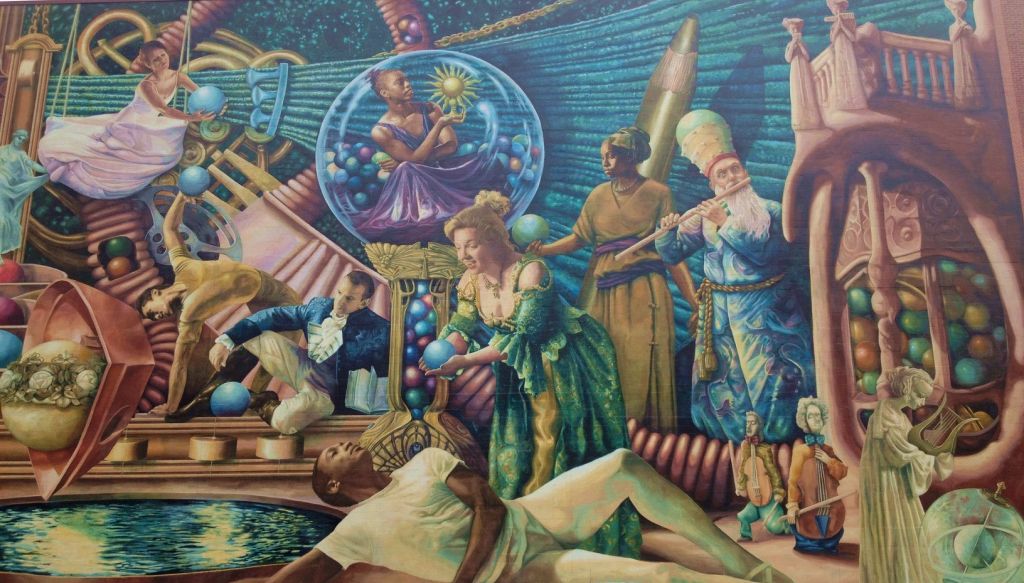 Philly is the mural capital of the world.  The stunning mural that lines the gaybourhood (as Philly calls it) was designed by Meg Saligman in 1999.
In the summer time, Pop Up Beer Gardens are all the rage. No one was doing anything with any of the empty lots and with permission from the realty contractors; these vacant spaces were transformed into beautiful green spaces with fresh gardens and flowers, raising healthy food for the community members who need it most. The Purpose of a pop up garden is the idea is to transform an unused spot into an urban oasis. My personal favourite is by the Pennsylvania Horticultural Centre Pop-Up Garden at uCity Square.
-Sabrina Pirillo is the Editor of S.Travel