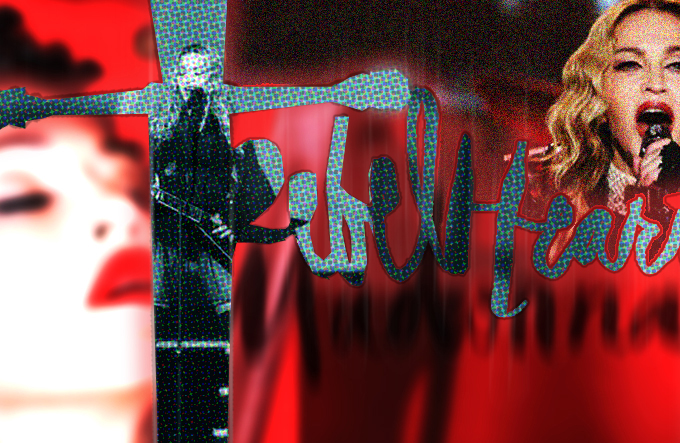 INSIDE THE BEAT OF MADONNA'S REBEL HEART – GGN EXCLUSIVE BY PHILIP TETRO :: Last night I saw my sixth Madonna concert: The Rebel Heart Tour played Toronto's Air Canada Centre for the first of two sold out nights and I was blessed enough to have amazing seats. So amazing that I had no idea how close I was to the stage until I got to the venue. Needless to say, I was elated and I don't think my soul has completely reentered my body again since. As I'm writing this in a Madonna-drenched state of euphoria, I recount the five biggest lessons I learned last night.
1) Who's That Girl?
As a Madonna fan for as long as I can remember, there are certain songs that mean more to me than others and it's almost as if Madonna knew last night exactly what I wanted to hear. "Who's That Girl" is a song, a movie and a tour that Madonna has seemingly wanted to forget for almost thirty years. She brought the song back for this tour and it's absolutely thrilling to know that even Madonna after all this time can appreciate some of her own classic work instead of constantly trying to move onto the next thing. But it's not like I don't already know who that girl is – bitch, she's Madonna.
2) Touched For The Very First Time
I didn't realize how much I loved the song "Like a Virgin" until last night. Maybe it's because the last time I saw her perform it she slowed it down and for this tour, Madonna speeds it up and gets undressed and lets loose and has fun! She looks the best she ever has during this performance and maybe that's what does it for me: the song finally touched me…for the very first time.
3) Non-Madonna Fans Get It
I always thought I was in a league of my own as Madonna fan – I always looked down upon people who were fans of anyone but Madonna because I felt they truly didn't understand how amazing an artist she is. Last night I brought friends who "like" Madonna but had no idea just what they were in for. It was exciting for me to see how constantly shocked and awe-struck they were with every performance and how appreciative they were of the production value in Madonna's show. I feel as though I was doing them a favour by letting them have this experience and I'm honoured to have been a conduit to their enlightenment.
4) She's Ageless
From the moment Madonna's face flashes on the screens at the beginning of the show, you see just how beautiful she is and how she doesn't look a day over 40. She's tight in all the right places and looks as smooth as a baby's bottom. But there was a youthfulness about her energy last night as well that complemented her great skin – she seemed young. A true testament to how age isn't what you are, it's how you feel and Madonna was definitely feeling it last night. Her playfulness was magnetic and everyone was eating it up.
5) Madonna Hates A Tough Crowd
Madonna's gone on record several times saying how much she loves playing to Toronto audiences, but last night she kept telling us how depressed we seemed and to "wake up!" I personally thought the crowd was great, but if The Queen tells you to wake up, you better get outta bed! There was a lot of audience interaction (she acknowledged my presence twice – probably because she was wondering why I didn't stop crying throughout the entire show). Nobody was more depressed, though, than Nelly Furtado who Madonna brought on stage as the "Unapologetic Bitch" of the night. She was stiff and uncomfortable and seemed like she didn't really want to be there whatsoever. Definitely not the kind of bitch Madonna was looking for.
The Rebel Heart Tour is by far the best show Madonna's put on in years, probably since The Confessions Tour in 2006. It had amazing arrangements, the set-list was an amazing mash of old and new hits and Madonna was again just having the time of her life. She seems happy with herself and isn't mad anymore…except at Nelly Furtado, I'm sure.
– Philip Tetro is the world's foremost Madonnaologist.