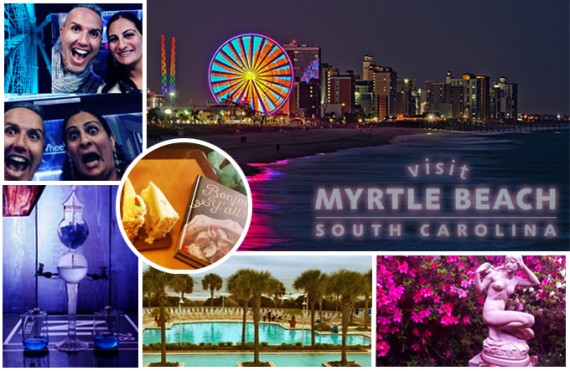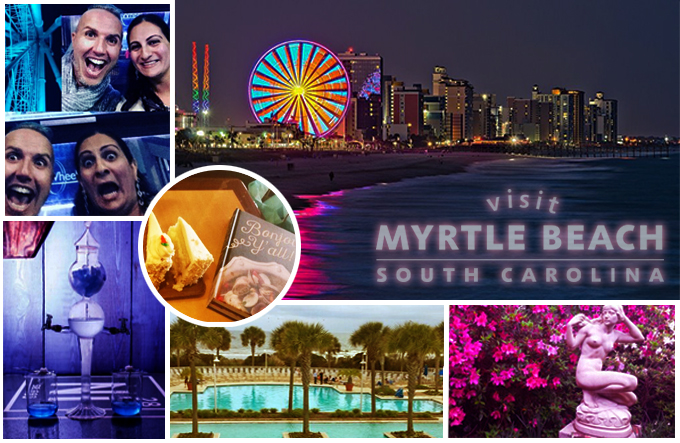 MYRTLE BEACH :: Sometimes being in the right place and the right time come together at the moment when you need it the most.
I had a voucher for a flight aboard Porter Airlines and could go anywhere I wanted to go. As I searched the website for destinations I had never visited, I stumbled upon Myrtle Beach, South Carolina as an interesting destination that caught my attention.
What I didn't realize at the time is that I didn't choose it, it chose me.
Talk about southern hospitality. From the cab drivers, to the restaurant staff, to the locals, smiles and how y'all doing's flooded every inch of my adventure with TheGayGuideNetwork's Shaun Proulx.
And the timing couldn't be better! The Myrtle Beach Area Chamber of Commerce will be helping Canadians "make up" the difference in light of the Canadian exchange rate disparity by offering at least 30 percent discounts – and in some cases up to 65 percent discounts – at select hotels and attractions January 1st through until April 30th, 2016 for travellers with a valid Canadian passport:
Although Myrtle Beach is known to house some of the best golfing courses in the world, it's also home to 100 km of beach, sun, sand, surf, shopping (which is a treat when your dollar is being matched), fishing, and dining.
Here are some of S.Travel's Top Picks for the best of what Myrtle Beach has to offer:
SEE:: Myrtle Beach SkyWheel: Nothing like a late night stroll along the Myrtle Beach Boardwalk & Promenade after a delicious meal. Situated as the centrepiece of the 1.2 mile long oceanfront & promenade is The SkyWheel.
S.Travel Tip: A night-time ride offers a stunning view from above. Boardwalk lights behind you, crashing ocean waves in front of you and beside you an uncertain rider riding high:
Brookgreen Gardens: Located 45 minutes outside of Myrtle Beach in Murrell's Inlet, Brookgreen Gardens is home to spectacular gardens, beautiful sculptures, zoo animals and loads of history. Admission is valid for 7 days as there is so much to explore and discover.
Over 5,000 acres of land once belonging to the Alston family and known as The Oaks Plantation, you can take a history boat tour and nature walk along the grounds, visiting the location of the plantation house, grounds of the slave village, and other archaeological sites.  You'll stumble upon incredible garden beds that will have you gasping at every corner. I even found myself at Brookgreen Garden's where I discovered a sculpture named Sabrina.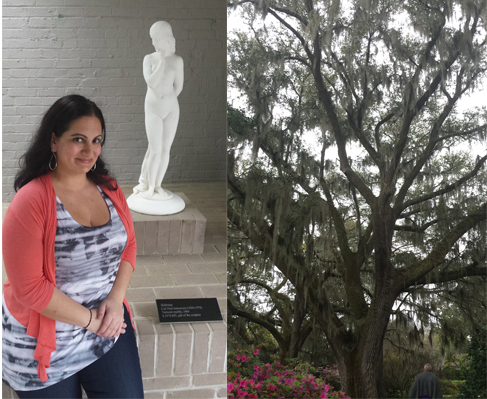 EAT:: Southern cooking goes hand in hand with South Carolina's hospitality.
Thoroughbred Chophouse and Seafood Grille: Known as one of the local's most-liked fine-dining restaurants in Myrtle Beach, Thoroughbred's warm color pallet and staple fireplace offer a warm and cozy atmosphere. And there is no shortage of things to try on the menu. I think what impressed me the most was the recommended added touch for my filet mignon-getting it coffee encrusted, where the process includes dipping your selected meat in coffee grounds, sea salt and peppercorn resulting in a nutty flavour. Yum!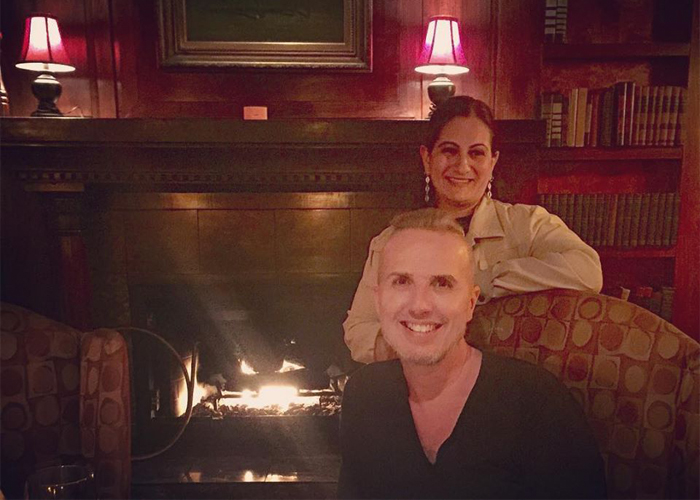 Croissants Bistro and Bakery: Croissants Bistro and Bakery blends culinary traditions of European cuisine and southern home cooking. Pastries and wedding cakes and cookies fill the entry way, while their extensive all day breakfast menu, sandwich specials and sampler dessert of 3 full sizes pieces of cake fill the dining room!
The best part? You can take Croissants home with you as owner Heidi Vukov's cook book Bonjour Y'all, includes recipes you can find in her restaurant. I think I'll try the recipe for coconut custard cake first.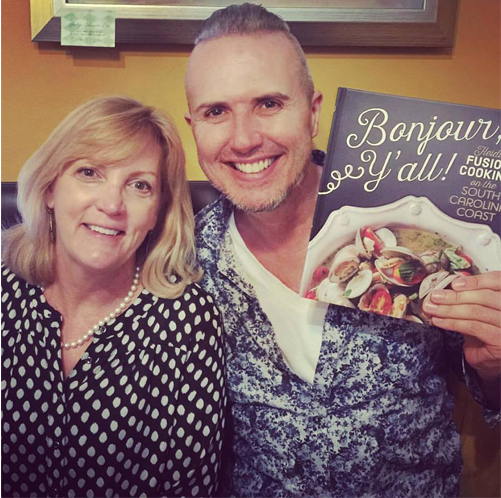 The Chemist-Craft Cocktails & Modern Cuisine:  Located by the Myrtle Beach Boardwalk, The Chemist is a hip new joint that opened in September 2015. It's a chemist's dream environment where waiters wear lab coats, drinks are served in beaker glasses, tables feature periodic elements as do the light up coasters. My personal favourite element had to be The Sixth Element, (strongest on the periodic table) which was served with Silver, Cointreau, fresh sour mix, orange juice, fresh jalapeno and cucumber slices, Validated with with a Grand Marnier floater. Their scampi (large prawn over capellini with citrus butter sauce foam) was heaven, and for the ultimate explosion, finish with the mango buttermilk panna cotta.
If only this was how they would have taught chemistry in high school.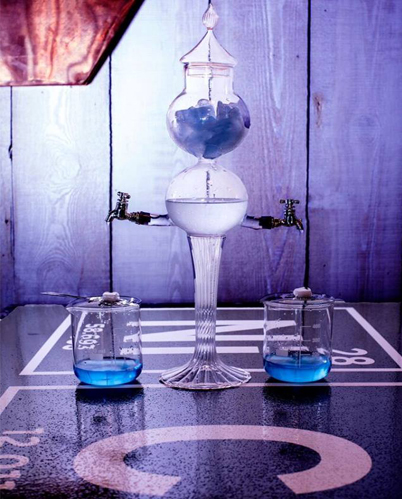 (The Absinthe Fountain. Photo provided by The Chemist.)
Art Burger 'N Sushi: That's exactly what you'll find on the menu: art, burgers and sushi. Constant changing art instillations surround the restaurant as diners choose from delicious menu items such as appetizing firecracker shrimp with chilli thai sauce, the traditional Rockwell All-American burger, or for the more adventurous, the Monet (slow-roasted pork shoulder, BBQ sauce, fried onion, and kale slaw). Make sure to sit on the patio for the best view in the house while enjoying a refreshing cucumber martini.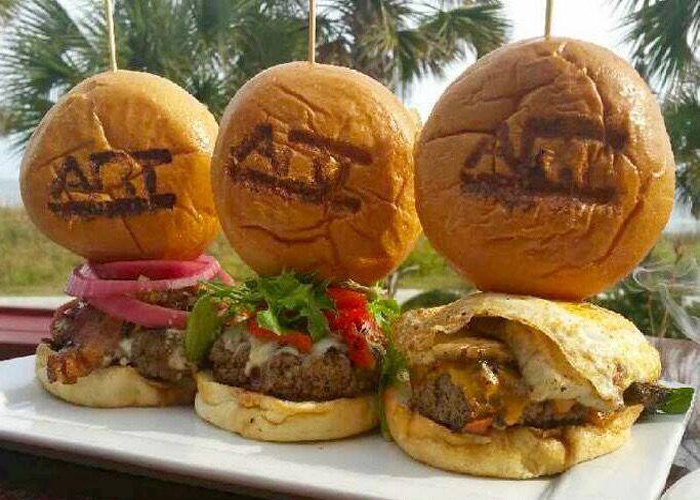 (Photo Provided by Art Burger N' Sushi)
Wicked Tuna: Located 45 minutes from Myrtle Beach on Murrells Inlet's Marsh Walk, Wicked Tuna offers waterfront dining with the freshest fish, so fresh they call it a hook to plate concept. Their fish house lives right under the restaurant, and some days you can watch the boat pull into the inlet bringing in the week's haul. My mouthwatering grouper was served to me less than 48 hours from the catch. Topped with lobster and crab on a bed of cauliflower puree, zucchini and peppers, it's a seafood lovers paradise.
Wicked Tuna is also 1 of 500 places in the US that's licensed for the catch of unlimited snapper and grouper. And fresh fish isn't the only thing on the menu as there are 2 kitchens, one for fish and one for sushi.
The Dragon Egg (and no I'm not making a Game of Throne's reference about Khaleesi, The Mother of Dragons) features a halved avocado stuffed with: cream cheese, smoke salmon, blue crab, king crab, spicy crab, served on a bed of stringy tempura sweet potato, served with spicy mayo, sweet glaze and so much goodness.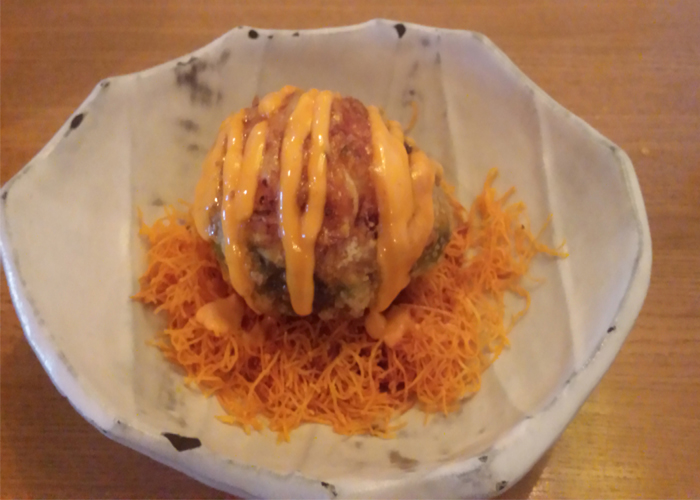 STAY: Myrtle Beach Marriott Resort & Spa at Grande Dunes:  Nestled within a 2,200-acre Grande Dunes residential community, Myrtle Beach Marriott offers superb service and amenities such as championship golf, tennis, a tropical beachfront pool, hammocks, a luxury spa, an indoor pool, and white sandy beaches.  Accommodations at this 4-star luxury and stylish hotel include deluxe bedding, The Body Shop amenities, high-speed Internet access, and my personal favourite, beautiful views of the resort, or of the Myrtle Beach oceanfront. Now that's a view I can wake up to!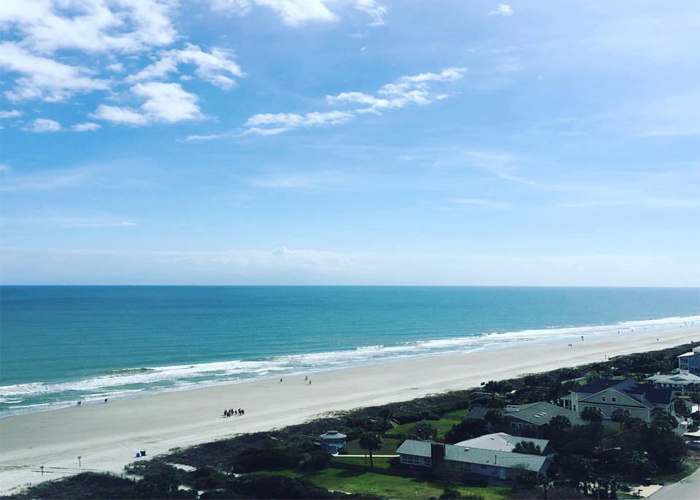 S.Travel Tip: For the ultimate in relaxation, plan to visit the Hibiscus Spa  located on the lower level of the Marriott hotel. Might I suggest the Tranquility package which begins with a light dry brush exfoliation of your skin followed by a mineral rich clay applied to you entire body to nourish and detoxify your skin. After a refreshing splash of the Vichy shower, the treatment leaves your skin deeply cleansed and detoxified while the benefits of all the ingredients nourish the skin, soothing away tension and stress. Your package ends with a full Sweetish Massage resulting in relaxation, rest and tranquility.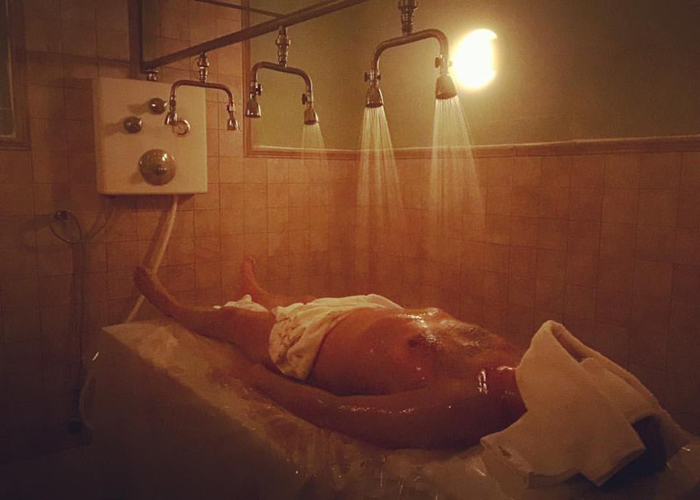 – Sabrina Pirillo is the Editor of S.Travel.
–  S.Travel Approved*
* S.Travel is our coveted publishing stamp of approval on travel destinations, accommodations, bars, restaurants, adventures and experiences. Look to S.Travel for the very best LGBT travel the world has to offer. Join us on Twitter, Facebook  and Instagram for the latest in travel ideas, tips and fun, and sign up to receive our free S.Travel Newsletter.