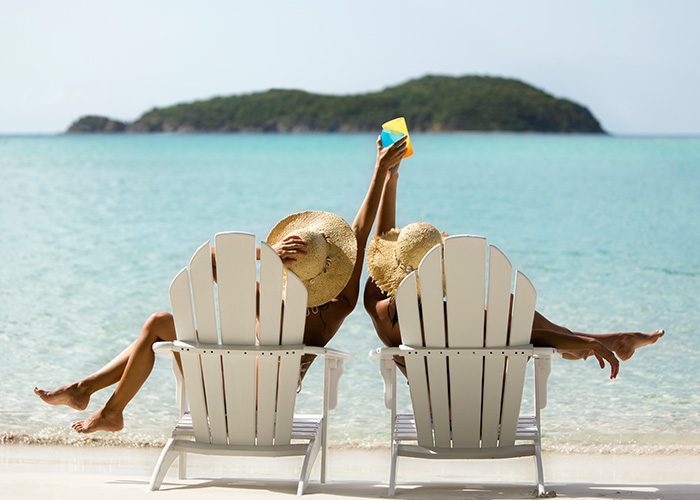 TRAVEL :: Ladies, let's not even front. I know you think Olivia Travel is for silver foxes (shagable women over 50), and yes, you'll definitely see them on board. But, if you think that's all Olivia is, I'm here to change your mind. Here are 7 reasons why an Olivia cruise or resort should be your next holiday.
Not your mum's holiday (unless she enjoys tipping the velvet). You're unlikely to find any semblance of a stale, hetero holiday on an Olivia cruise or resort. Olivia brings on awesome entertainment, like Sarah McLachlan and Mouths of Babes, and has the hottest DJs spinning at the nightclub. Pool games, Olivia "O"lympics, dance lessons, rockstar karaoke, you name it, and Olivia will make it happen.
Make new friends from around the world without backpacking through it. People from all over the world travel with Olivia, whether they are traveling with friends or on their own. The best part about that is they have solos coordinators! Literally, there are people to help you make new friends if you are traveling alone. And if you're traveling with your girl, you're in luck – everyone is friendly
It's a rite of passage. If you've been on an Olivia holiday, you know you're part of the lucky few who share a very special experience together. Women from all walks of life go on Olivia holidays, from those who have been on dozens of trips and others who save up for years to be able to go on their first one. It's the one place you can really let yourself go and come back knowing you've made relationships (and memories) that will last a lifetime – or at least for the month after.
Stay up late for the unofficial parties. That's right, the later you stay up, the more intimate things get. You may find yourself in a pool on the lido deck of a Holland America ship fully clothed on White Night or still hanging out on the deck at sunrise. I've found myself on the observation deck at 3am looking at the stars with a group of women, one of whom was professing her feelings for another, laughing and playing games. I've also found myself skinny-dipping in the pool at the beach in Punta Cana…'nuff said.
Gen O keeps it fresh. If you're Gen Y, a millennial, or even at the tail end of Gen X, then you're most definitely part of Gen O. This is the bread and butter for the under-40 crowd: tequila tastings, volleyball, beer & bocce, lunches, snorkeling, dancing, and probably a bunch of other things that I don't even know about yet. I do know, though, that Gen O is where it's at.
Get a crash course in lesbian history. Here's the part where the silver foxes come in…if it weren't for them, Olivia wouldn't exist for us. Olivia started as a record label in 1973 and created music BY women FOR women (check out artists like Meg Christian and Cris Williamson if you're interested in the early years). There are all kinds of cool talks about Olivia's place in lesbian history on board. If you're a history geek like me, you'll be into it.
It's a holiday created by women, for women. Seriously, folks, this is the real reason to go on an Olivia trip. There is no better feeling than walking into a space where everyone says hi to each other, no one judges each other, and everyone feels the power we ladies create when we take over a ship or resort together. I'm not kidding when I say you really won't know until you go.
So c'mon, ladies. Your next Olivia holiday is waiting for you. Lez go!
For more information about Olivia,  call toll free (800) 631-6277  or  visit olivia.com.
Advertorial by Stephanie Papadakis