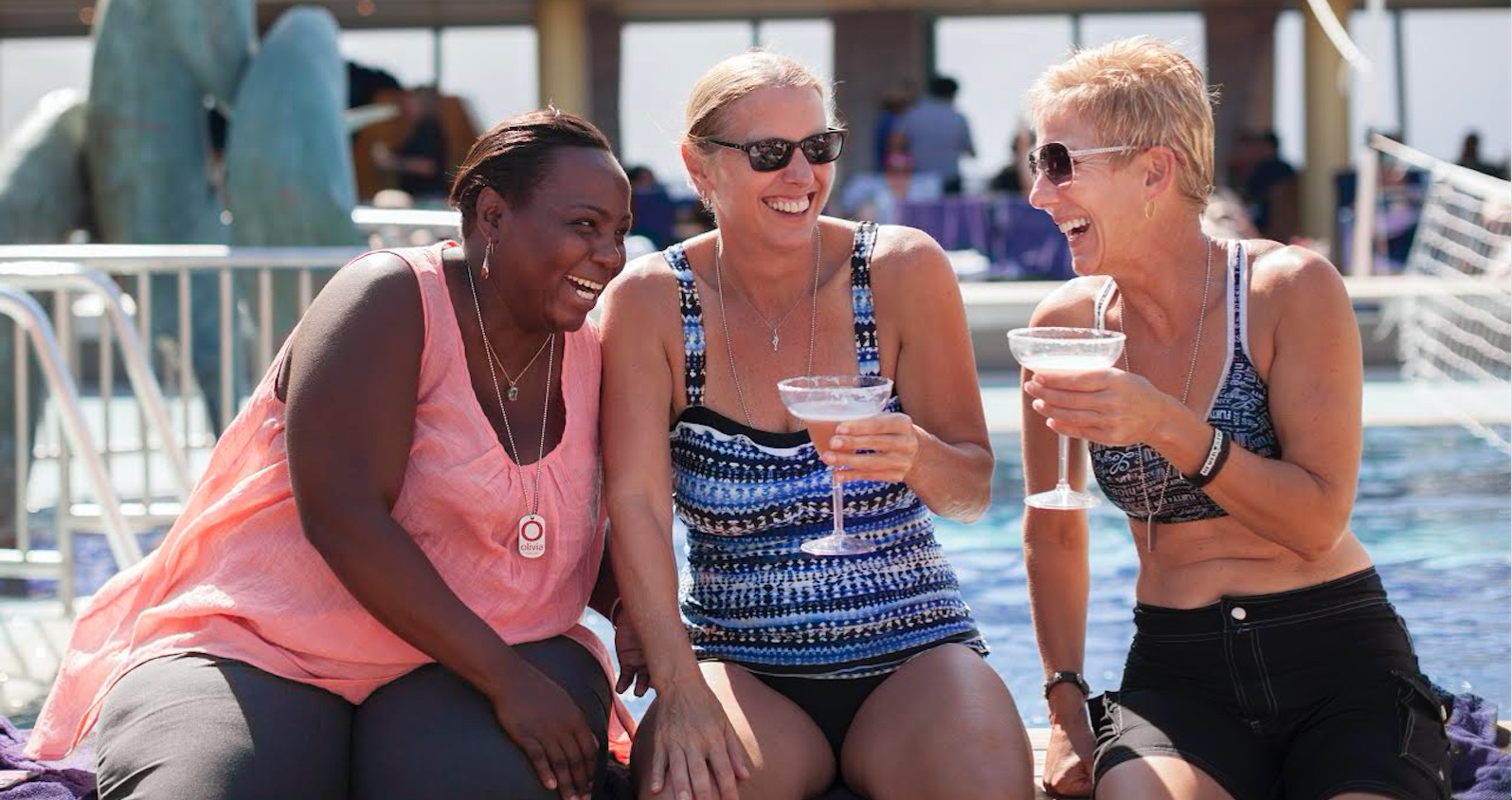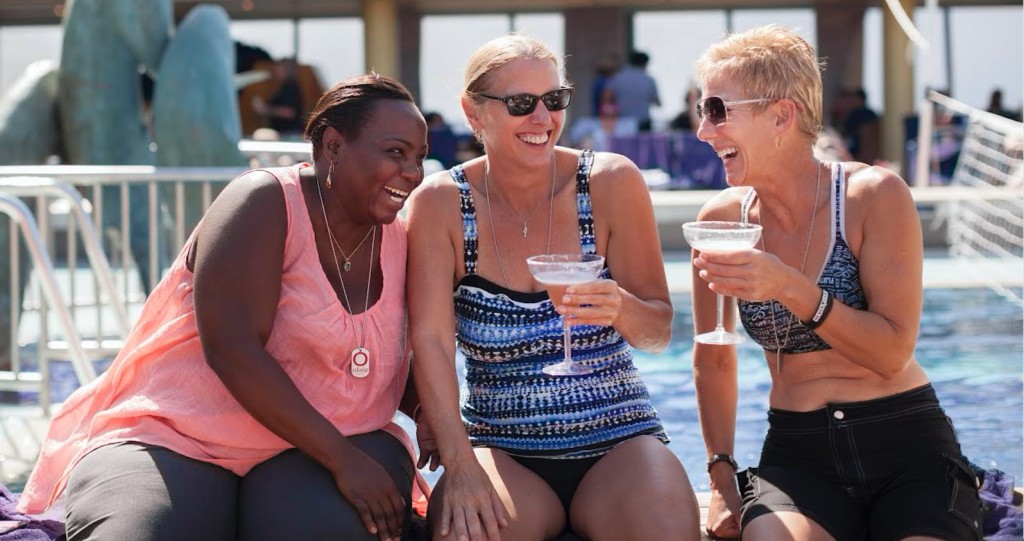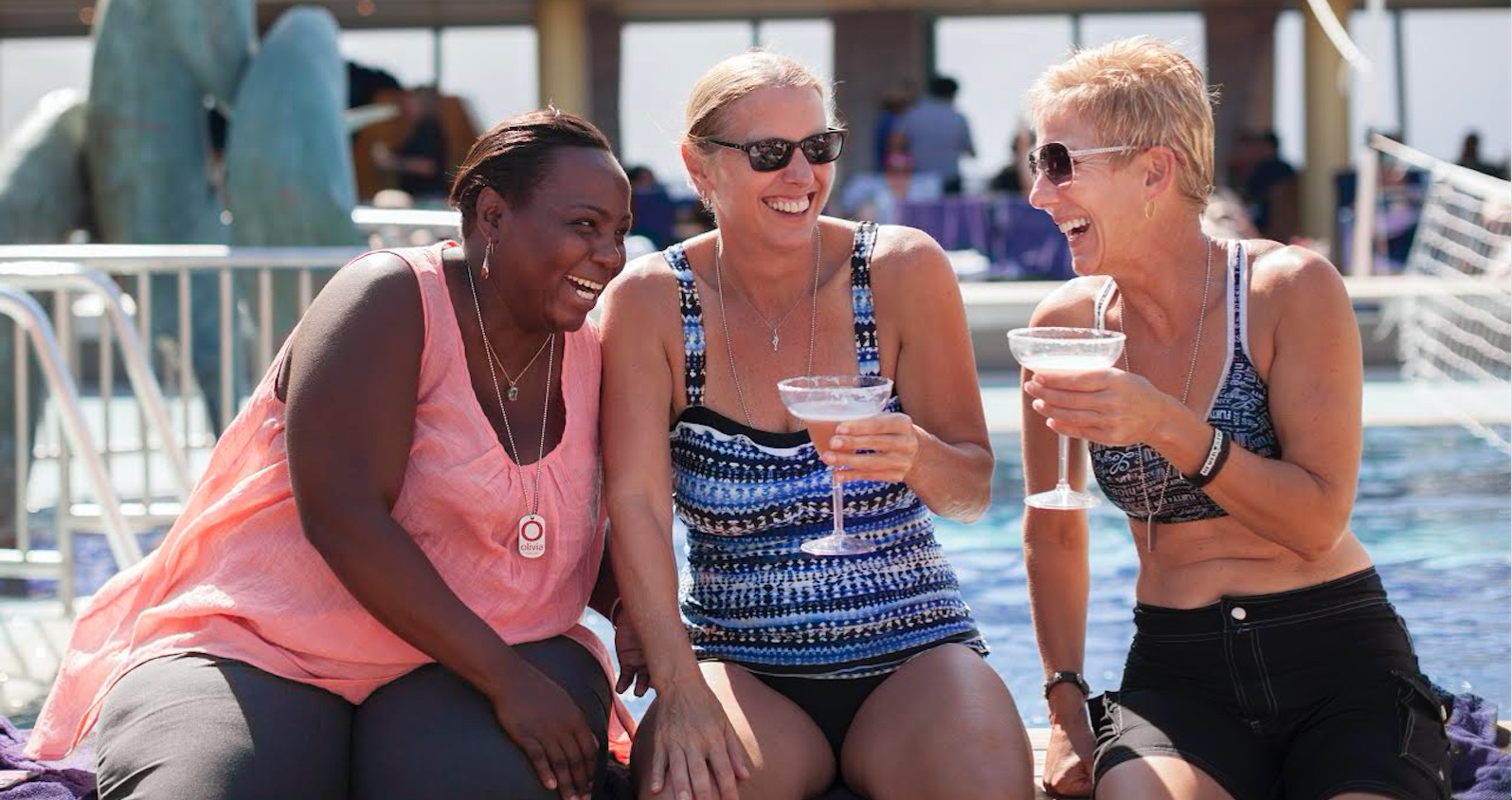 OLIVIA TRAVEL – THE NEXT BIG LESBIAN THING :: What's hot right now? Lesbians. And where do lesbians like to travel? Everywhere.
You're probably asking yourselves where the lesbians are every time you go on a trip. I know I do. I'm constantly researching the best night clubs (if any exist in the country I'm going to) and looking for lesbian groups to hang out with while I'm there. Most of the time I don't find anything, unless I'm going to a big city or a really gay-friendly country.
This led me to wonder what it would be like to go on a trip where everyone was a lesbian, where everyone could be free to be themselves for the duration of the trip. Is there a company out there that exists solely for this purpose?
Enter Olivia Travel.
When I first found out about Olivia Travel, it blew my mind.
Olivia has taken over 200,000 lesbians on cruise, resort, luxury and adventure vacations all over the world. Did you read that correctly? 200,000 lesbians. Olivia also charters the entire ship or buys out the whole resort for an entire week and fills it with women. Can someone please sign me up?
I went on my first Olivia trip to the Caribbean in 2013 and it blew. my. mind. It was for Olivia's 40th Anniversary celebration, the largest cruise to date, with 2,100 lesbians and over 20-plus entertainers, including Billie Jean King, Karen Williams, Marga Gomez, Gina Yashere, Michelle Balan and so many more, for eight days and seven nights. Even the excursions in our ports of call – Half Moon Cay, Bahamas; Willemstad, Curacao; and Oranjestad, Aruba – were all filled with women. It was as if the skies opened and lesbians came pouring out instead of rain.
It was a week-long slice of heaven.
RELATED :: Win A Trip For Two Aboard Olivia's Caribbean Festival at Sea in February 2017!
Since 1973, Olivia has been serving the lesbian community, both as a groundbreaking independent women's label and as the travel company for lesbians. Its staff works very hard to maintain a one-of-a-kind vacation environment where lesbians can be themselves anywhere in the world. "There is nothing more rewarding than relaxing and being able to feel free while on vacation knowing that this vacation was made just for me," says longtime traveler and Olivia ambassador, Jana Leal.
There's always something for everyone on an Olivia trip. Solos coordinators help facilitate friendships for those who are a little shy and single travelers can meet up at onboard mixers, dances and in-port excursions. For women of colour, Olivia also provides the Sisters at Sea (on cruises) and Sisters at Play (at resorts) programs to bring women together to mingle and participate in special activities.
For those looking to travel for less, Olivia's Group Program allows groups of friends to travel together at a discounted price. Because Olivia wants every lesbian to experience an Olivia vacation, they offer monthly payment plans, so when you book your trip far enough in advance, the payments feel easier to manage. Olivia also partners with Air Canada, along with Delta Airlines and Alaska Airlines, to offer discounts on flights to and from specific Olivia trips.
This May, Olivia will be in Cancún, Mexico at the Club Med Resort, set between a large beach and a beautiful lagoon. This is an all-inclusive resort, which means your food, drinks, accommodations, sporting activities and entertainment are all included for eight days and seven nights!
In September, Olivia's Pacific Coastal Cruise will be docking in the most LGBT-friendly cities on the Pacific Coast, including Vancouver, Seattle, San Francisco, Santa Barbara, and San Diego, with 1,400 women. Wilson Philips will be headlining, and Chef Elizabeth Faulkner (of Top Chef Masters fame) will be heading up the culinary component.
You can also take advantage of that payment plan, and escape the cold Canadian winter, on Olivia's Caribbean Festival at Sea in February 2017. It's going to be the festival of all festivals, taking place under the warm Caribbean sun, with 2,100 lesbians on board Holland America's ms Eurodam. You'll also visit Half Moon Cay, Grand Cayman, Cozumel, and Key West – islands with clear, turquoise waters, snorkeling galore, and beaches that stretch for miles.
See ladies? There are options out there for you.
– Stephanie Papadakis
For more information, visit www.olivia.com.
– Advertorial –