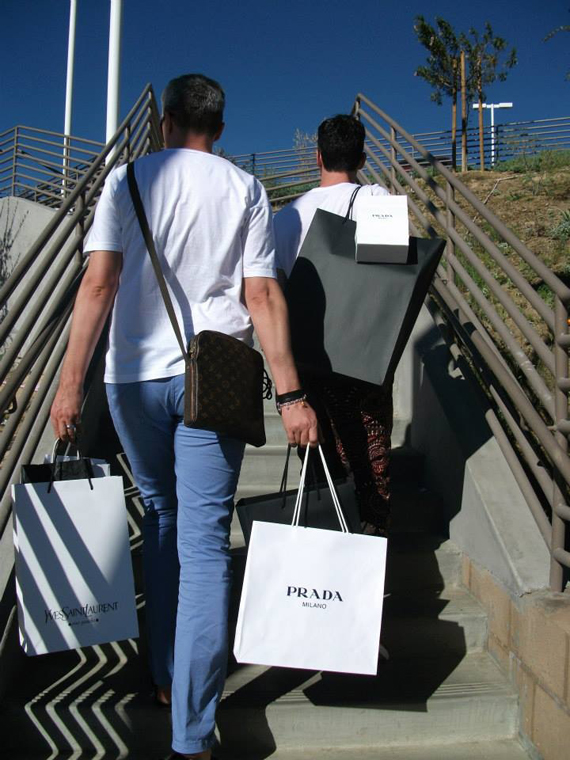 MUST EXPERIENCES :: It's not a vast city by any means, but Palm Springs packs a hard punch when it comes to that moment when you decide lying poolside is done. Here are a few of our tried and true favourite things to do in Palm Springs:
To Get Your Bearings: Your first stop is always Oscars's Cafe & Bar, in the heart of the city. You won't find a more welcoming, open-hearted environment to refresh, nosh, and make a plan. The staff here are always above-par with their reception of guests, helpful, and happen to serve up the perfect food for when you've stepped off a plane, checked into your hotel, and need to energize so your holiday gets off to a good start.
To Get High: True confession: we love to shop. That said, we've been to many outlets malls on many continents and the newly expanded Desert Springs Premium Outlet mall beats them all. It's a very quick drive outside of the heart of the city (no more long drives to savings!), the prices are what we call "real" deals ($50 off isn't that big an offer!) and best of all, we've never seen so many coveted brands under one roof. Honestly, one of us had heart palpitations last time we were there and just needed to go off on his own; he couldn't speak, just shop.
To Come Down: Smoketree Stables always feels like coming home – and we don't have horses at home! Yet the atmosphere is immediately soothing, the staff – many real cowboys – are experienced pros ready to assist any rider: new, pro, or nervous as hell. A two-hour ride through the canyon is the tonic every mind/body/soul needs, which is why you'll return every time we're in Palm Springs. In this 2011 video, GGN publisher Shaun Proulx and then-fiance Patrick (Eddie) Marano, visit Smoketree for the first time:
To Bust Your Butt: At least once in Palm Springs, you must take their aerial tramway – the world's largest rotating tram car – just to experience the breathtaking views as you rise over the cliffs of the Chino Canyon. Begin the 10 minute ride at the Valley Station – elevation 2,643 ft. and end at the Mountain Station – elevation 8,516 ft. From there, take a hike and drink in views unlike anything you've ever seen.
To Be Classic Queer Palm Springs: Wang's In The Desert, famous for their happy hours, is a must when you visit Palm Springs. Their award-winning Pan-Asian menu is drool-worthy (we like letting our server pick dishes to try based on telling him our likes / dislikes), Tip: Return to Oscar's the next morning for their amazing breakfast and brunch. Guaranteed to kill that hangover. Or, if you wake up and you're still at Wang's their Dim Sum is fantastic.
–  S.Travel Approved*
* S.Travel is our coveted publishing stamp of approval on LGBT travel destinations, accommodations, bars, restaurants, adventures and experiences. Look to S.Travel for the very best LGBT travel the world has to offer. Join us on Twitter and Facebook for the latest in LGBT travel ideas, tips and fun, and sign up to receive our free  S.Travel Newsletter.