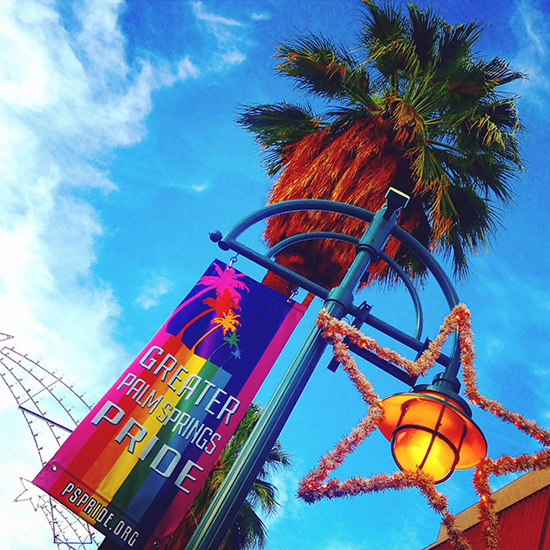 RAINBOW CONNECTION :: With its higher-than-average LGBT population, gay pride in Palm Springs is a year-long affair. But still, nothing beats when Palm Springs actually celebrates Pride proper. Palm Springs – already a hotbed of consistent high vibe energy – comes even more alive for its annual Pride Celebration, which celebrated 30 years of celebrating in 2013. With one of the most humbling scenic routes in the world for their parade to travel along – crystal blue skies, sunshine, and palm tree-lined streets form the backdrop – you can't help but watch amongst 50,000 others and crown Palm Springs "Gayest Place Ever" – even if it's just for a day. Did we mention Ross Mathews was Grand Marshal?
There are always so many Pride activities in Palm Springs to choose from, most of them being free admission. Our favourite stops when we celebrated Pride in Palm Springs:
Stonewall Equality Concert: The outdoor concert was held at the Forever Marilyn Sculpture (AKA the 26-foot Marilyn Monroe, inspired by the famous photograph of Bernard of Hollywood from The Seven Year Itch) to celebrate legalization of same-sex marriage in California, the repeal of DOMA and the progress toward equality since the 1969 Stonewall riots in New York City.
Complimentary Same-Sex Wedding Ceremonies: As hundreds watched, same-sex couples took part in a once in a lifetime opportunity to get married by a caring officiant in the center of Palm Springs at the Forever Marilyn Wedding Garden.
Two-Day Pride Festival: Festival highlights included: the Big Top Cabaret and Palm Springs Gay RoWdeo Association country dance.  The festival featured live musical performances with over 125 exhibitors and non-profit organizations present.
More on Palm Springs Pride.