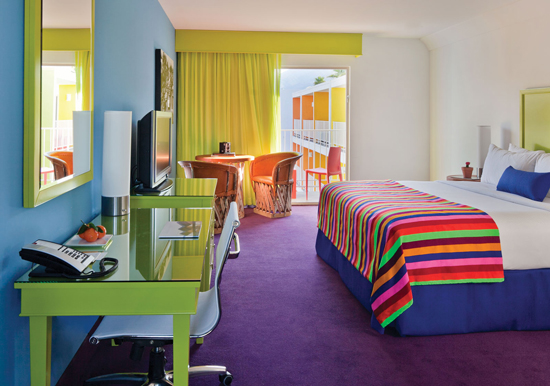 LGBT TRAVEL :: THE SAGUARO HOTEL Magnificent Palm Springs gets an average of 354 sunny days a year. That's practically a directive from above that one lounge poolside, enjoy god-sent food and, of course, cool, refreshing cocktails while splish-splashing.
We're not conjuring a desert illusion – such fun can be had and in flashback 1950's Technicolor. The Saguaro Palm Springs is the place; Iron Chef Jose Garces is there to furnish the vibrant flavours under the delicious California sunshine.
The Saguaro's bright, magnetic colour palette is the work of architects Peter Stamberg and Paul Aferiat, who took the inspiration from the indigenous flowers that grow in the local desert landscape. And the view? Take your pick: almost every room has a balcony or patio, and the Saguaro's C-shape allows views of its Olympic-size pool and hot tubs, the San Jacinto mountains, Saguaro's garden courtyard, or Palm Springs' city lights.

The Saguaro Palm Springs also offers a daily yoga class, shuttle service into downtown and a 24-hour fitness centre.
Palm Springs was ranked the #1 gay friendly city in 2013 (beating out San Francisco according to NerdWallet.com) and plays home to a large gay population and very welcoming to LGBT visitors. The gay culture blends into day-to-day life in Palm Springs, with tons of attractions and gay-friendly events held year round, including Greater Palm Springs Pride, which takes place every November. The Saguaro is home-away-from-home for hundreds of beautiful LGBT people during these festivities – and plays host as official Palm Springs Pride parties light up the night.
Pride or not, The Saguaro is a property you'll want to return to, every time you visit Palm Springs.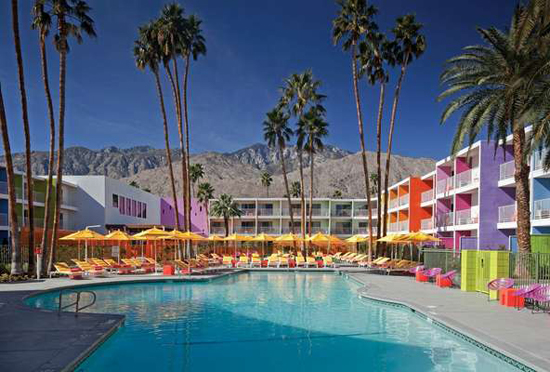 –  S.Travel Approved*
* S.Travel is our coveted publishing stamp of approval on LGBT travel destinations, accommodations, bars, restaurants, adventures and experiences. Look to S.Travel for the very best LGBT travel the world has to offer. Join us on Twitter and Facebook for the latest in LGBT travel ideas, tips and fun, and sign up to receive our free  S.Travel Newsletter.