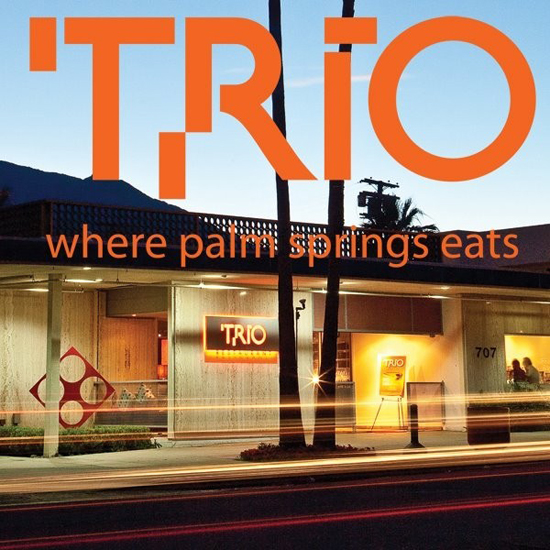 DINING :: Located in Palm Springs' trendy Uptown Design District, TRIO offers an energetic, desert-casual atmosphere featuring American modern at reasonable prices. It's where Palm Springs residents eat and drink, always a good sign.
Once a bank, TRIO's front entrance is a wall safe. The restaurant opened when partners Tony Marchese and Executive Chef / co-owner Mark Van Laanen had a dream to take simple comfort food and add a contemporary twist to it.
Mission successful.
"When you walk in the door it's all about comfort, the surroundings and the food," as Marchese himself says. "Our goal has always been to create a restaurant with a unique energy, where anyone can come dine two to three times a week. We are a proud part of the community in which we love, work, eat and play."
Their extensive menu features a variety of fish, steak, and organic salads, plus seasonal items from local growers and farmers.
We recommend the Soy Ceviche to awaken the taste buds: edamame, tofu, tomato, cucumber, avocado cilantro, sriracha, chilli, and lime. The oven-roasted Australian Sole with Israeli couscous is an excellent main.
New to the family: The Purple Room – Purchased recently by Marchese and Van Laanen, The Purple Room is a Palm Springs favourite, legendary as home to the Rat Pack who used to perform there. The Purple Room offers a classic supper club/lounge feel bringing you right back to Hollywood's heyday.
–  S.Travel Approved*
* S.Travel is our coveted publishing stamp of approval on LGBT travel destinations, accommodations, bars, restaurants, adventures and experiences. Look to S.Travel for the very best LGBT travel the world has to offer. Join us on Twitter and Facebook for the latest in LGBT travel ideas, tips and fun, and sign up to receive our free  S.Travel Newsletter.