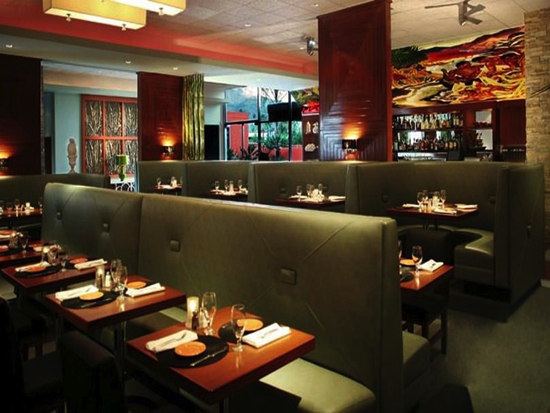 DINING :: The Tropicale and Coral Seas Lounge was one of our favourite new finds in Palm Springs – and apparently all of America agrees. The Tropicale was declared one of the top 100 restaurants in the United States by Open Table.
Expect it to be packed with a glamorous-but-casual crowd, and expect a throwback vibe that's perfectly modern with just a hint of kitsch (but god how we love their seahorse logo).
And how we love their menu. The Tropicale offers a superior food experience and this is how we know: We went for their popular Sushi Sunday. Sushi. In. The Desert.
And it was sublime, inventive, and as good as if you were by the sea. Tropicale offers a far wider ranging menu than simply sushi – click here to view their creations.
Our high-energy hysterical waiter that night was the son that Lady Bunny and Jack from Will & Grace didn't know they had, added-value that may not be guaranteed when you go. But just look for the table having the best time, like we were, and ask to be seated in that section.
–  S.Travel Approved*
* S.Travel is our coveted publishing stamp of approval on LGBT travel destinations, accommodations, bars, restaurants, adventures and experiences. Look to S.Travel for the very best LGBT travel the world has to offer. Join us on Twitter and Facebook for the latest in LGBT travel ideas, tips and fun, and sign up to receive our free  S.Travel Newsletter.