LGBT TRAVEL :: Palm Springs is a destination that had us at hello, a slice-of-heaven city that keeps us begging for more. Palm Springs has repeatedly been named the #1 gay travel destination worldwide and with its unique brand of clean dry desert air, clear blue skies, swimming pools and Jetsons homes that's easy to understand.
A historical, ecological and party travel jewel nestled below the San Jacinto Mountains, Palm Springs has long been a sublime playground favoured by Hollywood elite and gays alike. Early Hollywood saw stars like Cary Grant, Charlie Chaplin and Laurence Olivier stuck with studio contracts containing a "100-mile" clause, designed to keep talent close to Hollywood when shoots were in progress.  This made Palm Springs an ideal party town within the 100-mile limit, and at the same time gay Hollywood could also be out safely.
Palm Springs was where Hollywood could come and spend money, a posh and elite crowd in what was already a resort town filled with free-spirited, optimistic, and forward-thinking people. Today's new breed of stars prefer the many walled estates located in the star-kissed city, and the very-Canadian way privacy is fairly respected when out in public. To this day, residents value the provenance and stewardship celebrities bring to Palm Springs.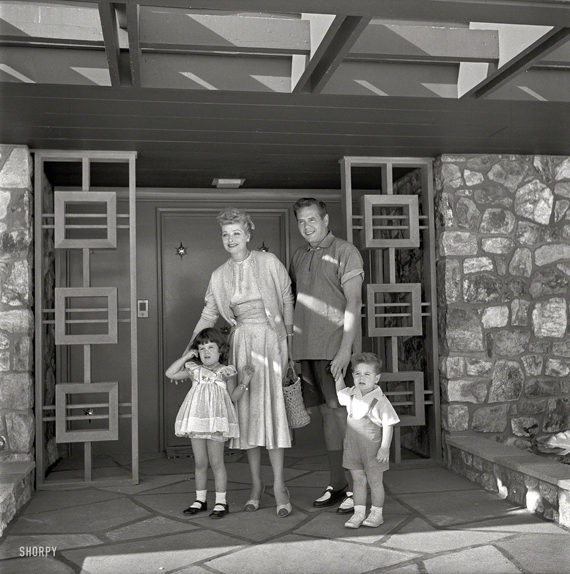 Notably, Palm Springs comes alive during their annual Pride festivities; Palm Springs Pride celebrated 30 years of celebrating in 2013. With arguably the most stunning parade route in the world – San Jacinto-meets-palm tree-lined-streets-meets-rainbow-flags-and-glitter – the Palm Springs Pride Parade isn't for sleepy-heads, starting at 10am.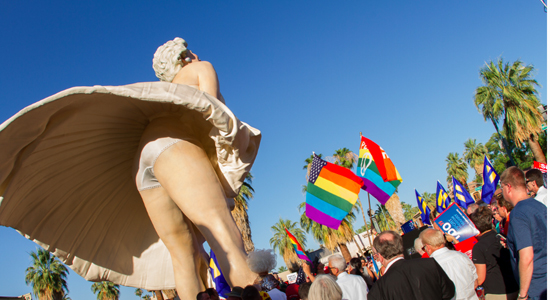 But Pride partying is just a small part of what Palm Springs has to offer. In fact – and you can take away our gay card – we return time and again to be amongst the city's fabled architecture, celebrated each winter at Palm Springs Modernism Week. The natural drama of the Coachella Valley surrounding Palm Springs has inspired visionary architects since the 1920's to a design movement now called Desert Modernism, to which worldwide attention is paid.  Influenced by the enviable indoor-outdoor style that is desert living, the likes of legends such as Albert Frey, Donald Wexler, William F. Cody and Richard Neutra evoked an elegant lifestyle using clean lines and natural materials like glass, steel, cement and rock, which can be found in buildings of every type in Palm Springs from residential to religious. Even a local McDonalds honours the aesthetic, and no one in the city can miss the looming landmark home Lautner built perched high above the city for Bob and Delores Hope.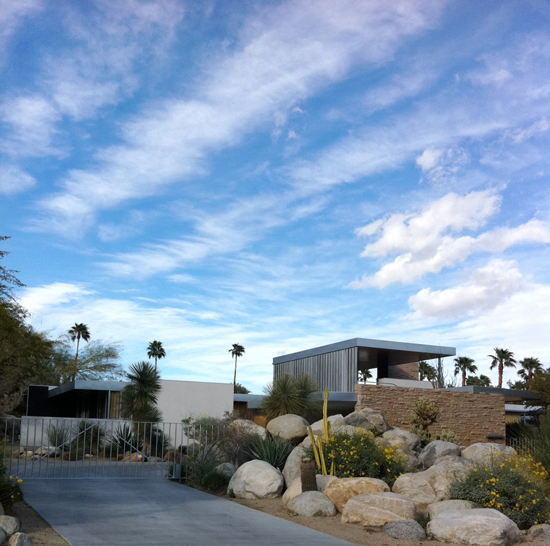 As Palm Springs boasts one of largest concentrations of mid-century modern architecture in the world, it also boasts intimate, private tours by the likes of noted author / director  Michael Stern of The Modern Tour, and Robert Imber of Palm Springs Modern Tours.
"We live it and breathe it," says Imber of the Palm Springs' relationship with architecture.  Both Stern and Imber have encyclopedic knowledge of the countless notable buildings worth enjoying, along with fabled stories of former occupants' time in each, like the tale of the crack that still remains in the bathroom sink to this day from back when a furious starlet threw a champagne bottle at a philandering Frank Sinatra.
Must-sees include Elvis' 'The House of Tomorrow', Sinatra's house (replete with cracked sink), a home where Liz Taylor spent much time, the Bing Crosby estate, as well as a Wexler home once owned by Dinah Shore. Our favourite? This home, pictured above, which was once owned by Barry Manilow. Quintessential Palm Springs.
Here, Imber explains the arrival of the modernist aesthetic to Palm Springs:
– Sabrina Pirillo and Shaun Proulx
S.Travel Approved*
* S.Travel is our coveted publishing stamp of approval on LGBT travel destinations, accommodations, bars, restaurants, adventures and experiences. Look to S.Travel for the very best LGBT travel the world has to offer. Join us on Twitter and Facebook for the latest in LGBT travel ideas, tips and fun, and sign up to receive our free S.Travel Newsletter.
Lucille Ball image: Maurice Terrell
All other images: Shaun Proulx Media