PHONE SEX :: The Male Call Study
By
GGN
on January 9, 2012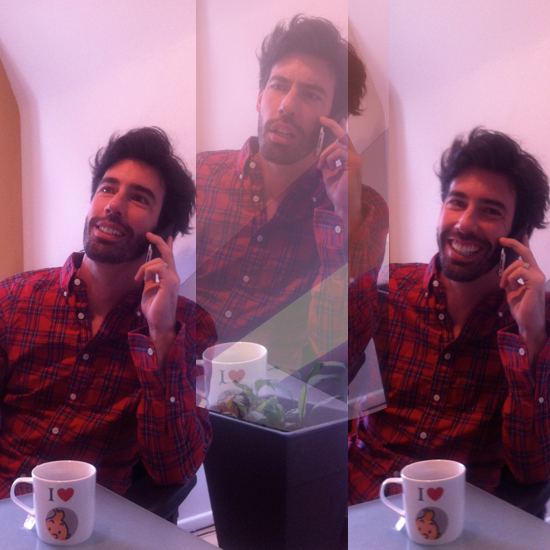 PHONE SEX STUDY :: Billed as the most comprehensive survey of men who have sex with men in Canadian history, Male Call Canada is collecting data for another three weeks about the attitudes, knowledge and sexual behaviours to help inform future public health and HIV prevention strategies. It was announced Monday January 9th soccer star David Testo announced his support of the phone sex survey to help encourage men to call and participate; last week Patrick Marano enjoyed a little phone sex too:
Last week I did my part for gay men's sexual health by taking the Male Call survey.
The phone sex survey, I was told, was going to take forty-five minutes.  At first I thought, "Forty five minutes?  That's a long time!  I don't have that much time to spare! "  But as the survey started, the questions came at me, the answers flowed from me, and something very interesting started to happen.
This survey – which I thought I could do while making dinner, playing Scrabble and ironing tomorrow's shirt – turned out to be a lot more thought provoking then I had imagined.
Firstly, and most importantly I felt safe.  I knew that whatever was discussed would only be used in the context of the survey, and that my identity was protected.  That allowed me to be completely honest in my answers.
Answers to questions about race, religion, financial standing, current and past drug use, sexual practices, relationships with friends and family, STD's, HIV, discrimination and the law.
Some blocks of questions I rattled off answers easily (had I slept with a woman before, how do I identify sexually).  Others made me realize how lucky I was to be out, open and have a great support system of loved ones (was I out to my immediate family; had I ever felt discriminated against because of my race). And still other questions really made me think (whose responsibility is it to disclose HIV status; is it a criminal offence for not disclosing HIV status).  They made me think about my role in our community, how I have contributed, my opinions on leading edge topics of HIV and the law, and challenged what I knew (or thought I knew) about sexual health.
After all was said and done (the time flew by!) I was offered numbers for support or counselling should I want them.  I hung up from the Male Call survey having learned a little about myself and having felt like I really did make a difference.  So do yourselves a favour, pick up the phone, take the survey… after all what do you have to lose? Call 1-855-846-MALE.