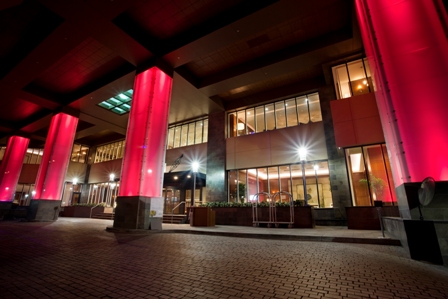 HOTEL REVIEW :: With summer upon us, queers across Canada are getting set for their annual descent on Montreal. We sent S-Travel's Sabrina Pirillo to the sexy city, with the stipulation she veer clear of the typical queer happening haunts and focus on the old.
Although "voulez-vouz coucher avec moi se soir?" and "merci beaucoup" are only French phrases I know, Montreal nevertheless is like a second home to me, as it is for many Torontonians. It's like being on vacation without feeling away from home. What made this trip different though was spending more time in Old Montreal than in my typical gaybourhood hot spots. It made me appreciate a whole new world waiting to be discovered.
Its beauty and history can be found in old buildings and architecture like the historical s-travel-an-undiscovered-montrealPlace Jean-Paul-Riopelle. Riopelle was a member of the Automatisti movement and signed the "Refus Global," (a 1948 manifesto that denounced moral and artistic conformity). "La Joute," is the bronzed sculpted fountain, where in summer, every hour on the hour from 7 p.m. to 11 p.m. its flames dance on water.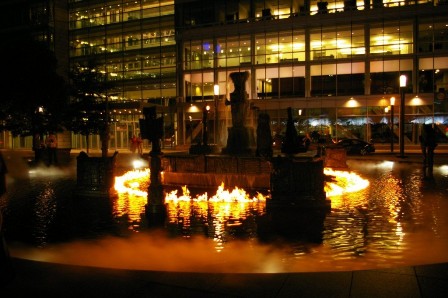 Staying at Le Westin Montreal, is like, how do you say in French… "tres fabulous!" Celebrating their three-year anniversary this May, Le Westin opens up onto the streets of Old Montreal.  It's like being in Europe, with cobblestone streets, original architecture and so many attractions within walking distance, like the Notre Dame Basilica (across the street), Opera de Montreal Orchestre Metropolitain du Grand Montreal (1 km away), Old Port of Montreal (.5 km away) and the Montreal Convention Centre across the street. Tip: The Montreal Convention Centre (also called Le Palais de Congres) will be home once again this year to the Black and Blue Festival taking place October 3rd-9th. Convenience doesn't get any better than this.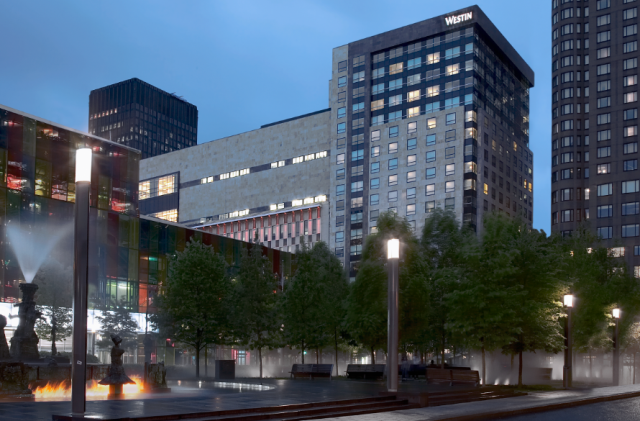 Le Grand Entrance
The beautifully built grand entrance-way makes you feel like you're pulling up to a castle.  Its colossal pillars (top image) change color which makes the illumination at night absolutely stunning.  Hovering above the hotel's grand entrance-way is the indoor glass bottom pool (my personal favourite feature). It's like walking on the glass floor of The CN Tower, if it were under water.
As you set foot into the lobby the one thing that catches your eye is the giant aluminum art piece that hangs right in the centre of the room. Made from 50,000 pieces of aluminum hanging on 600 pieces of rope, this incredible beast took five days to create and was crafted by a group called "Unit Five". It consisted of two members, one artist from Toronto and the other from Montreal.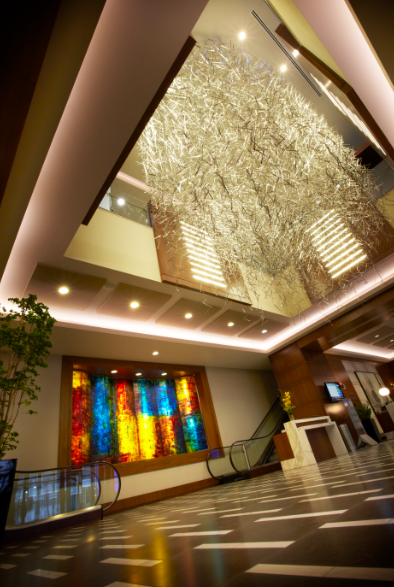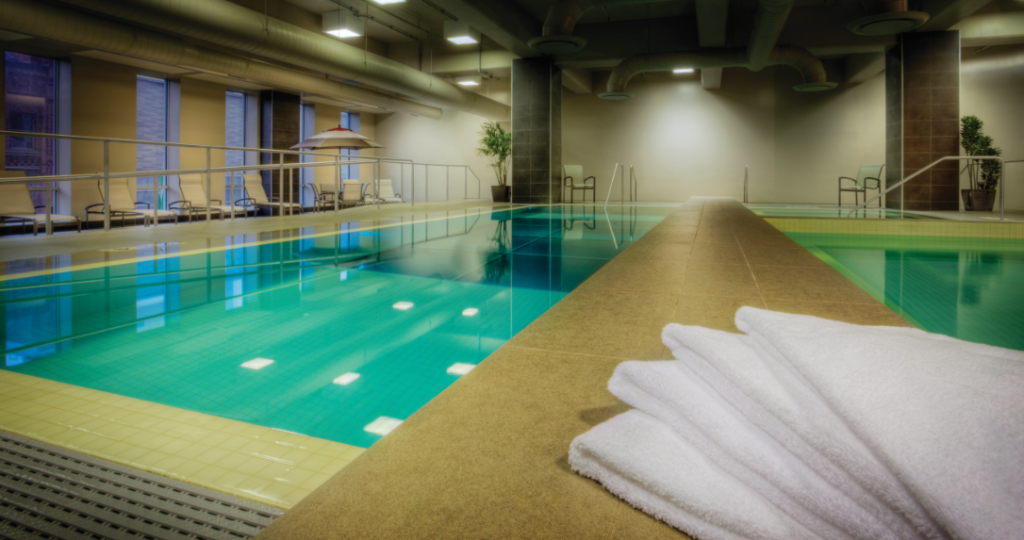 An Oasis Of Amenities
Boasting 454 rooms and suites with spectacular views of Montreal, tranquil spa music greets you as you enter your room. Floor to ceiling windows, and décor and color schemes look corporate but yet are so comfortable. Their heavenly beds come with down and feather filled pillows and premium white goose down and features; you feel like you're sleeping on a cloud until you wake up to in-room Starbucks coffee. Other amenities include free internet usage in all public areas and rooms of the hotel. (If you're traveling alone, the best safety feature Le Westin has is the use of your room key in order to get onto any floor in the building.) The rooms are also built around the elevators to ensure peace and quiet. And for the fitness addict, the  Westin Workout Centre is open 24 hours, with lot's of equipment to choose from.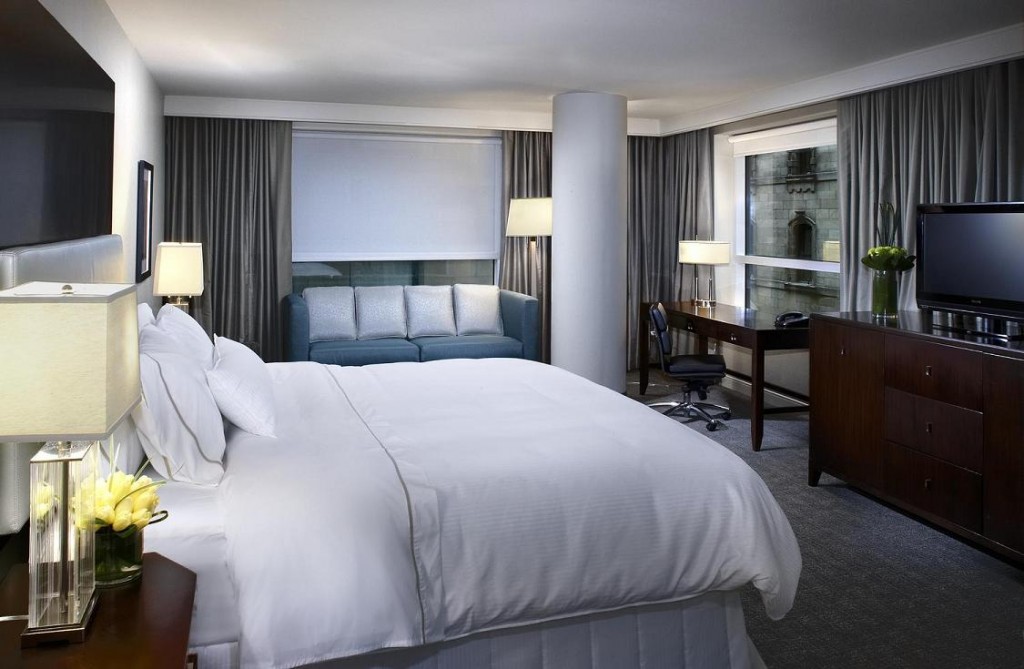 Bon Appetit!
Once housing the printing presses of the Gazette newspaper, gazette restaurant sits at street level with floor to ceiling windows and deep rich colors complimenting the marble counter tops and oak floors. The inspired cuisine of gazette includes the freshest local ingredients used in their popular tapas menu items.  Their community tables also make it a great spot to meet for a drink after work.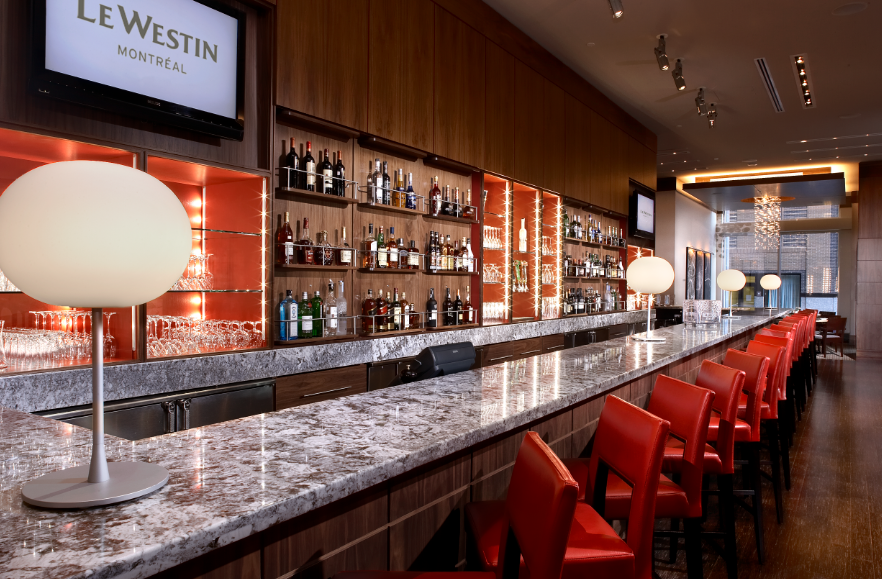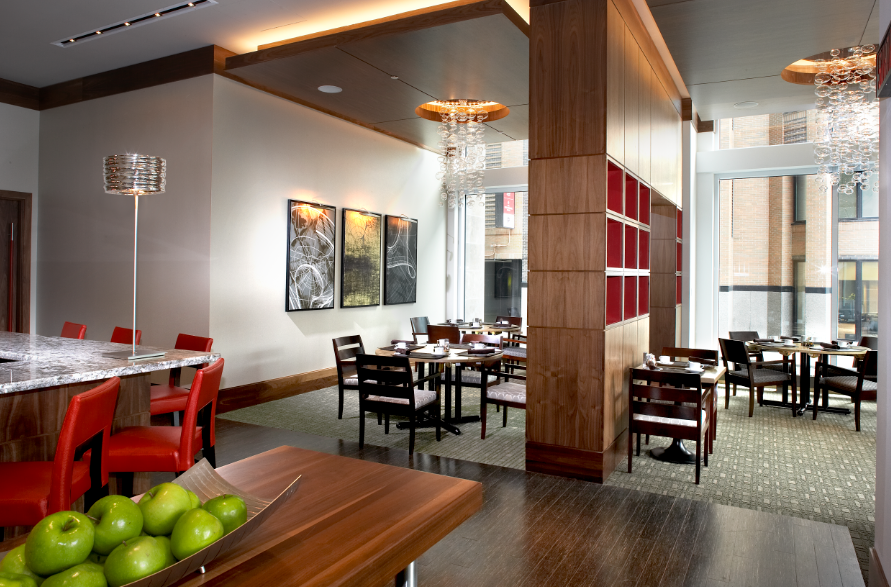 Stepping outside the my usual Montreal box offered me the gorgeous architecture of Le Westin in the heart of Old Montreal. A little piece of Europe right in our own backyard.