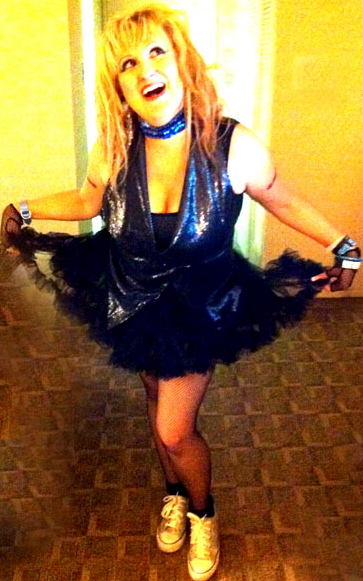 MEGA-BASH :: MONTREAL – Black & Blue is a festival of social, cultural, sports and party events that last for seven days. It all began in 1991 by a group of friends who decided they wanted to create a party, a big party. That party was a success and has been ever since. The proceeds go to Montreal AIDS organizations. The foundation is The BBCM Foundation. More than $1.6 million in grants and donations have been distributed by BBCM so far.
Black & Blue is a celebration that is non-discriminatory and includes men and women, straight and gay. And this was my first time going. I went with one of my BFF's, Lauren, to the main event held at Stade Olympique/Olympic Stadium in Montreal.
The stadium was split in half with one half being the trance room and other the house room. There were fifteen trance DJs each playing an hour set, where in the house room there were six DJs each playing a about a two-hour set, with Hernan Cattaneo closing the event, playing a three-hour set.
Upon arrival we were guided into the VIP area to obtain our bracelets, and then lead to the coat check where they gave our coat check ticket in a small blue plastic baggie. The coat check girl said the reason was for sanitary purposes: "You never know where people put these things."
We then entered a room where there were several line-ups for security check. Never have I been searched like this. Shoes off, everything had to be taken out of my purse and I do mean everything. The female security checked inside my shoes, gave me a friendly foot rub checking for bumps of any kind, and frisked me, then checked all the belongings I had from my purse. After I was cleared I put back on my shoes and put my belongings back into my purse.
We then entered the stadium where it was darker and we could feel the bass beating through our bodies, but first stop was the washroom. And let me tell you having VIP bathroom access was pure pleasure, no long line-ups. I noticed signs warning about drug use and what it can do to you.
Then we hit the dance floor. The trance room had more lighting than the house room which was darker. Lauren informed me, "Trance people like more light, while house people like it darker." All I can say was I was enthralled with the trance room's lighting.
My trance room high lights were Canada's own Max Graham and Super 8 & Tab. Marcus Schossow, whose energy was infectious, and Artento Divini came in a close second.
The sexy fembot dancers (Black Mohawk Productions) who performed during the first part of Graham's set were intoxicating with their lit-up skimpy costumes and silver helmets.
The flashing, rotating lights, the spotting of various country's flags relating to each DJ's birthplace, DJ's images flashed on playing cards splashed on the screens with dancing graphics, all of it was nothing less than surreal. I was literally transported into another realm – which was something I've missed lately – and I'm happy to say it hasn't disappeared.
MISS RAQUEL :: "I miss is being on the dance floor immersed in what my musical minister is preaching to me…"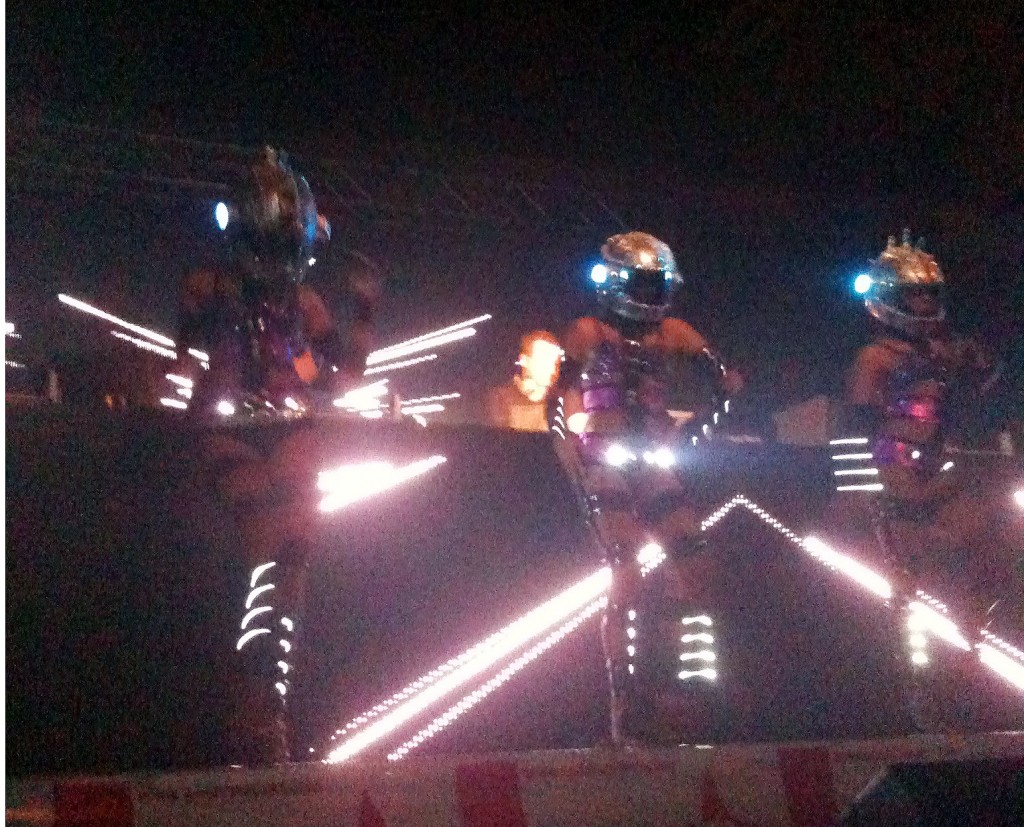 The house room is where I shook my booty like it was my last chance to dance. DJ's Rosabel and Mark Vibe were spot on and made me bring moves back to the dance floor that I knew were just waiting to tear out of me. My sore legs still today are proof of my wreckage.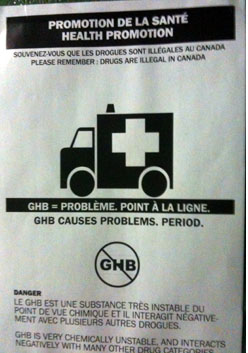 MISS RAQUEL :: 'Proper' Partying
Black & Blue was an event that I call "Proper". Everything from security checks, washroom cleanliness, medics walking around to ensure everyone was okay, clean floors, the availability of food in both the VIP areas and in the general area, and fast-moving lines at bars made this event a pure pleasure. Toronto really needs to step up its event organization game.
My first of only complaints is about the sound system. It was terrible, the acoustics in the stadium had far too much echo. The vocals were lost way above the crowd, if subs were placed on the ground it might helped keep the lows together. And sound curtains would have helped tremendously if placed on the perimeter of the stadium to help bounce the sound waves back into the centre of the stadium.
The second was the beer. They only served Coors Light and a few mixed drinks (vodka, rum and Jack), and juices. Maybe you don't agree this is a worthwhile complaint, but for someone like me who prefers to have a few beers Coors Light made me feel like they were putting me on a diet. Never have I been to an event where the only beer I could find was light beer.
Upon leaving I asked the coat check girl if the numbers were lower this year when compared to past years, and she said yes. I could tell by the many empty hangers and how easy it was to move through the dance floor and empty spaces.
Nonetheless the light beer, empty spaces and bouncy sound waves didn't stop me from having one of the best times of my life. I dressed in my fancy black & blue best and danced till I hurt. This is a testament of a great party.
Too bad en route back to Toronto we hit gridlock. It took us eight hours to get home and sadly I missed Thanksgiving dinner with my family. That's okay though, because I celebrated the weekend of thanks by being with one of my BFF's and enjoying one of the things I am most thankful for: music.