SOCIETY :: What the Escort Knows for Sure
By
GGN
on January 25, 2018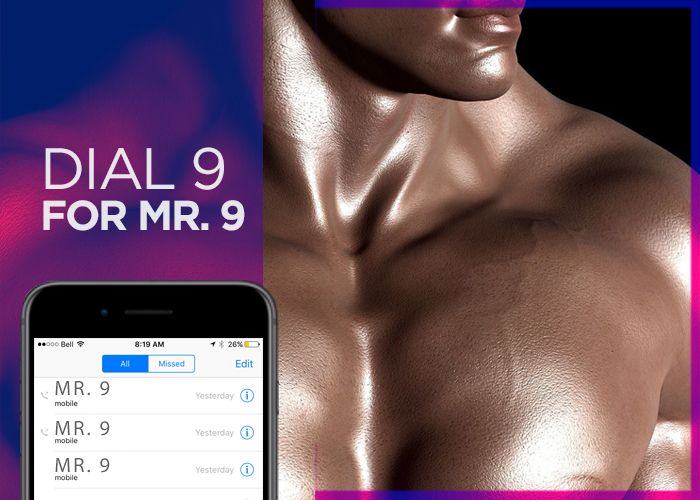 As I argue with yet another client, I ask myself: "Is $280.00 an hour worth all this aggravation?"
Hell yeah, it is: I have bills, a mortgage and a disgusting shoe shopping habit.
Oh. I forgot to introduce myself: I'm Mr. 9 and did I mention I'm a escort?
Now, you might  be wondering how I got myself into escorting.  It started as a joke.  I was coming of a romantic upset, it was the fall of 2016, and I was tired of having bullshit sex in the aftermath. I found the typical sex hookup sites guys in my city (Toronto) use were horrible, in that they were full of tweaking meth addicts.
For fun, I decided to post an ad on a well-known escort site and 15 minutes later my inbox was flooded with messages from men asking for me to top them for large amounts of money. I mean real money – I was being offered $1000.00 for one night.
Fast forward a year and a half later and I have about 20 customers who range in age from 40 to 60, but I get guys in their 20s and up wanting sex, too. About 40% of them are not "gay" per se, but are MSM (men who have sex with men; straight / married.) I've also made a lot of money: a regular fuck is $275 for an hour  ($250 if I don't have to wear a condom; PrEP and Cialis are not cheap) and I guarantee that I'll ejaculate twice.  $650 is the highest I made in the hour for a full dom leather experience. The highest I've ever been paid total was $1400 for an overnight job. A lot of my clients are on ODSP.
But along with money, I've also gained knowledge. Here's what this escort knows for sure:
TRICKS ARE MOSTLY ATTRACTIVE: I've met a wide variety of people in the last 18 months and surprisingly close to 80%  of them are actually very good-looking.  I mean, ripped gym bodies, on tall attractive men.
One day I decided to ask one of my hottest clients why he hired escorts. He simply stated: "You're hung and huge, you're a nice guy and know how to f*ck.  I rather pay for it than play cat and mouse games with Toronto's so-called tops." He also informed me that because of the heavy crystal meth use here that it seemed like every man and their brother is now a bottom. (He is right. On a Saturday night, if I wanted to, I could easily make $3,000 because of the number of bottoms in Toronto who are high and looking for a hard top.)
CRYSTAL METH DOMINATES THE TORONTO SEX SCENE: Not all my clients are good-looking. (Remember there is still the other 20%.)  And this is where my job isn't so glamorous. The dark side of escorting can have you having sex with some real ugly mofos, and if they aren't ugly, they're messed up bad on crystal meth (and/or whatever drug they decide to use that night.)  I've had to hold a bag of Tina or two over a couple toilets before to ensure I got paid my full amount when a sketch client decided to waffle on price. (The client I was arguing with at the top of this post? He wanted three hours for the price of one.)
I don't use drugs, but  I've seen what these drugs, especially crystal meth, can do to some individuals.  I don't judge. I've had really good pig sessions with bottoms high on T before. But there's a ugly side, and it can turn good people into degenerates.  That's where the cattiness, "c*ck-blocking," and other manipulative behaviour I have been exposed to has come into play. And lack of awareness too: unaware they aren't even erect; unaware they are wasting their whole hour with me sitting at their computer; unaware they are clenching their asses like crazy (because they are so high on Tina which makes you clench) when I am trying to top them; unaware they are putting on someone else's clothes when getting ready to go. I've walked into places where the air is so thick with meth clouds you can't see almost.
SOME GAY MEN LIKE TO TRY AND STEAL: I've had clients try and set me up to rob me – not really wanting sex at all – and  that's why I've never walk in to anyone's home with more than 60 bucks cash. I'm also a very big guy beyond endowment, so it doesn't always go in their favour when they realize what  5' 10" and 210 lbs with little body fat looks like in real life. So I have not had a real problem with that. But you always have to be prepared and "stay ready", as the kids nowadays say. I also make a point of letting someone know where I am at all times when working, what with apparent serial killers and other freaks out there these days.
SOME GAY MEN LIE: Guys will lie while hiring me and say they are the only person at their place but when I arrive and they have friends there who have clearly been there a while and who expect to be shagged for free. That's the tip of the lies-berg. Liars: you know who you are.
IGNORANCE AROUND HIV AND AIDS IS A PROBLEM: Many men who have sex with men (guys who identify as  "straight" especially, but plenty of "gay" men, too) don't know what PrEP is and they don't know  the difference between "HIV-positive,"" undetectable," or " AIDS." I can't put it more blunt than that.
PEOPLE PLAY THE BLAME GAME: Once I had a guy break into his child's RESP (Registered Education Savings Plan) to pay me. His wife found out from looking at his phone and then texted me asking, "How dare you take my child's education money?" I have seen and heard many gay guys blame others for things like acquiring HIV, or being the person who was with them and had meth when they tried Tina for the first time. One straight customer blamed me for the disintegration of his marriage when I responded to a text (which his wife saw) asking me if I was free.
With any job there's the good, the bad and the ugly. I have met a lot of really awesome men.  I've worked a way so that I only deal with them because they're good.
What do I mean by good? In the words of the late great Ol' Dirty Bastard from the Wu-Tang clan: "Bitch you better have my money."  They pay on time, they buy extended sessions (meaning they pay for more then just 1 hour of service).  I still get the sketchy clients from time-to-time but it's known in the escort community that I'm not one for the bullshit, so I attract nice guys like myself mostly.
I have to run folks – another day, another slew of bottoms are calling. Hope you have enjoyed this glimpse into my life; I'm out.
Signed,
Mr. 9.  Your friendly neighbourhood escort
Mr. 9 is, clearly, a pseudonym. We have it on good authority it's an accurate one, however.