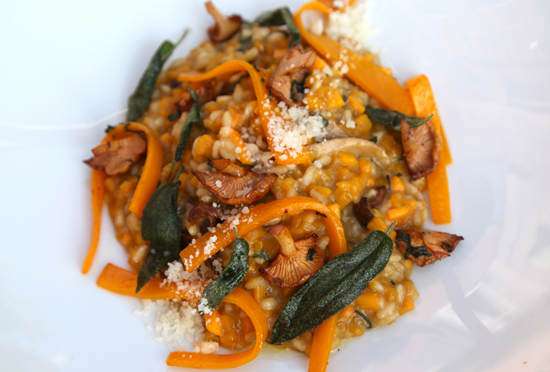 A PERFECT COZY SUNDAY :: Rob Bragagnolo, Executive Chef of Toronto's Marben restaurant, shares with us his simple and delicious recipe for a Perfect Sunday Dinner: a dazzling squash and sage risotto with wild mushrooms, which draws on Braganolo's Italian heritage and Spanish culinary background.
Related :: Get our Perfect Sunday Breakfast recipe (One-Pan Mexican Eggs) here and Perfect Sunday Lunch (Broccoli and Coconut soup) recipe here. 
Related :: Read what Iron Chef Rob Feenie has learned in the kitchen here – and learn the secrets of Canada's top new restaurants, here.
Ingredients:
250g risotto rice (either arborio, carnaroli or vialone nano)
1.5 litres of vegetable or chicken stock
1 medium onion (chopped)
½ a squash, seeded & peeled, cut into small cubes
2 garlic cloves (crushed)
12 leaves of fresh sage
150g mixed Canadian mushrooms (sliced)
(Marben used seasonal wild mushrooms such as morels, yellow foots, hen of the woods, etc., but you can use any combination of button, oyster, king, Portobello, etc.)
100g butter
75ml white wine
1 tbsp chopped chives
75g freshly grated parmesan
2 tbsp Extra Virgin olive oil
Salt and pepper to taste
Method:
You will need 2 stockpots, a wooden spoon and a ladle. A stockpot for the stock and one to cook the risotto in; a ladle for the stock and a wooden spoon to stir the risotto while it is cooking.
In the first stockpot, bring the stock to a boil and keep it hot.
In the second stockpot, melt the butter and the chopped onion, garlic, sage & squash. Cook on a very low heat, gently allowing the onion to soften without colouring until the onion looks translucent. Around 10 minutes.
Add the wild mushrooms and turn the heat to medium-high and cook until all the liquid has evaporated.
Stir in the rice and coat well with the mushroom mixture. Increase the heat a little and add the white wine. Keep stirring until all of the wine has evaporated.
Add 2 ladles of hot stock, stirring the rice mixture constantly. When all of the liquid has been absorbed by the rice, repeat by adding 2 more ladles of hot stock.
Continue this process of adding 2 ladles of hot stock, while constantly stirring in a clockwise motion until all the stock has been absorbed. Be sure to stir all parts of the stock pot so the rice does not stick to the bottom. If some rice does stick don't worry keep on stirring the risotto will be fine unless it gets burnt!
This process of adding stock 2 ladles at a time and stirring the rice until it absorbs the stock should take approximately 16-18 minutes from the time you add the first ladle of stock.
Remember that the rice should still be toothsome (or 'al dente' as the Italians say).
To finish, remove the pot from the heat and add the grated parmesan, olive oil, fiddleheads and chives. Serve immediately.