EMPOWERMENT :: Throw Yourself Into The Universe
By
GGN
on January 25, 2016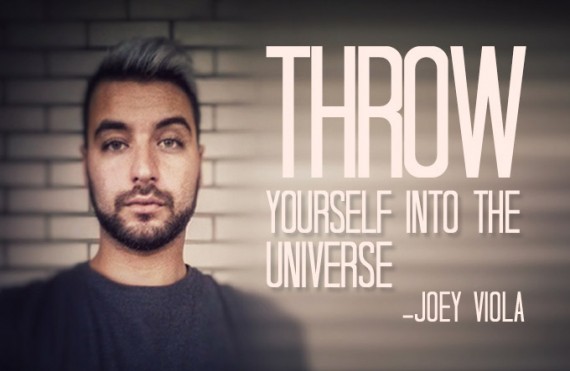 THROW YOURSELF INTO THE UNIVERSE :: It's been a week since I've been home in Toronto. I rise to the city's winter chill streaming through the cracked window, swirling at my feet at the end of my bed.
I wipe the sleep from my eyes and realize I'm not in the Mayan Riviera any longer; life is but a dream.
For the past week I've been surrounded by paradise: crystal blue sea, snow-white sand, open bars and all you can eat buffets.
But what rings most rewarding on my trip with my partner Monty to the south of Mexico are the intelligent, eclectic, exciting and motivational people we got to meet.
There are so many things we take for granted on a daily basis: our health, our stealth, our wealth, for example. Some of these blessings come in different forms. Some may seem lingering or halted, or seemingly absent, but I have come to understand it is our state of mind as we experience life that provide these rewards.
You are your own vessel.
I didn't know what to expect when travelling with twenty-five other people as I boarded The Shaun Proulx Paradise Plane (one of the annual experiences Shaun Proulx Media creates for their audience). I hadn't met most of my fellow travellers before, but when the plane landed in Cancun and we cracked the first cerveza on the bus ride en route to the resort in Playa Del Carmen, I had that feeling you get when you reach the top of the hill on a roller coaster and you throw your hands up to the wind!
Needless to say, none of us stayed seated for this week-long ride! Every twist and turn of our adventure together spilled into another wonderful experience and it feels like our week in the sun flew by.
Listen below to Joey Viola talk about this post on  The Shaun Proulx Show

On the last night, our group of beautiful people gathered on the beach, a blooming full moon's light cascading across the water like a twinkling runway. The Shaun Proulx Paradise gang, the "Group Especial", were invited by Shaun to find something, a seashell, a flower, a peso, whatever spoke to us, to set an intention for 2016 and let it free into the sea.
We all rubbed our dreams and aspirations into our chosen object's being with our fingertips. Dressed for a fabulous last dinner together, we simply put our feet in the water and absorbed the energy surrounding us.
In that very moment, life stood still. The breeze whispered and we threw our items into the Caribbean Sea, but in actuality, we were throwing our best selves into the universe. (More after the jump.)
Since I will turn 30 this May, (ironically on Cinco De Mayo – tequila!) I'm looking forward to sharing more of myself with the world at this milestone time in my life, to truly taking it all in, never allowing myself to forget to appreciate the fortitude of life.
We should throw our dreams and aspirations into the ocean everyday, at least metaphorically. Life is too short for less.
As the wisdom goes: "Make the REST of your life, the BEST of your life."
– Joey Viola is one half of MoJo Toronto  along with his partner of eight years, Monty T. Together they've redefined an already bustling nightlife in Toronto's gay village; catering to all members of the LGBTQ community and co-ordinating countless events including the popular weeklies FML MONDAYS inside Flash Nightclub and SULTRY SATURDAYS with DJ/Producer Cajjmere Wray at Byzantium Martini Bar/Supper Club.
Image: Joey Viola
Don't miss out on our next audience experience. Sign up for our S.Travel newsletter here.