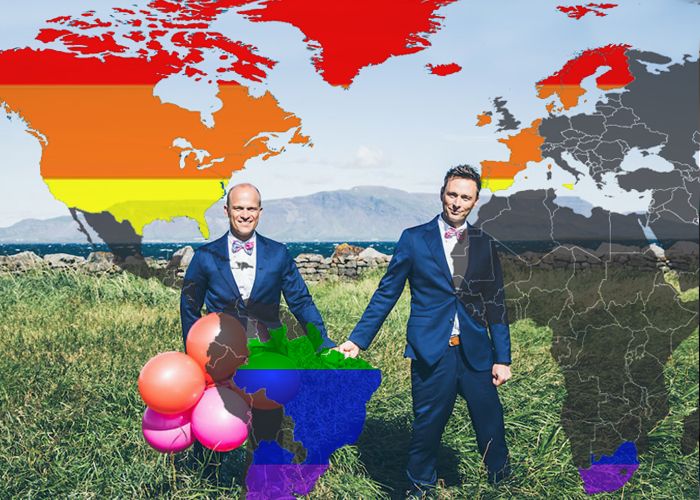 As far as same-sex marriage is concerned, it has been a long ride and an uphill battle for the LGBT community to legally marry. In North America, Canada recognized gay marriage in 2005, but it took the U.S. ten years to catch up (we're just happy they did). In between, many countries in Europe and North and South America have legalized same-sex unions, with more countries moving forward with gay marriage rights all the time. And you know things are getting better when far-away places like Greenland recognize same-sex unions! Read more about countries that recognize gay marriage here.
Many engaged couples fantasize about exchanging vows in an exotic land far, far away. As an LGBT couple, however, the challenge is finding a location that will legally marry you with minimal legal hassle. In this article, we focus on five international hot spots that recognize same-sex unions for foreigners with minimal stipulations, each with a unique travel experience.
1. The Netherlands
The Netherlands is a dream destination for romantic types featuring breathtaking backdrops of endless tulips, charming horse-drawn carriages and authentic Dutch farms. As a progressive leader in same-sex marriage legalization, the Netherlands recognize three kinds of unions:
civil marriage;
registered;
partnership;
and cohabitation agreement.
However, there's a catch. For the government to allow your union, at least one of the partners must be a Dutch or a foreigner who has a Dutch residency status; and they need to submit a notice of their intention to marry to the City of the Hague Registrar's Office.
If that rules out the Netherlands, move onto destination #2…
2. Malta
(Full disclosure. The author of this post is based in and runs a wedding planning business in Malta. But come on! The Mediterranean!) The latest addition to the list of gay-friendly wedding destinations is Malta. Following their Civil Unions Act of 2014, LGBTIQ gender neutral marriages in Malta are officially legal and binding as of September 1, 2017. Malta is an excellent Mediterranean choice for hopeless romantics, beach lovers, history buffs, socialites and foodies; offering a little bit of everything for the well-rounded traveler.
Or if you're looking for a bit more flair, try destination #3… Spain
3. Spain
If your idea of heaven is sipping a clara and dancing the flamenco against the backdrop of live acoustic music in the company of your loved ones, then Spain is calling! Same-sex marriages have been legal in Spain since 2005. Take your fiesta to Barcelona, Madrid, Sitges, or Ibiza – all welcome LGBT unions. You may choose to have a civil partnership or civil marriage ceremony. Just be forewarned that processing your application to get married in Spain can take a while, so file ensure an approval in advance of your trip.
If you long for scenery and serenity, discover destination #4… Iceland
4. Iceland
Iceland's magical landscapes are simply serene for any wedding soiree. And since Iceland legalized same-sex marriages back in 2010, you can freely exchange your vows surrounded by its magnificent glaciers, cascading waterfalls or endless rolling hills. Whether you choose to wed inside a rustic wood or brick church or outdoors under the Northern Lights, the legal process leading up to it will be a breeze compared to other countries. The primary conditions of having your wedding in Iceland are to be of legal age and to prove your presence in their country with documentation of your arrival date, such as a visa, airline ticket or passport stamp.
Yearning for a more wild and luxurious wedding adventure? Check out destination #5…
5. Cape Town, Africa
Cape Town is a fabulous choice for nature lovers and thrill seekers who envision a wild getaway filled with white sandy beaches, island tours, luxury yacht excursions, classic estate vineyard wine tastings and nature. South Africa legalized same-sex marriages in 2006 with only a few requirements, such as birth certificates and visitor permits, to process your intent to be married. The time you save on the legal formalities can be spent planning an extended destination wedding trip filled with surfing, safaris, scenery, and spirited city spectacles that make it a one of a kind vacation.
Other Locations
What if your dream destination is not on this list? Don't despair. Many same-sex couples simply choose to get legally married with a few witnesses in their home country, as a formality, and then jet off to the location of their choice for festivities. If your preferred destination country does not permit legal same-sex marriage to foreigners, you can coordinate a "symbolic" ceremony or forgo the formal ceremony altogether and make the entire day one big wedding reception.
Love is universal, and thanks to progressive laws, marriage is now universal too (or, at least, international)! So if your dream is to get married abroad in an exotic, fun or breathtaking location, you have at least five incredible options with minimal for making that happen.
– Martina Selvagi, is the founder of Wed Our Way, a fun and cheerful destination wedding planning team serving Malta, Croatia and France