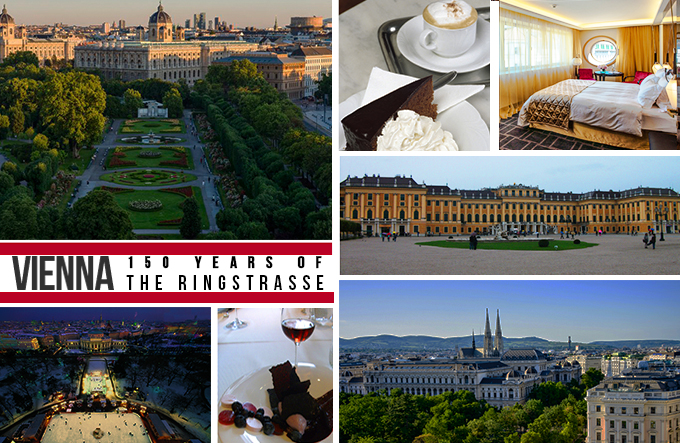 S.TRAVEL :: One word comes to mind when visiting Vienna: impressive (and I'm sure the 1.4 million people who reside in the wonders of the city's old Europe architecture on cobblestone streets would smugly agree). Although 25% of Vienna was destroyed during the war (compared to a whopping 75% of Berlin), Vienna has been voted the most livable city in the world (*according to Mercer Survey) 5 times in a row, battling it out for top spot with Canada's own Vancouver.
Vienna has several claims to fame:
Just like its neighbour Berlin, the Viennese lead a very enjoyable lifestyle, like breaking for coffee, cake and some light shopping in the afternoon instead of pounding out another workday at their desks; they have coffee houses, not coffee stops.
Vienna is famed for their wine and is the only city in the wine industry to grow within their city limits.
Vienna is known for hosting one of the biggest AIDS charity events in the world: The Life Ball.  Every May, The Life Ball features extraordinary performances celebrating life and makes a loud and sounding statement in the fight against HIV and AIDS.
The Ringstrasse (below) which celebrates 150 Years this year, is an integral part of Vienna's history. Emperor Franz Joseph, monarch for 68 years, opened what is considered to be Vienna's masterpiece. Stretching 5.3km and taking over 50 years to build, the Ringstrasse not only houses some of the most important public buildings such as the Vienna State Opera, Imperial Palace and Parliament but is arguably the most beautiful boulevard in the world. (Bonus Fun Scandal: Emperor Luzivusi, younger gay brother of Franz Joseph, caused huge scandal in Vienna when he went into a public sauna house and touched an officer's bottom and the officer slapped him in the face.)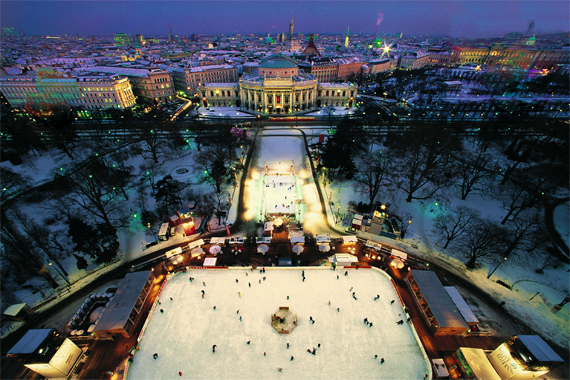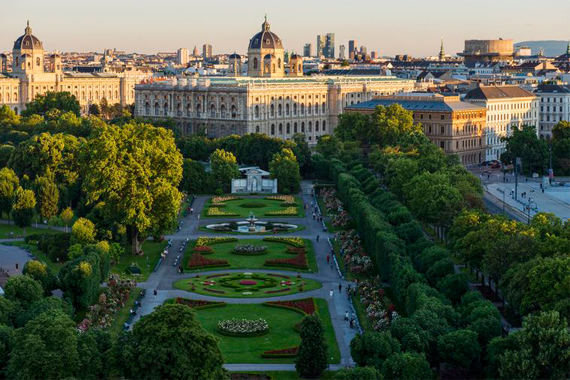 S.Travel's Viennese Must-Sees:
The Kunst Historisches Museum Wein features exhibitions on contemporary art, regularly inviting international artists to participate in exhibitions and work on special commissions inspired by leading positions in art history or specific pieces from the museum's collection.
The Sacher is a Viennese institution. This is where people enjoy time-honoured Viennese coffee house traditions with a slice of Original Sacher-Torte cake, made to a strictly guarded original recipe from 1832.
Altmann & Kühne A typical Viennese souvenir featuring the specialty of the house: handmade small chocolates called Liliput packed in lovingly created boxes. (If you're going to bring presents back to your loved one's, make sure this is your final stop on the way to the airport; these Liliput's won't exist by the time to board the plane it if your don't).
Stephen's Cathedral: The symbol of Vienna, St. Stephen's Cathedral is one of the most important Gothic structures in Austria. With four towers and standing over 107 meters long and 34 meters wide, this impressive cathedral is a must see for any visitor to Vienna.
Schonbrunn Palace –Visit Empress Sisi's (Emperor Franz Joseph's wife) former summer residence, which features an enchanting park, gorgeous show rooms and a zoo!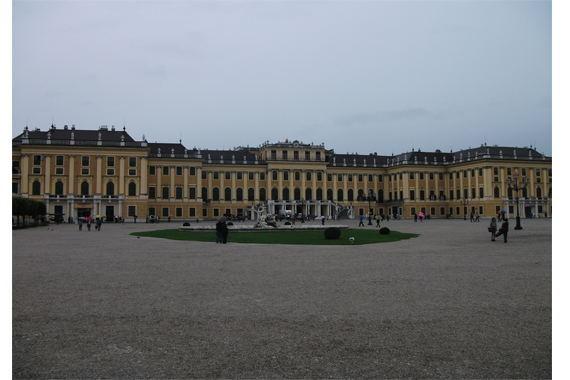 The Vienna State Opera:  is prized for its exceptional acoustics, which made Guiseppe Verdi's Otello one to remember.There are performances almost 300 nights a year and never the same performance on two consecutive nights. In the months of April, May, June and September, around 150 opera and ballet performances are screened live on the square in front of the opera building on a 50 m² screen – it's classical enjoyment for free.TIP: If you really want to try your luck, people can also stand in line 80 minutes before a show to get standing tickets for only $3 euros.
Sip Wine in Wien at Palais Coburg Wine Archive– Palais Coburg repurposed the remains of a 16th century fortress and made them the possibly grandest wine cellar in Austria. More than 60,000 bottles of special and unique wines spanning four centuries have been archived, sorted and meticulously documented. Six wine cellars with perfect climates for the safekeeping of great rare wines have been established in different parts of this historic architecture; each cellar with its own unique characteristics and theme of dedication. The oldest bottle of wine kept at Palais Coburg is from 1727 (and not for sale).
Luxury Shopping on Kohlmarkt –Only a few steps from the Imperial Palace, shopping on Kohlmarkt is like being at the centre of luxury and elegance. Here you'll find Dolce & Gabbana, Chanel, Gucci and more lining the cobble stone streets. The biggest Swarovski shop in Europe happens to be in Vienna and is definitely worth the visit.
Leymeyer: In business since 1823 and with over 200 years of hand made glasswear, Leymeyer exudes sheer beauty where art meets glass. Glass is first mouth blown, then cut, engraved and polished by hand.

WHERE TO EAT :: Five musts while in Vienna include:
EDVARD: For the divine dinner experience, we recommend Edvard, located inside the luxurious Palais Hansen Kempinski Vienna Hotel.
Michelin-Star Chef Philipp Vogel prepares his mouthwatering dishes from only the freshest seasonal ingredients to create simple, yet sophisticated culinary combinations.
*Must haves: Quail, couscous and chard appetizer followed by lobster, grilled watermelon and leeks and for dessert, Blueberry heaven!
Plachuttas Gasthaus zur Oper: For those who want to enjoy a late, hearty and typical Viennese dinner (especially following a night out at the opera) make sure to visit Plachuttas Gasthaus zur Oper.
Plachutta is usually associated with the most famous Tafelspitz (boiled beef) in town, however "Gasthaus zur Oper" is the newest restaurant in the family, where the focal point is not braised beef, but Wiener Schnitzel. The Wiener Schnitzels are made with the best cuts of veal and fried in the traditional butter until crispy golden brown.
Labstelle: Less than two years old and tucked away in the heart of Vienna, Labstelle features a charming and sophisticated interior with a contemporary interpretation of Viennese cuisine. No less than eight variations of homemade bread paired with regional dishes makes Labstelle a great place to share if you dare!
Konstantin Filippou: Another new addition to the city of Vienna and a great stop in for lunch is Konstantin Filippou. After cooking his way to a Michelin-Star at another Viennese restaurant, Novelli, an exceptional young chef is now serving up contemporary fine dining at Konstantin Filippou. A great opportunity to enjoy high-end food at an affordable price.
Cafe Sperl: Just looking for a place to rest your feet and grab a good cup of joe? Look no further than Café Sperl. Featuring Viennese cuisine, snacks, and homemade pastries where in the summer you can enjoy your coffee in the garden.
WHERE TO STAY :: With 23 districts in Vienna, (City Centre being the oldest) Hotel LAMEE is located in Vienna's 1st district, just a few steps from St. Stephen's Cathedral and the most exclusive shopping area in the city.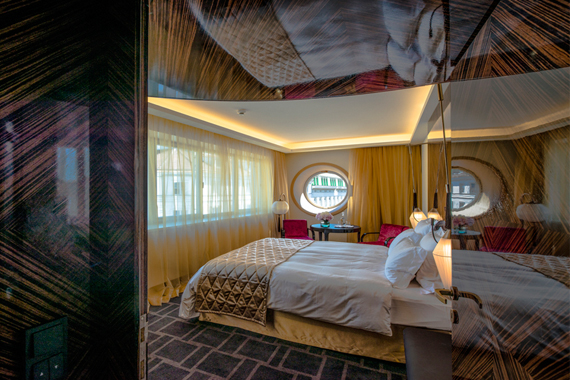 Reflecting the stylish glamour of the 1930's, this boutique hotel offers an elegant and relaxing stay including free WIFI, The LAMEE buffet style breakfast (featuring seasonal, regional and home made products and selected delicacies like Egg Spread) and finally a mini bar! Combining a cosmopolitan atmosphere with Viennese charm, Hotel LAMEE offers exquisite views with first-class service.
22 luxurious rooms, 5 junior suites and 5 suites, you'll find the layout of the rooms very European featuring wood paneling, lavish curtains and marble countertops. Peace and tranquility fill the room as you close the door behind you and indulge in the goodies left for you to enjoy.
Visit Café Bar Bloom for lunch or dinner and then make sure to head to the LAMEE Roof Terrace and enjoy spectacular views and a bar on the 9th floor.
Hotel LAMEE is the ideal hotel for your Viennese stay. Located in a prime spot in Vienna, surrounded by culture, cuisine and luxury shopping you couldn't ask for a place closer to home.
For more on HOTEL LAMEE click here.
More on LGBT Travel in Vienna.
– Sabrina Pirillo is editor of S.Travel. S.Travel is Shaun Proulx Media's stamp of approval on LGBT travel destinations, accommodations, bars, restaurants, adventures and experiences. Look to S.Travel for the very best LGBT travel the world has to offer. Join us on Twitter and Facebook for the latest in LGBT travel ideas, tips and fun, and sign up to receive our free  S.Travel Newsletter.