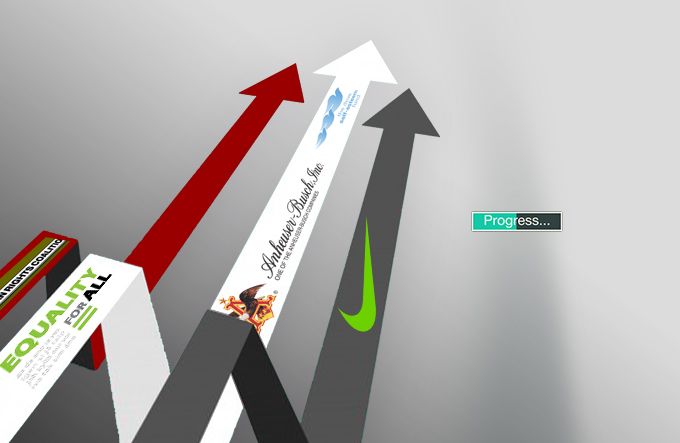 A lot is going on in the world right now. A rash of violence seems to be popping up every day somewhere on the globe. It floods social media, and it feels inescapable at times. Whether it's shootings, stabbings, or straight up ignorance and intolerance, these situations are everywhere. So, with all this activity currently going on in the world, questions arise: What can I do? What actions can I take that may make a difference?
Like people standing up for what they believe in, there are companies that take on this same mentality. These brands are using their platforms in unique and exceptional ways to make important statements about progressivism and open-mindedness.
Equality for All
The LGBTI+ community has come under the spotlight in the last 10 years. The advancement of gay rights has increased in this decade, and large strides have been taken to ensure that it stays that way.
A host of various companies have shown support for gay rights. Specifically, Nike went a step further than just supporting these rights vocally. As a business, Nike both endorsed and signed an amicus brief that opposed the Defense of Marriage Act. Nike believes that equality shouldn't just be shown for the love between a man and a woman–rather, all love should be treated equally.
Another company that gives its full support to the LGBT community is Anheuser-Busch. The famous beer company has run various ads that show their moral and vocal support of this community. Dove has also participated in the discussion, with the soap company featuring an androgynous model named Rain. Nike, Anheuser-Busch and Dove are just a few examples of the many brands that are using their platforms for good.
The Human Rights Coalition
The Human Rights Coalition gives to various charities and works to help organizations that support human rights in every capacity imaginable. To support this coalition, hundreds of companies choose to partner with them, including Apple, Intel, Coca-Cola, Lexus, and Abercrombie & Fitch. These are just a few of the companies that donate to this coalition. It's a great group, and it's a great cause.
The Southern Poverty Law Center also offers an attractive array of progressive garb, and in general, it's a fantastic organization against bigotry and hate. Their website offers a variety of resources to help visitors learn and potentially have the chance to become activists themselves. They also offer books, documentaries and other merchandise.
Mental Health
Mental health — it's something most people don't want to talk about, but it's so very important. Members of the LGBTI+ community are almost three times more likely than others to develop a mental health condition like depression or anxiety.
One of the major companies that openly advocates for mental health awareness is insurance provider Colonial Life. The company uses a series of team-based exercises in the workspace to make sure everyone is heard.
Another great company that supports mental health is Philosophy, Inc., a brand that focuses on skin care for women. This company has a unique opportunity since they cater to women and can reach certain female demographics that may not have been tapped yet. It's an incredible opportunity, and Philosophy has donated over $1 million dollars to help support mental illness charities.
In the U.S., National Alliance on Mental Illness (NAMI) is one of the biggest foundations contributing to the discussion around mental illness. They get robust contributions from various corporations. A couple of these companies include Bristol Meyers-Squibb and Pfizer. Both have donated heavily to NAMI.
Our Voices Do Make a Difference
It may seem impossible sometimes, but we can make changes to the big issues still present in our society, and corporations are doing this more and more as well. Some of the best things you can do to make your voice heard are contacting representatives and organizing/attending peaceful protests and meetups. However, if nothing else, try to educate yourself on where your money is going. Supporting brands that are progressive (and turning away from those that aren't) can make a subtle but necessary statement.
By Kate Halverston, political journalist