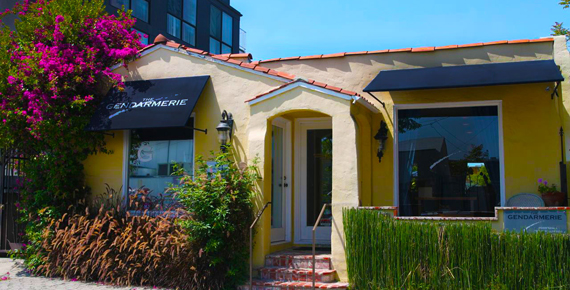 STAR TREATMENT :: Only in Los Angeles can you be enjoying a lemon martini made from lemons from the tree you are sitting under as Lando Calrissian walks by en route to a massage. Welcome to the under-the-radar Gendarmerie Boutique and Spa, a West Hollywood must for tourists, locals, and celebrities like Billy Dee "Lando" Williams.
Feeling more like you're at your best friend's place (should your best friend live in a 1928 stucco cottage just off the gay strip), a courtyard in the rear is where you wait between delicious treatments. Kingly owner Toper Schroeder, a former music exec,  wouldn't have it any other way. His insistence that you be treated like royal guests is done with intention that you leave Gendarmerie with the best of you brought forth, whether through one of the best deep tissue massages we've ever had, or a leading-edge facial. The spa also offers scrubs, trims, manicures and pedicures performed by mostly-male staff.
S.Travel Tip: Pick up a bottle of Gendarme while you're there ($68). The fresh scent is a favourite of the celebrity set; LL Cool J is a partner and scent ambassador.
–  S.Travel Approved*
* S.Travel  is our coveted publishing stamp of approval on LGBT travel destinations, accommodations, bars, restaurants, adventures and experiences. Look to S.Travel for the very best LGBT travel the world has to offer. Join us on Twitter and Facebook for the latest in LGBT travel ideas, tips and fun, and sign up to receive our free  S.Travel Newsletter.