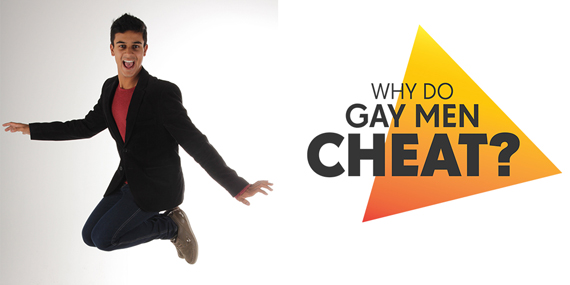 WHY DO GAY MEN CHEAT? This is a question that is taking up a lot of real estate in my mind. My name is Kabir, and I hold a diploma in Broadcast Journalism. I've hosted and produced over 40 episodes of my own cable talk show, and I hosted a dating show. I run my own web channel, and I'm also a certified personal trainer and pilot-in-training.
This summer, my 3 1/2 year relationship ended, suddenly and to my disbelief. My life changed during two distinct moments on two days in August.
August 10th, 2014 : The plane lands, and I'm finally on my way home. I am so excited to see him. I can't wait to wrap my arms around him. I walk through the door, and a few minutes later the doorbell rings.
It's him!
"Have a seat" he says. We walk into the living room.
"This is it, I'm breaking up with you," I'm told.
I know we've been fighting a little, but this is sudden. I am distraught, and I don't know what to do with myself. This can't be happening.
After 3 1/2 years, this is how it ends?
August 17th, 2014: No, there's more. Days later I'm going through my friend's phone. It's here that I learn that I was cheated on by my ex.
Cynthia: OMG I LOVE RICK!
Ex: Really? I'm glad 🙂
Cynthia: Mhm, but you have to tell Kabir. About both of them.
Ex: He's not worth it. I'll just dump him and be done with it. I feel like I wasted so much time already.
While I have moved on from being broken up with, I am still grappling with the cheating aspect of this experience.
I keep asking myself: Why do gay men cheat?
My ex and I met when we were 16, so I've never had the chance to date anyone else. I also don't have very much experience with gay culture.
This puts me in an interesting place; a young, single gay guy looking at gay culture from the outside.
What I've observed is that we typically seem very happy.

But I've also noticed that we love to sleep around.
Still, I still don't understand why I was cheated on. I think I'm a catch!
So, I did some research.
A lot of what I

'

ve found indicates that

"

committed

"

means something slightly different in gay couples than in straight relationships.
I also learned that one third of homosexual marriages are between gay men.
In a study conducted by The New York Times – "The Gay Couples Study" has followed 556 male couples for three years — about 50 percent of those surveyed have sex outside their relationships, with the knowledge and approval of their partners"

.
But my question is why do gay men cheat? Even if they're in a committed, loving relationship? After speaking to a few of my gay friends, there seems to be an underlying understanding in the gay community that being promiscuous is normal, both in and out of a relationship.
My mother is a psychotherapist. She gives me all sorts of wonderful advice. She says being involved in 'serial relationships' feeds into insecurities that make it hard for us to be alone. She says that after a long relationship, you need to take an extended period of time to learn to be alone.
So I have. Despite how my relationship ended and discovering I was cheated on, months later I am feeling great. I've taken the time to be alone and discover more about who I am. (I've even discovered that I love to paint. Not anything fancy, mostly abstract stuff. That way, I have an excuse when people don't know what I've painted.)
But getting myself to the point of feeling great doesn't remove the scar I still have from such a nasty breakup.
How do you turn something so terrible into something positive?
You embrace it. I'm producing a documentary called Why Do Gay Men Cheat?
The only way to answer all of my questions is to ask the right people. Why Do Gay Men Cheat? will examine why guys cheat, who they cheat with, how they cover it up, and if cheating is within the terms of their relationship. So far, I've got cultural leaders, life coaches, therapists, cheaters and the cheated lined up to speak in the film. I hope to uncover some answers about why gay men cheat, and I hope to come to some personal understandings about the nature of male relationships for when I'm ready to begin again with someone new.
– You can help Kabir Rathaur-Bageria with his documentary Why Do Gay Men Cheat? by making a donation on Kickstarter.