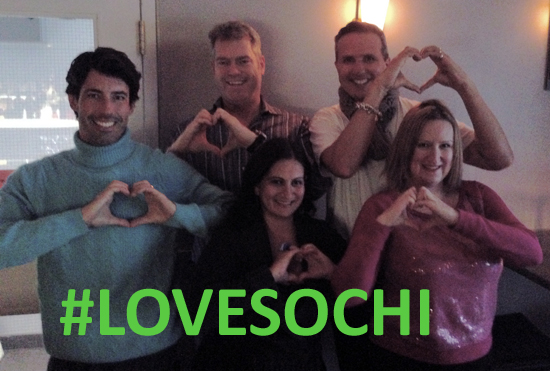 #LOVEISLOVE :: With World Pride Toronto 2014 fast approaching, Pride Toronto executive director Kevin Beaulieu and his team have their hands full and then some. But that hasn't stopped Beaulieu, his staff, and volunteers from taking the opportunity to harness the attention global LGBT festival is receiving – and point it in the direction of our brothers and sisters in need.
World Pride's #LoveSochi social media campaign during the Olympics was one such effort (pictured above, GGN-ers Patrick Marano, Jeff O'Brien, Shaun Proulx, Raquel Richards (in pink) and Sabrina Pirillo pause their after-work cocktails to participate); Beaulieu spoke with us on The Shaun Proulx Show on SiriusXM Canada Talks CH 167 about why World Pride is an important time to focus on less fortunate LGBT people, and what to expect when WorldPride finally does arrive in Toronto:
[hmp_player]
RELATED :: GLOBAL DESTINATION :: Host city to WorldPride 2014, Toronto is the first city in North America ever to win the honour – in a showdown in Florida against Stockholm, Sweden – of inviting and welcoming the world to experience a Pride like no other. This June 20 – 29, LGBT friends from far and wide are expected to visit Toronto and witness the vibrancy Toronto citizens are fortunate enough to enjoy all the time – and to be dazzled: Toronto's typical Pride festival is one of the largest and most spectacular in the world.
Toronto is North America's fourth largest city, and is ranked the safest large metropolitan area in North America by Places Rated Almanac. LGBT people are particularly comfortable and accepted here – Toronto was the site of the first same-sex marriage in the world.
While many cities boast they are cultural melting pots, Toronto truly is, making it an ideal location for WorldPride 2014. With approximately half of it's 2.8 million inhabitants born outside of Canada, 14o different languages are spoken in Toronto; 30-percent of inhabitants speak a second language other than English or French… (read more)